Which Is The Best Springform Pan For You?
All in all, each of the springform pans outlined below is meant for use under different conditions. However, the Kaiser Bakeware LaForme Plus 9-Inch Springform Pan seems to be the winner among the five based on the qualities we considered before the reviews.
Although it is a 9-inch pan, it has a capacity of ten cups. In our view, this capacity is enough for preparing food meant for some people. Apart from the pan having a non-stick coating to prevent food from clinging to the sidewalls, the base is resistant to cut.
This is particularly important since you can slice your cake without worrying whether you will scar the base in the process. Lastly, as much as you may spend a considerable amount of money when buying this pan, it is likely to last for a long time.
The combination of materials that make the body of the springform pan ensures that the bakeware is strong and durable. Therefore, we have come to the conclusion that this could be the best pan for you in case you are looking for value for your money.
---
Quick Comparison: 5 Best Springform Pan
---
Quick Navigation
Top 5 Best Springform Pans: Our Picks & Recommendation
What Makes the Best Springform Pan?
Even as you consider which pan to buy to replace your old one or to jump-start your baking career, it is equally important to think about where to buy a springform pan.
Dark Versus Light
Dark springform pans will absorb heat while light ones will reflect heat. As such, it will take you longer to bake when using a light pan.
However, cheesecakes take long to bake, but you will only require a few additional minutes of baking when using a light, silvery pan.
We wish to inform you that the different pans will lead to a difference in the baking time.
Metal Versus Glass-based Pans
We prefer glass based pans since they will not impart any taste on the cake stored on the based. Moreover, a glass base will not be disfigured when you slice your cake on the base.
While you can choose between a silicone springform pan and a stainless steel springform pan, we advise that you settle for a glass base.
Nonstick Pans
Depending on how you bake them, cakes can be quite fragile. With this in mind, you may want to buy a pan that allows you to remove the side walls with as little effort as possible.
This would be particularly important when the filling of the cake tends to cling to the surfaces of the baking container. In this regard, a coated nonstick pan or a silicone springboard pan is bakeware that you should consider buying.
---
Silicone Springform Pan Versus Stainless Steel Springform Pan
Both silicone and metal pans will offer you a wide array of baking possibilities. Although many springboard pans are made of metal, silicone has opened up a new world of opportunities in baking.
For silicone, the seams of the sidewalls tend to be much tighter, making the pan nearly leak proof. For this reason, such a pan will enable you to include runny batters and pudding in your baking list.
Lastly, you are likely to find it easier to remove silicon without pulling out the sticky parts of the cake.
On the other hand, metal sidewalls could allow you to make a better crumb crust by effectively compressing the combination of crumb and butter. This can only be accomplished by sidewalls that are not flexible, such as those made of metal.
The fact that sidewalls made of different materials open a world of possibilities for bakers may make it necessary for you to have both types of springform pans depending on your specific needs, desires and preferences.
---
Shapes
Springform pans come in different shapes. Today, you have the option of choosing a square pan, a heart shaped pan or a rectangular springform pan.
The different shapes of the high-quality pans add to the fun and excitement that they can add to your baking experience. It would be nice to have one of these in your kitchen to enable you to bake desserts of different shapes.
---
Sizes
Just like shapes, you will be able to find pans of different sizes on the market. Regarding size, you can either choose to purchase a mini pan, a small pan or a large springform pan.
Your decision on which size of pan to buy will depend on the particular use to which you plan to put the pan. Apart from the circular size of a springform pan, we also found out that size can be described regarding the depth of the pan.
A deep pan is likely to be a great choice when you are planning a party or when you are undertaking baking on a commercial scale.
Here, you can either opt for a 7-inch pan, an 8-inch pan, a 9-inch pan, a 10-inch pan, a 12-inch pan or a 14-inch springform pan.
Alternatively, you can choose the combination of pans that will best suit your unique circumstances.
---
5 Best Springform Pan Reviews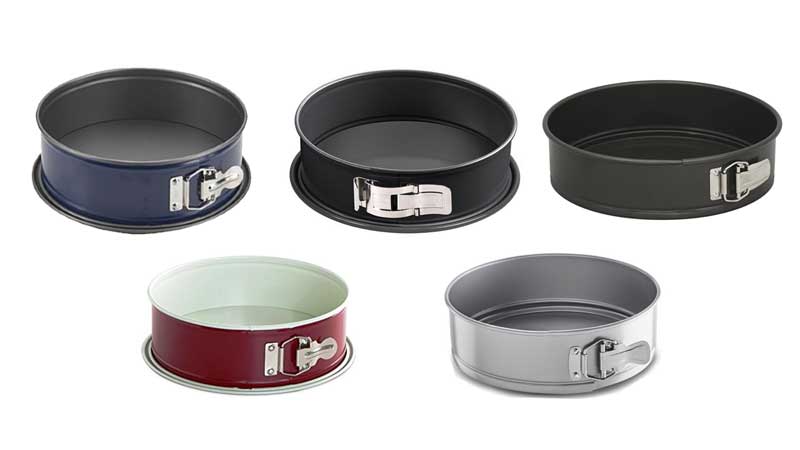 Below, we have comprehensive reviews of some of the springform pans in the market that you can select as a baking enthusiast.
---
The Kaiser LaForme Plus Springform pan has its sidewalls made of a combination of Kairamic enamel coating and heavy-duty steel.
A combination of these two materials ensures the durability of the pan.
Moreover, the non-stick feature of the walls assures you of an easy time when removing the walls once your cake is ready.
Key Features:
The pan is 9-inch and leak proof
It has cut resistant base
It gives 10-year warranty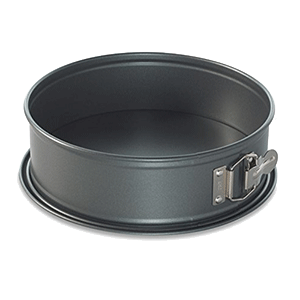 The 9 inch coated springform pan has a capacity of ten cups. The pan has a non-stick coating that makes it easy for you to release the baked foods as well as to clean after you have used it.
Key Features:
Leak-proof tight seal
Prevent runny batters from spilling and creating a mess in your kitchen as you bake
Has a positive color
Its bottom is flexible. This is a downside since as the bottom moves up and down; it can crack the crust of your cake
Lastly, the pan does not allow for even cooking of your cheesecake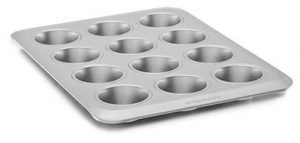 This 9-inch springform pan with a non-stick coating is suitable for baking cheesecakes and other delicate cakes.
This is because you cannot flip such cakes upside-down when you want to remove the pan. The latch on the side of the pan allows you to detach it from the base easily.
However, regarding durability, this pan is not likely to serve you for a long enough time.
In fact, it requires a great deal of caution to ensure that the pan lasts for more than a year.
Key Features:
9-inch pan with a non-stick coating
Can be used for baking cheesecakes and other delicate cakes
lasts for more than a year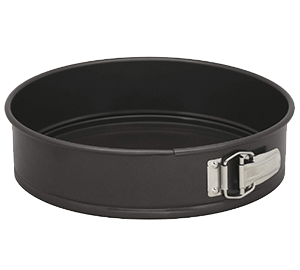 This 10-inch springform pan makes use of advanced non-stick coating technology to make it even easier for you to release your food once it is ready.
Lastly, the pan is strong and durable and will likely serve you for a long time.
However, we found out that you cannot use the pan when dealing with liquid ingredients as the pan will leak and make a mess.
Key Features:
10-inch pan with a non-stick coating
Has large enough handles that allow you convenient access to the oven both when placing the ingredients and when pulling out the ready food.
The pan is strong and durable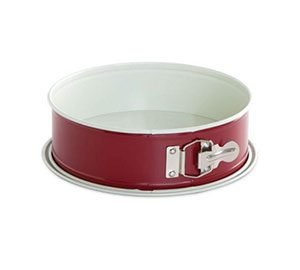 The 10 cup capacity pan is made of aluminum, a material that conducts heat evenly and allows for a leak proof design. As such, your cakes will cook evenly when you use this pan.
At the same time, aluminum makes the springform pan light but durable, making it a superb pan for use in a busy kitchen.
Moreover, the pan employs the use of non-stick technology to avoid the problem of foods clinging to the side surfaces.
Key Features:
10 cup capacity pan
The pan is leak proof
The pan employs the use of non-stick technology
---
Whatever the case, it is important that you have the right tools to help you get the best products. One of the most important bakeware to have in your cupboard is a springform pan.
In summary, before settling on any pan, you should probably do comprehensive research that will help you to buy the best springform pan in the market, one that will meet your baking needs.
---
Related Articles: