Which one is the Best Camping Cookware?
From the compiled reviews and taking into account the pros and cons of the individual camping cookware sets, we found the Texsport Kangaroo 7 PC Camping Cookware Set to be the best camping cookware sets.
The aluminum oxide is a good conductor of heat, helping to reduce the cooking time. At the same time, the cookware is light and occupies little space when stacked up. The stackable camping cookware has many components, making it suitable for large groups of campers.
Lastly, the set includes extra utensils to offer you more convenience when you are out in the woods.
---
Quick Comparison: 5 Best Camping Cookware
---
Quick Navigation
Top 5 Best Camping Cookware: Our Picks & Recommendation
How to Choose the best camping cookware?
Regardless of where you choose to go camping, you will appreciate the convenience that your camping gear and equipment will offer you.
Once you are tired after a long day on the trail, having the best camping cookware sets will be a great relief.
As such, we advise that you consider several factors when choosing your camping cookware.
---
Types of Materials
Camping cookware is available in a variety of materials. Your decision on the one that will suit your needs comes down to your budget and how you plan to use it.
Hard-Anodized aluminum – this material is durable as well as resistant to scratches. In comparison to conventional aluminum, anodized aluminum is more durable and also more expensive.
Aluminum – this lightweight option is affordable and is also an excellent conductor of heat, a factor that helps in reducing cooking time.
However, aluminum dents easily and is also known to react with certain foods, making them absorb the metal.
Titanium – although it is a lightweight option that heats quickly and does not compromise strength, titanium camping cookware is the most expensive among those listed here.
Stainless steel – stainless steel camping cookware is both durable and scratch resistant.
However, the material makes for the heaviest camping cookware.
---
Weight
Weight is an important factor to consider, not only for cookware but also for other components that comprise your luggage. Titanium cookware sets would be more suitable if you want your backpack to be extra light.
On the other hand, nonstick aluminum will be doing more than boiling water with your cookware. Both of these materials are ideal for frying.
---
Group size
The best camping cookware set will allow you to cook and serve food for the whole at a go. Here, you will have to consider the size of pots as well as their number when deciding which set to buy. Two to three small pots would be enough for a small group of campers.
Nevertheless, more elaborate meals for larger groups will require that you buy extra-large pots.
---
Care and clean up
Some pots and pans are more difficult to clean and care for than others. When using stainless steel or titanium pans, food is likely to get stuck to the bottom, making it difficult to clean.
Aluminum pots with nonstick coatings will be easy to clean but will require you to exercise great caution so as not to scratch them.
The best cookware set should be easy to clean up as well as be able to serve you for a long time.
---
Handle versus grabber
Camping cookware sets are likely to come with either a handle or a detachable one, known as a grabber. A grabber has the advantage that it can be used on multiple pots.
However,
if your hold on the grabber loosens, it will be easy to spill food, creating a serious problem when camping in the wild.
For this reason,
you have to maintain your grip when using a pot grabber continuously.
---
Utensils
Some camping cookware sets come complete with plates, mugs and utensils and in some cases towels. This is bound to offer you great convenience if you are starting your cooking from scratch.
For instance,
individual sets come with a spoon/fork combo, commonly referred to as a spork. Some sporks can include a small knife on their edge.
This will eliminate the need to carry traditional kitchen utensils when heading out to the camping site. There is no doubt that cookware sets that include additional utensils are better than those that do not.
---
Lids
Lids work to significantly reduce the cooking time, in effect helping you to save fuel. At the same time, lids reduce splatter.
Simultaneously,
some sets feature a lid for each pot, others have a single lid that you can use on the several different-sized pots in the set.
Moreover,
some lids can double as frying pans or serve as plates. Choosing this kind of cooking sets might help you to lighten your load.
---
5 Best Camping Cookware Reviews
Below we have compiled 5 reviews of some of the best cookware for camping to make it easy for you to reach a decision when shopping for the cookware sets that will meet your needs.
---
Best Overall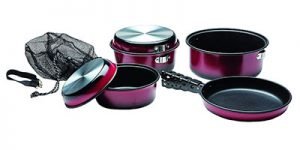 Made of lightweight and durable aluminum, this cookware set comes complete with a bag in which you can store your cookware. The aluminum, being a good conductor of heat reduces your cooking time.
The exterior has a two-tone heat treated finish. This kit comprises of 1-quart pot, 1-1/2 quart pot, 6-1/2 fry pan with a lid and 7-1/2 fry pan with a lid. The set also includes a pot gripper for use on the pans and pots.
Pros
Non-stick interior coating
Easy to clean
Cookware comes with storage bag
Made of lightweight aluminum
Cons
Aluminum dents and scratches easily
Aluminum breaks down when exposed to acidic foods
Pans are thin, bend when you put on heat
Exterior paint chips easily
Runner Up, Overall Best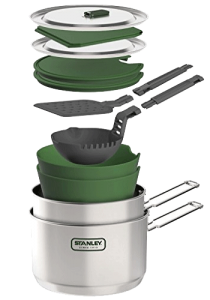 Each of the individual components of this set is made of rust-proof stainless steel. More to this, the camping cookware is scratch resistant, making it easy to care for. The pot also comes with a durable and vented lid.
The kit is made up of 2-20oz bowls complete with lids, 1-ladle and an extending handle, 1-spatula and extending handle and 1-1.58 qt pot with vented lid. This integrated solution is said to bring the experience of indoor cooking outdoors.
Pros
Tougher and more durable material
Scratch resistant
Rust-proof cookware
Nesting system saves space
Cons
Heavier than aluminum cookware
Does not conduct heat uniformly
A little bit small
Only suitable for a few people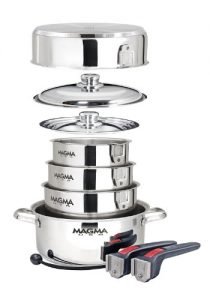 This 10 piece camping cookware set is made up of quality, mirror polished stainless steel cookware. The ten-piece set has nesting system that allows you to save plenty of space when packing the cookware.
The cookware set comprises of three saucepans (1-1/2 qt, 2 qt, and 3 qt), one lid that can be used on all
saucepans, 5 qt stockpot; 9-1/2 inch diameter sauté pan, a lid for the sauté pan and stockpot, two removable handles and a Bungee storage cord.
The triple clad bottoms of the pans allow for even distribution of heat on electric, ceramic or gas cooktops.
Pros
Stainless steel is tough and durable
Stainless steel is more scratch resistant
Bigger capacity for large groups
Nesting system helps to save space
Cons
Stainless steel is quite heavy
Expensive cookware
Handles are not very comfortable
Pot holder needed to lift lids without burning your hands
Best Lightweight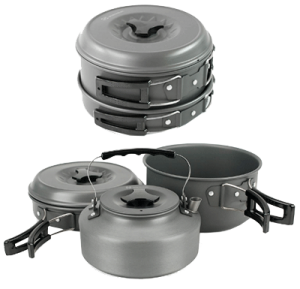 When you buy this 11-piece set, you can expect to find 2 qt large pot with lid, 1 qt frying pan, 1 qt tea kettle, serving ladle, one personal bowl, serving spoon/spatula, cleaning sponge and carry bag.
One impressive feature of the winterial camping cookware is that it weighs a mere 1.5 pounds and consumes very little space. The aluminum oxide is light enough and conducts heat easily. Moreover, the handles are made to take the heat without melting or degrading.
Lastly, the set is made to withstand the rigors of tough camping excursions.
Pros
Aluminum oxide has high heat conductivity
Lightweight Cookware
Takes up minimal space
Suitable for large groups
Extra utensils for convenience
Cons
Poor lid handles
Hard to know when kettle comes to boil
Cups lack graduation marks
The base is a little thin
Best High-quality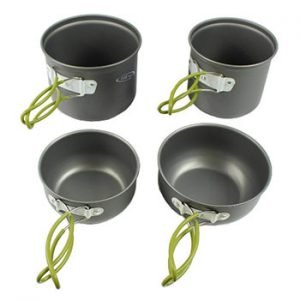 This high-quality cookware set is made of non-toxic anodized aluminum. The pot and pan both have folding handles to help you save space and have compact luggage.
When the kit is packed, it leaves enough room for matches, a stove, seasonings, a sponge and other things that you may need for your cooking. The foldable handle has a silicone cover to protect you from burning.
Lastly, the collapsible cookware for camping is built to last and comes with a mesh bag that makes it easy for you to carry.
Pros
Very long lasting material
Resistant to scratches and abrasion
High-value cookware
Nonstick coating works great
Cons
Relatively expensive cookware
Small set for a few people
Pots tip over when handles are extended
Rubber coating melts even on low heat
---
We hope that our buying guide to choose the best camping cookware set and our compiled 5 best camping cookware set reviews will be of use to you as you choose the most suitable camping cookware.
---
Related Reading: