Which Is The Best Carbon Steel Wok For You?
If you're looking for a carbon steel wok that will satisfy your finicky foodie friend, the Joyce Chen 22-0060 Pro Chef wok provides fast heating, good even heat retention in a sturdy heave gauge, quality carbon steel pan.
For a newbie, you can save a few dollars and select the Joyce Chen 21-9978, Classic Series wok which is a durable pan without any extras like spatulas that simply raise the price, without adding real value.
And for your friend who lovingly cares for their selection of cast iron pans, they will be thrilled with the Lodge P14W3 Pro-Logic Cast Iron Wok, which will stand up to decades of use. Now you know which wok will work for all your friends who love to explore new food adventures.
---
Quick Comparison: 5 Best Carbon Steel Wok
Ranking
Product
Rating
Price
1
Joyce Chen Pro Chef 14-Inch
Uncoated Carbon Steel Wok
View On Amazon
2
Joyce Chen 21-9972 Classic
Carbon Steel Wok
View On Amazon
3
Joyce Chen 21-9978, Classic Series
14 Inch Carbon Steel Wok
View On Amazon
4
Lodge P14W3 Pro-Logic Cast
Iron Wok
View On Amazon
5
Helen Chen's Asian Kitchen Flat Bottom
Wok, Carbon Steel with Lid
View On Amazon
---
Quick Navigation
---
How To Choose The Best Carbon Steel Wok?
Following are some facts that you should consider while choosing a Carbon Steel Wok for your kitchen:
Carbon Steel – Not Stainless or Non-stick
The best carbon steel woks are crafted out of high carbon steel that is at least 14-gauge thick. The sides should not bend when you press them. Carbon steel allows the pan to heat and cool off quickly.
With proper care, it provides a virtual non-stick surface when cooking over high heat-which is what a wok is designed to do. Stainless steel does not heat as quickly or as evenly and simply doesn't handle the high temperatures as well as the carbon steel, although it is prettier.
However!
A serious cook won't mind a great wok with a well-loved patina on it. Non-stick surfaces sound nice but will actually melt away at the temperatures you expect to be using.
Flat Bottom with High Curved Sides
The shape of carbon steel woks is a precise result of a thousand years cooking with them. You want five or six inches across the flat bottom to the pan, with gently curving high sides that bell out to about 14 inches across.
The small, flat center heats up quickly and provides a good surface to sear proteins while more delicate ingredients are pushed up the sides to cook at a different rate. The 14-inch pan will be able to prepare a meal for two with no problem.
Long Handle with Helper Handle
Some carbon steel woks come with two small handles on either side of the pan. This works when lifting the pan off the heat. However, the best carbon steel woks feature a long handle riveted to the pan on one side with a smaller helper handle on the other.
The chef is able to use the long handle to flip and swirl the meal about the pan, while the short one is there for even lifting.
Cast Iron Works for Some
There are some excellent cast iron woks on the market. But be careful when shopping for them. Durable cast iron tends to be fairly hefty and can be difficult to swing around while flipping your stir-fry.
In order to create a light enough pan to serve as a wok, the cast iron is hammered until it is thin, but also brittle. It heats and cools evenly, but takes a bit longer to get up to temperature vs. carbon steel.
Like its carbon cousin, the cast iron must be vigorously maintained and should not be washed in the dishwasher for best performance.
Hand Hammered or Spun
The inside sides of the best carbon steel woks should be hand-hammered or spun. Hand-hammered looks like little dents are all over the place. Spun has concentric ridges running up the side.
These surfaces are crafted to grab hold of food that has been pushed up the sides to cook more slowly while others are seared at the bottom of the pan over high heat. A completely smooth surface will fail to produce a proper stir-fry meal.
---
Are Carbon Steel Woks safe?
Safety is paramount in cooking and the verdict on carbon steel woks is that they are indeed safe to use. They are comparable to cast iron pans and cookware, they may blacken over time and use.
The other caveat while use carbon steel woks is that they have to be seasoned (oiled) between uses to maintain its' high-heat capabilities. Seasoning it between uses also hampers the formation of rust that can appear after washing it.
Using carbon steel woks can also help Iron intake while cooking food. This is an added health benefit as most of us don't take enough vitamins and minerals each day.
Adding a little extra iron into every meal cooked on a carbon steel wok can definitely help with any iron deficiencies. Some carbon steel woks are a bit on the heavy side, so dropping one on your foot may be the most "unsafe" facet about them!
---
Carbon Wok Vs. Stainless Steel
Two of the most popular materials out there for woks are carbon and stainless steel. What are the inherent differences between these two? Carbon woks are made out of carbonized steel and they're made for high heat.
These works are the benchmark for most Asian kitchens and restaurants because of their high-heat capabilities and their strength and durability.
Stainless steel woks are not as durable and doesn't heat as evenly. Stainless steel woks also use a lot more oil to achieve the same results in Asian cooking than their carbon counterparts.
---
Carbon Steel Wok Vs. Cast Iron
Another pairing that seems to be a match on paper? right? well, sort of. There are a lot of similarities between cast iron cookware and carbon steel.
Both Types of cookware have a lot of metal and some carbon, that's where the similarities end.
The major difference between the two is that cast iron cookware is much heavier than their carbon steel brethren.
The one advantage that carbon steel holds is its' malleability over cast iron. Which is why you don't see hand-hammered cast iron woks in shops.
---
Carbon Steel Wok Vs. Nonstick
The main bone of contention between these two is heat, lots of it! Non-stick woks will never be able to achieve the high-heat cooking of a carbon steel wok.
A properly seasoned carbon steel wok is perfect for high-heat stir fry meals. What about food sticking to the wok? Aoiled wok surface renders that problem almost obsolete.
In fact, the ability of keeping the surface absent of stuck food is almost identical to that of non-stick woks.
---
Coated Vs. Uncoated Carbon Steel Wok
This is similar to the previous paragraph as coated woks are simply another name for non-stick woks.
The coating does help in keeping the wok non-stick, but the material that's often used (Teflon) is not capable of high cooking temperatures.
In asian cooking, you need those high temperatures in stir fry cooking for seared proteins and crispy vegetables.
You just can't get those authentic touchstones of stir fry with a coated wok.
---
Carbon Steel Wok Pros And Cons
There are a few pros and cons of using a carbon steel wok, we'll take a look at some here. The pros of carbon steel woks are plentiful. The ability to get those high temperatures while cooking makes a world of difference in asian cooking.
They're also very durable and can hold up over time, some users have had carbon steel woks for over 40 years with no issues!
Because of their construction, some carbon steel woks are hand-hammered and that helps with food retention on the sides, helping to steam food.
There are a couple of cons with carbon steel woks, chiefly due to its' materials. They require seasoning and oiling between uses to maintain its' ability to cook at such high temperatures.
This can be a pain to some who just want to wash the wok between uses and hang it up. You can't do that with a carbon steel wok, it would rust.
You can't really use any items that are super-acidic either such as lemons or tomatoes.
The acidity breaks down the seasoned coating that develops in repeated uses of the wok.
---
5 Best Carbon Steel Wok Reviews
The kitchen section has a wide variety of woks for sale and it can be confusing on what criteria make for the best stir-fry pan in the business. We've collected 5 of the best carbon steel wok and done some homework for you.
Read on to find out features what you should be looking for and some of the best buys for your holiday shopping dollar.
---
Best overall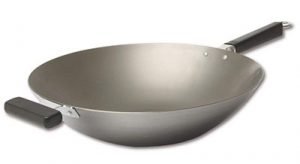 This carbon steel wok provides the 14-inch size that you are looking for along with a long handle and a shorter helper handle.
Crafted out of heavy 2mm gauge carbon steel, it is considered professional weight and with proper maintenance should be able to stand up to a lot of abuse in the kitchen.
The handle is rated to withstand heat up to 350 degrees, so you can pop it in the oven with care.
The handle stays cool to the touch for improved grasp and confidence when moving food about the pan. There is a loop for easy hanging.
Pros
Made of heavy 2mm gauge carbon steel
Stay cool handle
14-inch size
Cons
No lid
Only rated up to 350 degrees
Difficult to season at first
Runner-up, Best overall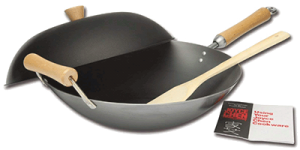 Developed for the casual home cook, the Joyce Chen 21-9972 is crafted out of 1.5mm gauge carbon steel.
It has a slightly smaller bottom, at just 5 1/2 inches across, but the carbon steel wok is capable of performing up to your expectations once a week or so.
The owner must pay close attention to instructions regarding proper seasoning and follow cleaning procedures assiduously to prevent rusting.
There is a non-stick lid included for steaming, along with a wooden spatula and recipe booklet t get you started. The hobbyist chef should be happy with this purchase.
Pros
Lightweight carbon steel construction
Non-stick dome lid included
Long and short handles
Cons
Tends to rust
Lighter steel can dent
Pay same price for professional grade pan
Best Budget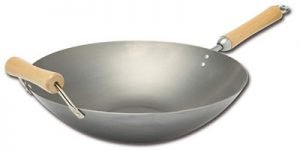 This is the pan found in many kitchens across the country. The no-fuss wok is made out of quality carbon steel but is priced below the professional line of pans.
Wood handles with loops will stand up to all your stir-fry adventures while staying cool to the touch. Hang it up using the handy loop at the end of the handle.
Has a nice wide 7-inch flat bottom, providing plenty of room and the spun steel offers grooves to place food on the sides while cooking.
As with all carbon steel, it must be seasoned upon arrival. Proper oiling between uses will result in a black surface able to withstand high temperatures.
Pros
Lower price
Good quality carbon steel
Spun detail on sides for precise cooking
Cons
No lid
Will rust if not seasoned properly
Cheap packaging gets easily damaged
Best Overall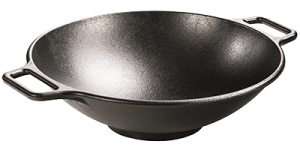 For your cast iron enthusiast, check out the best-cast iron wok on the market. This pan comes pre-seasoned, so you are ready to go right out of the package.
It is rather hefty, weighing in at 14 pounds, so if you intend on flipping your noodles around, you are going to need some serious guns!
However!
It heats evenly across the flat bottom, is very stable and can be used on any stovetop surface or even your portable propane wok burner while tailgating.
Fans of cast iron will be proud to add this one to their collection and their familiarity in using a cast iron will help them make the most out of the pan.
It has small loop handles on either side instead of the long single handle. The cook must season it between uses to maintain its non-stick qualities.
One drawback is that it costs a bit more than the professional grade carbon steel woks, but it is virtually indestructible.
Pros
Solid construction can stand up to anything
Stable base
Heats evenly and holds heat for a long time
Cons
Most expensive wok
Very heavy
No long flipping handle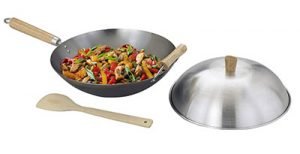 This carbon steel wok set is everything the newbie stir-fry enthusiast is looking for. The 14-inch carbon steel wok has a nice 6-inch flat bottom for use on gas and electric stoves.
The handles are crafted out of bamboo for a modern appearance and heat-resistant performance. The set arrives with a dome lid, wood spatula, and recipe booklet to help you get started enjoying your own Asian inspired cuisine.
The rivets that attach the handles to the pan are not steel, but aluminum, and heat at a different rate than the wok, resulting in loose handles after a few uses.
The handles must be oiled as well as the pan, as the bamboo tends to dry out over the hot stove.
It features spun sides and 1.6 mm gauge carbon steel construction.
Pros
Good 14-inch size
Bamboo handles look nice
Comes with lid, spatula, recipe booklet
Cons
Rivets warp after several uses
Bamboo dries out and cracks
Set costs as much as a professional pan
---
How To Cook In Your Wok?
Cooking in a carbon steel wok is pretty liberating as one can do so much with a wok. There are plenty of ways to cook on one and it's not just for stir-fry!
We'll take a look at a few different wok cooking methods below.
---
How To Steam In A Wok?
Steaming in a wok is quite easy to do, especially with the right kind of wok. A wok made from carbon steel is ideal for this as the materials are usually either hand-hammered or rolled steel.
A hand-hammered wok is the most ideal due to the hammer marks left in the wok during the production process.
Those hammer marks help hold the food on the sides of the wok which help in steam cooking. To steam, use a wooden spoon and drag the food to sides of the wok away from the heat source.
Fill up the empty well in the center with water and close the lid over the wok to start the steaming process.
---
How To Smoke In A Wok?
Smoking in a wok is simple to do with the right materials. Put foil lined around the bottom of the wok and add the ingredients to smoke with (wood chips, etc.).
The ingredients will start smoking once the wok is heated enough, put a small rack above the foil and add food wrapped up in foil and close the lid. The food will be infused with the smoke to add depth and flavor.
---
How To Deep-Fry In A Wok?
The added bonus of having a carbon steel wok that can withstand high temperatures is the fact that one can use it for deep frying! The same principle of using a real deep-fryer works on the wok. Put a bit of oil in the wok (enough oil to deep fry with) and heat the wok up to temperature.
Once the temperature is where it needs to be (350-400 degrees), add in the battered food. In most cases, after a few minutes and a couple of turns, food floating on top of the oil is a sign that it's done.
---
How To Stir-Fry In A Wok?
Stir-frying is.a hallmark of Asian cooking and doing so on a wok is simple. Heat the wok with a little oil and put the vegetables in and fry them quickly for around 3 minutes or so.
This is akin to making pasta al denté, the vegetables need to be set aside about a minute before getting to that "done" stage to help retain their bite and crispiness.
Once the vegetables are cast aside, put a touch more oil in the wok if needed and cook your meat. Push the meat to the sides and add the sauce and then combine the veggies back in.
Cook all together for about a minute, tossing the sauce onto the vegetables and the meat and it's done! Cutting the meat and vegetables into tiny bite-size pieces also helps in stir-frying as it quickens the cook time.
---
How To Maintain A Carbon Steel Wok?
Maintaining a carbon steel wok is a bit harder than normal cookware as the wok sees such high temperatures.
Seasoning is important to this process and it's also required to help maintain those high-heat cooking abilities and to keep rust away.
Maintaining this seasoning between uses is simple enough to do after cooking on it.
After washing the wok, dry the wok out and dab a cloth with some oil (vegetable oil is best) and rub the entire inside surface of the wok and then hang it up.
This helps keep the wok seasoned and ready to go, it also helps to inhibit rust from forming.
---
Related Articles: