Have you stepped up your juicing regimen and your old bargain juicer tends to overheat or leaves a large quantity of wet pulp behind?
It's time to shop for a new unit designed for more consistent use.
When you're shopping for the best commercial juicer, all the choices available can be a bit intimidating.
We've created a buying guide and collection of best commercial juicer product reviews to help you find the unit best suited to your busy and healthy lifestyle.
Quick Navigation
The Most Recommended Commercial Juicers: 14 Best Reviewed
What Can The Best Commercial Juicer Do?
A commercial juicer is designed to produce the same quality juice extracted from fruits, vegetables, and leafy greens as many juicers available on the home market, but can run for hours on end without overheating.
Made of more durable plastics and metal you can expect them to perform for years while a home model may only survive two or three under extreme conditions.
There are two popular kinds–masticating and centrifugal shredders.
Masticators are slower and extract the most nutrients and enzymes from the produce, but are slow.
Centrifugal machines work quickly churning out large quantities of juice in a short amount of time, but tend to be noisy and create more waste as the pulp doesn't get processed as much as the masticator versions.
Masticators are more effective when blending baby food and working with leafy greens.
How to Choose the Best Commercial Juicer?
Part of the determining factor of choosing the best commercial juicer is deciding what it will be used for.
If you are opening an orange juice stand, there are dedicated orange juice machines that peel and extract juice automatically while you simply fill up cups and collect cash.
Bars and catering companies work well with centrifugal juicers, as they generally need large amounts of juice made from fruits in a short amount of time.
If you are stepping up your juicing game at home and expect to use it for multiple purposes, a masticator with high torque and solid design can help you turn a wide range of produce, nuts, and even wheatgrass into nutritious drinks, butter and pasta.
Some have auto-eject pulp mechanisms that allow you to continue juicing and fill up large pitchers for multiple servings, others require cleaning after creating a single glass.
Check manufacturer warranties for available of repair parts and services to avoid frustration and paying for a second unit when the original purchase simply needs a new blade.
The Most Recommended Commercial Juicers: 14 Best Commercial Juicer Reviews By Sujana Marie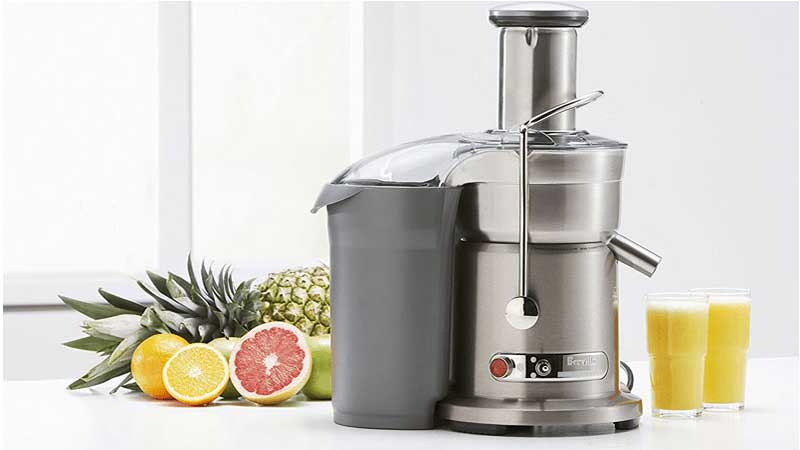 1) Omega J8004 Nutrition Center Commercial Masticating Juicer Review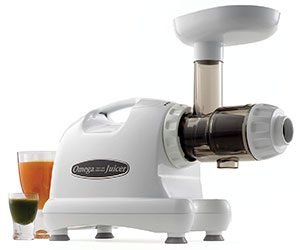 The Omega j8004 is really much more than just a juicer.
It runs at a very low speed, at just 80 rpms in order to preserve as many nutrients and enzymes as possible without destroying them through heat.
However with the exception, high torque this heavy duty home model is an excellent option for creating not just juice, but baby food, nut butter, and even pasta.
The unit includes an extraction die able to produce angel hair or spaghetti made out of your favorite ingredients.
You'll never buy zucchini pasta in the grocery store again when you are making your own. Is also effective with wheatgrass and other greens.
It's not fast, so if you're looking for fresh orange juice in a few seconds, this isn't the one for you.
2) Champion Commercial Juicer G5-PG710 Review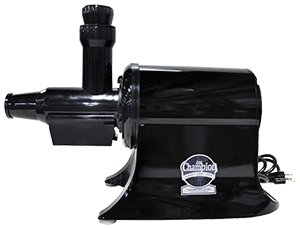 Champion has been producing commercial quality machines used in restaurant and food service industry settings for decades.
This unit is designed for use in the home but has all the power and muscular build you'll find on the industrial units.
It is a masticating juicer which runs slower and is better able to extract all the nutrients from leafy greens as the vegetable stays longer in the shredding chamber.
Attachments can be purchased in order to juice wheatgrass and even finer greens for an exception nutritional juice product. It runs cool so can work for hours on end without pause.
Its black plastic housing works well with your home decor and can easily be stored in a cupboard when not in use.
3) Waring Pro JE2000 Commercial Juicer with Pulp Ejection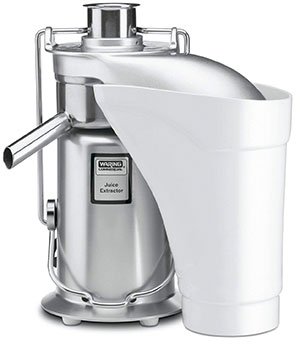 Designed for the bar and catering industry this stainless steel monster has the power needed to churn out juice in large quantities at a high speed.
Its powerful motor runs at 16,000 rpm, so can run through strawberries, oranges, and other standard fruits at an amazing speed.
Built-in safeties prevent the unit from running when improperly assembled, ensuring you have a safe work environment for your employees.
It does only offer a one-year warranty, and at a very stiff price, you might expect better support from the manufacturer when something goes wrong.
The pulp ejector chute can be positioned on either side of the machine, allowing you to angle it over a large bin or disposal unit for uninterrupted service.
If you are juicing at your sandwich shop, restaurant or health club, this could be an excellent option if you don't mind the chance that you may be shelling out thousands for another in just a year or two.
4) Breville 800JEXL Commercial Juicer Review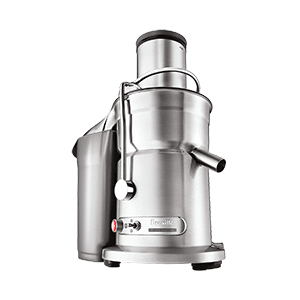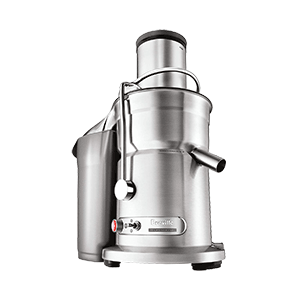 The Breville 800jexl is a centrifugal style juice extractor and features a powerful 1000 watt motor with two-speed settings.
They recommend you start at the lower setting for your leafy greens rolled up and juicy fruits like tomatoes and oranges before cranking up the power to tackle carrots and other tough root vegetables.
It features a 3-inch wide feeder chute, which saves you time on prepping your fruits before juicing.
Removable parts are dishwasher safe but durable. Its heavy-duty construction is designed to stand up to major juicing sessions when you're preparing large quantities to feed the whole family or storing it up for the week ahead.
Make sure the read assembly instructions to prevent vegetables from getting jammed against the blades which can result in the unit leaking.
5) Breville BJE820XL Commercial Juicer Review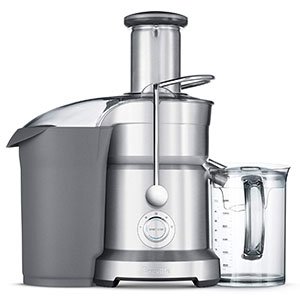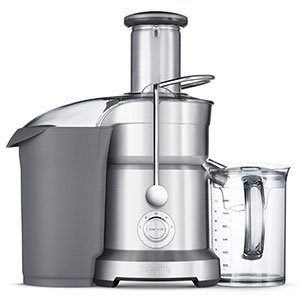 Another centrifugal style juicer, the bje820xl comes with two different discs for the shredding compartment.
One delivers your standard veggie juices quickly and well-separated from the pulp while the puree disc shreds even the softest berries such you can introduce flavors like raspberry and blackberry into your juicing routine.
It has 5-speeds, such that at the low settings it juices leafy greens well when introduced into the chute rolled up.
Higher speeds pulverize turnips, carrots, and other root veggies without hesitation.
Breville juicers tend to be a bit noisy, but this unit includes some vibration and sound insulation for a quieter juice experience.
Overload setting will shut off the unit automatically when it becomes too hot.
6) Hamilton Beach Electric Commercial Juicer Review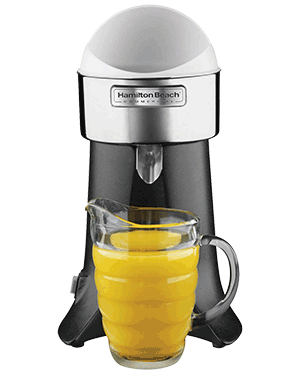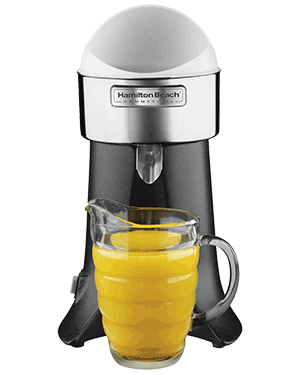 This juicer was built with the demands of a beachside juice bar in mind while avoiding a huge price tag often found in restaurant supply stores.
Its tall design left room for tall pitchers to fit under the dispenser and three different reamers extract the most juice possible from limes, oranges, and grapefruits.
It is not intended for nutritional juicing but built for speed and durability.
It has a metal housing which can stand up to the abuse of a busy bar and all the needed safeties required in a work environment.
The whole top can be disassembled and placed in the dishwasher to help maintain a bacteria-free food prep area.
When you open your poolside bar every weekend night, this could be the juicer you need to create memorable cocktails and fruit juice treats.
7) Breville Fountain Juicer BJE430SIL Commercial Juicer Review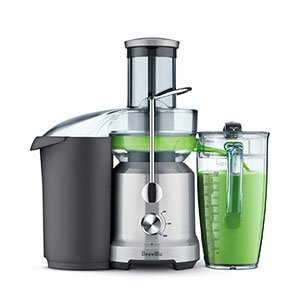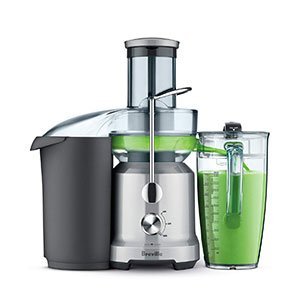 Breville created their fountain juicer for individuals who like to juice large quantities at a time.
It is raised dispensing chute fits over the included 70 oz. pitcher which has a sealable lid.
Juice ahead and enjoy the fruits of your labor for up to three days at a time.
It is a centrifugal unit, shredding your fruits and veggies at one of two fairly high speeds and uses proprietary technology to reduce heat transfer into the fruit, which can destroy vitamins and enzymes.
Some users complain that it wastes a large number of leafy greens, but does very well with things like carrots, apples, and oranges.
The effort was made to reduce the noise produced by the motor and it has an attractive acrylic design.
8) OrangeA Heavy Duty Commercial Juicer Review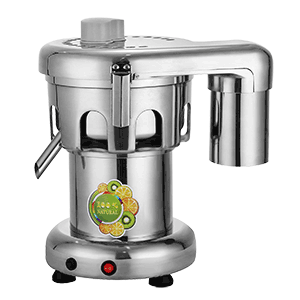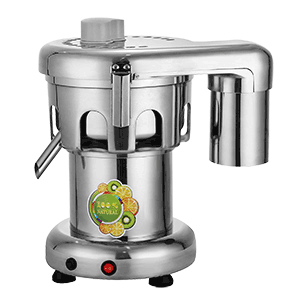 Heavy duty is the name of the game for this juicer from OrangeA.
A centrifugal juicer, it has the superior speed for juice delivery able to squeeze one and a half quarts in just over a minute.
Stainless steel construction is durable and able to withstand the demands of a commercial kitchen environment.
The dispensing chute can be adjusted eight ways to dispense into a tall pitcher, small glass or anything in between.
The pulp is automatically ejected for continuous operation while its motor runs at a lower temperature than many other centrifugal units, preventing seizing from overheating.
9) Vevor Commercial Orange Juicer Review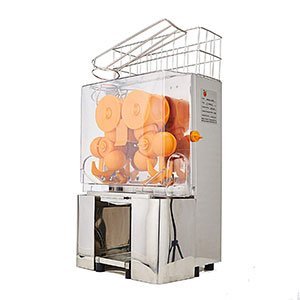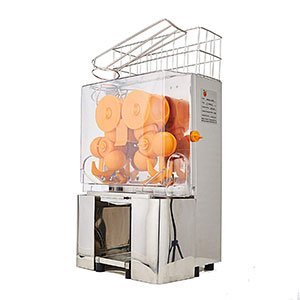 Are you operating an orange juice bar for the summer?
This attractive commercial juicer allows your customer to watch their oranges be peeled and smashed into a delicious drink with the shredding and juicing gears displayed in bright orange behind a protective acrylic shield.
The top provides storage for fresh oranges which roll down a little slide before entering the juicer chamber.
Juice is dispensed at the bottom into a disposable cup ready to be sealed and served. A great option for health clubs, beachside snack shacks, and mall kiosk vendors.
10) Breville JE98XL Juice Fountain Plus 850-Watt Juice Extractor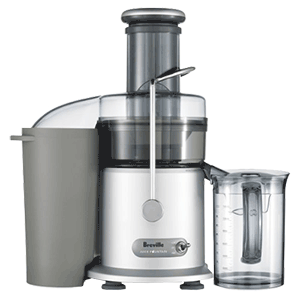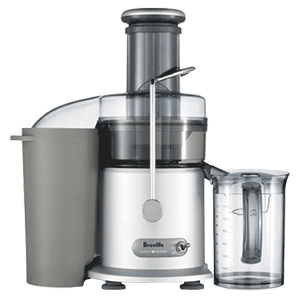 If you are looking for a bargain juicer with all the power of a commercial unit, the je98xl may be the one for you.
It features two speeds and all the design perks Breville packs into their more expensive units.
Shorter than commercial versions, it is intended to dispense juice into a glass, not a pitcher.
The centrally positioned chute means your vegetables drop straight onto the shredding blades, instead of being pulled in from the side.
This motion increases the efficiency of its centrifugal shredder, up to 40% better than other competitors in the same segment.
Designed for the home, the housing is made of plastic instead of metal and the motor cannot be expected to stand up to continuous operation when juicing several bags of produce.
11) Waring Pro Commercial Juicer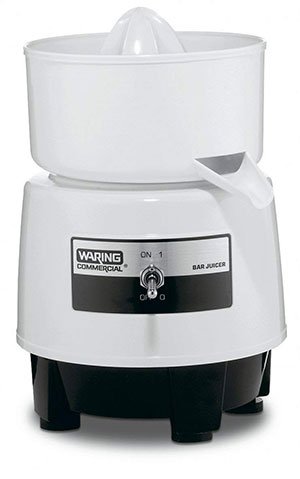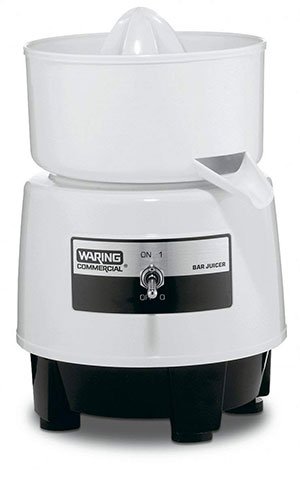 Are you an orange juice master?
The Waring Pro Juicer is designed specifically to ream citrus fruits into delicious juice for your breakfast table.
It will quickly extract all the juice from half of an orange in just a few seconds and is immediately ready for more.
This design does not automatically eliminate pulp, but rather mixes it with your juice.
Some OJ drinkers prefer the chunks.
Super easy to clean up and its small size fits into any kitchen or sideboard, allowing you to bring it out for use at the drop of a hat.
Simple to operate with an on/off button and it accelerates when you press down on the fruit, it's even a nice option for self-serve breakfast buffets in a bed & breakfast.
12) OrangeA Commercial Electric Juicer Review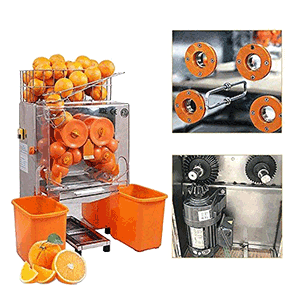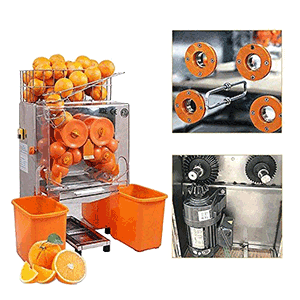 Now you are in business!
The larger and more versatile OrangeA machine is a self-feeding orange juicer, able to shred and squeeze two oranges at a time able to dispense four to seven glasses of juice a minute.
Perfect for large commercial kitchens or exceptionally busy juice shops in a high-volume pedestrian environment like crowded malls, amusement parks, and summer beach hotspots.
Its bright orange gearing and acrylic shield allow customers to watch the juicer in action while the large hopper feeds more fruit into the unit.
You will need to order your fruit from a qualified supplier able to deliver oranges 40-80mm in diameter.
13) Breville BJE200XL Compact Juice Fountain Commercial Juicer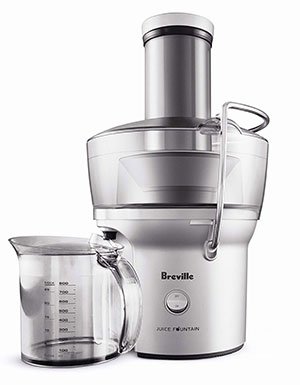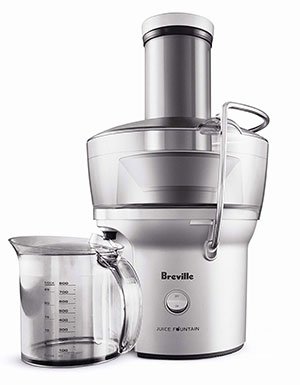 When you are looking for a unit designed just for your morning glass of nutritious veggie juice, the bje200xl is a compact centrifugal juicer with a single speed able to rip up your produce in short order.
It does not have an auto-eject pulping mechanism, so will need to be cleaned between glasses of juice.
It features Breville's unique center chute design able to create more juice and less pulp out of the same amount of fruit.
Less than 10 inches tall, it's a great option when you want to take your juice routine to work or have a small kitchen with limited counter space.
14) Waring Pro 6001C Commercial Juicer with Compact Design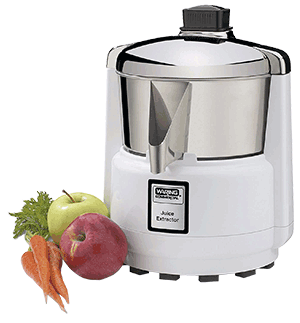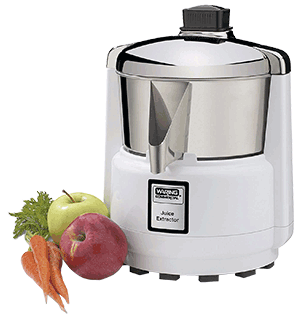 This compact unit offers a change of pace for the commercial juicer market.
Its squat design fits into almost any counter space, even with low clearance.
The centrifugal motion is able to produce juice from fruits, vegetables, leafy greens and herbs allowing for a more creating menu coming out of your kitchen.
The motor is a little louder than other units on the market and it does not come with an auto-eject pulp mechanism, so you will be cleaning it out after each and every use.
Parts are dishwasher safe.
Be careful when reassembling to ensure that the balance of the basket is correct for vibration-free operation.
---
So, Which One is The Best Commercial Juicer?
For the most versatile and durable home juicing option, the Omega J8004 Nutrition Center Commercial Masticating Juicer is able to handle all your needs while offering additional dies for creating pasta, extracting nuts and creating baby food.
Competitive in price to other units, you should enjoy this in your home for years to come.
For the busy health club or bar, check out the Hamilton Beach Commercial Electric Juicer that is able to keep up with the high demand of your business in a functional and safe model.
We hope you've enjoyed reading our best commercial juicer buying guide and product reviews and they have helped you find the right one for your lifestyle and needs.
If you have any experience with these small appliances, we'd love to hear from you in the comments section below or share the page with your friends on your social media pages.
---
Related Articles: