What is the Best Commercial Vacuum Sealer?
We have picked the Weston Pro-2300 Commercial grade stainless steel vacuum sealer as the top commercial vacuum sealer as it has one touch automatic sealing capabilities. The LED lights allow you to follow the bag through the sealing process. It uses 935 watts of power for fast sealing. The pump uses a double piston for durable efficiency.
---
You want to find the best commercial vacuum sealer to protect the food in your kitchen. We hope to make your search easier by providing a list of commercial vacuum sealers.
First, we looked for a sealer that seals quickly and efficiently. The next feature is a sealer with a transparent lid allowing you to see that your bag is lined up properly.
Finally, you want a vacuum sealer that keeps the needed liquid in the sealing bag. We found the five superior commercial vacuum sealer types and have listed them here for you.
---
Comparison Of Best Commercial Vacuum Sealer
| | | |
| --- | --- | --- |
| | This Weston Pro-2300 Commercial Grade Stainless Steel Vacuum Sealer features a double piston pump seal bar that finishes the job fast; It's the perfect tool for preserving your prized catch. | Read Our Review |
| | This FoodSaver V4840 2-in-1 Vacuum Sealer has a powerful technology that eliminates air using specially designed bags, and an automatic bag detection feature that ensures a secure airtight seal to prevent freezer burn. | Read Our Review |
| | This VacMaster PRO350 Suction Vacuum Sealer features a sleek stainless steel exterior and a strong dual piston vacuum pump, this machine is durable enough to handle more frequent usage. | Read Our Review |
| | This VacMaster VP210 Chamber Vacuum Sealer can vacuum package liquids and liquid-rich foods like fresh meats, soups, marinades, and stews. Keeping food fresh up to five times longer. | Read Our Review |
| | This VacMaster VP215 Chamber Vacuum Sealer is equipped with a 1/4 HP rotary oil pump that can manage larger loads. A double seal on each bag ensures a complete and lasting seal. | Read Our Review |
| | This VAC-VIDA VS301 Chamber Vacuum Sealer is powered by a one-fourth horsepower oil pump which allows for continuous use and is also significantly quieter than a dry pump. | |
| | This Weston 65-0101 Commercial Grade Vacuum Sealer features a fan cooled motor LED light panel with Automatic mode for one touch operation and 5 mm thick seal bar that seals bags up to 15". | |
| | This Waring Commercial WCV300 Vacuum Sealer has a 2 gallon bag and an 11" heat seal bar. It ships with a supply of fifty 1-Quart bags and fifty 2-Quart bags included. | |
| | This Commercial Kitchen Food Vacuum Packaging Sealer is applicable for vacuum packing of food, grain, fruit, pickle, preserved fruit, chemical medicine, medicinal materials, electronic elements, precise instrument and also rare metals. | |
| | This FoodSaver GameSaver Big Game Plus Vacuum Sealer has extra wide sealing strip ensures the strongest seal possible with an air tight seam for long term freezer storage of up to 3 years. | |
---
5 Best Commercial Vacuum Sealer Reviews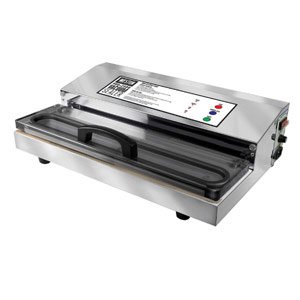 What You Will Love: The Weston Pro-2300 Commercial Grade Stainless Steel Vacuum Sealer has a simple one-touch operation so you can seal your food with ease. 
The Weston Pro-2300 is the best commercial food vacuum sealer because it has a motor that is cooled by a fan therefore it does not overheat.
It always provides consistent sealing of all your foods. It has a construction of stainless steel making it durable and long-lasting. Most noteworthy is it has a vacuum pump that is a double piston. As a result of its 935 watts of power, it has a rapid seal time. 
The Weston Pro has an acrylic lid that you can see through to ensure the bag is perfectly aligned during the sealing process. You can seal your bags easily with a one-touch operation in automatic mode.
The sealer can be used in manual mode so you have better control over the sealing process. The Weston has a Teflon bar that is extra-large to seal bags that are 15 inches or smaller.
The LED light allows you to monitor the multiple stages of sealing. It has a detachable power cord that is stored in a specially designed compartment.
Pros:
Quick seal time
Has the capability to seal extra large bags
Cons:
Expensive
Quick seal works to fast to seal moist meat
Related Article: Sous vide vacuum sealer
---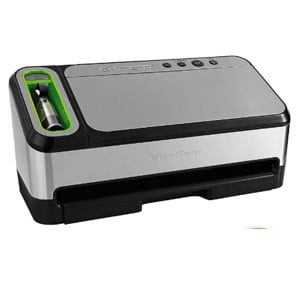 What You Will Love: The FoodSaver V4840 2 in 1 Vacuum Sealer has automatic moisture detection that ensures your food has the proper seal.
The FoodSaver V4840 is a professional vacuum sealer available to you at an affordable price.
The FoodSaver has a built in roll storage and cutter therefore it is simple to use and allows you to custom size your bags. The LED lights allow you to monitor the sealing process. This machine is constructed from the highest quality materials and is durable to last you a long time.
It has automatic detection capabilities. As a result, it is highly effective. It automatically detects when a bag is present and begins sealing. It has an automatic moisture detection that knows when there is moisture and changes the sealing mode to ensure airtight sealing.
It includes a drip pan to collect any excess liquid. The drip pan is dishwasher safe. The rest of the machine is easy to clean with a damp cloth. This is the perfect appliance for your kitchen. 
The FoodSaver is compatible for 8 and 11-inch vacuum seal rolls, any bag sizes, zipper bags, and fresh containers. It can even be used with the quick marinator. There are many optional accessories available so there is no limit to what and how you can seal foods and liquids. 
Pros:
Automatically detects moisture
Cons:
Refill rolls are expensive
---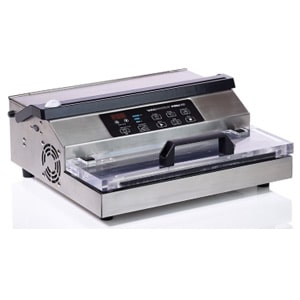 What You Will Love: The VacMaster PRO350 Suction Vacuum Sealer has a digital panel control.
The VacMaster PRO350 Suction Vacuum Sealer is the best chamber vacuum sealer because it can seal a limitless amount of food such as hard cheese, fish, and game.
As a result of the intuitive and innovative digital control panel, it can vacuum seal any food you desire efficiently and easily. Because the lid is completely transparent, you can always verify the bag is properly placed to seal correctly.
The seal wire has extra width to guarantee leak proof sealing. The vacuum sealer has built in roll storage and cutting capabilities so you always know where your bags are located.
The VacMaster is sleek and durable. It is a heavy duty stainless steel on the outside and has a dual piston pump to provide sealing capabilities for a long time.
The VacMaster is simple to use and the control panel allows you to select the amount of time and suction you want to use for each sealing job. You can seal large amounts of food with ease.
Using the VacMaster vacuum sealer allows you to keep your food fresher for as much as five times longer than without vacuum sealing. 
Pros:
Additional accessories are available so you can seal jars
Cons:
It weighs almost 20 pounds
Expensive
Related Article: Sous vide vacuum sealer
---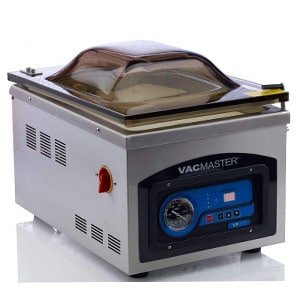 What You Will Love: The VacMaster VP210 Chamber Vacuum Sealer uses technology to remove the air from the food storage bag so that it seals properly.
The VacMaster VP210 is one of the best options that can be used in your home. You should know that it comes with a hefty price tag, but it may be worth it to you.
Most noteworthy about this machine is the technology it uses to remove liquid. The vacuum bag is placed in a chamber, instead of a sealing channel. Once you close the lid, the machine suck the air out of the chamber.
As a result the pressure in and out of the bag remain the same. This allows the liquid to stay in the bag and still provide the best seal possible. Finally, once the bag is sealed, the machine releases air back into the chamber.
The chamber reaches a 27 to 29 HG level of vacuum whereas other machines only reach 24 to 26 HG vacuum level. Therefore there is a double seal on every bag. The VP210 can seal liquids and foods heavy with liquid.
Pros:
Removes air from the chamber as well as the bag to provide a better seal
Cons:
---
What You Will Love: The VacMaster VP215 Chamber Vacuum Sealer provides a double seal to ensure a lasting and strong seal.
The VacMaster VP215 Chamber Vacuum Sealer is the ultimate vacuum packaging machine. As a result of its 1/4 horsepower oil rotary pump, it can handle larger sealing requirements at one time.
This machine is substantial enough that it can run continuously without stopping.
As a result of the oil pump, it does not have to cool down before you can put in a new bag to seal. It is durable and heavy duty to last you a long time, it is incredibly easy to use.
Each bag has a double seal to ensure it will last twice the amount of time like any other machine. The vacuum is powerful, yet quiet and is the perfect vacuum sealer for hunters, fishers, delis, and restaurants. It is a great addition to all of your small business vacuum sealing needs.
Pros:
Quiet and reliable heavy duty vacuum
Cons:
---
Why Buy A Vacuum Sealer?
A Vacuum Sealer is an amazing kitchen tool that can simplify ​your life and make food preparation easy. There are many reasons why you should consider a vacuum sealer.
They can preserve your food, as well as save you time and money. You can vacuum seal whole meals or single portions of vegetables and snacks. When you are ready, they are ready for you.
Just heat them up and you are set. Vacuum sealing food preserves it for six months so that it does not get freezer burnt. Bacteria and mold are not able to grow on your food since all the air is removed.
You can feel good about eating vacuum-sealed food. Your food also tastes better because the juices are sealed in and the food marinates in it while sealed. 
---
How To Choose The Best Commercial Vacuum Sealer?
When looking for the best commercial vacuum sealers, there are a few features you should consider.
Design Of Vacuum Sealers
You should know the materials from which your vacuum sealer is made to ensure it is durable and long lasting. Verify if it has a see through lid so you can ensure the bag is lined up properly. Make sure the design is intuitive for you to use on a regular basis.
Type And Pump Of Vacuum Sealers
There are two types of vacuum sealers. One is a suction sealer and the other is a chamber sealer. A suction sealer sucks all of the air out of the bag during the sealing process.
With a chamber sealer, you put the bagged food in a chamber and the air is removed from the entire chamber keeping the pressure equal inside and out of the bag so all the liquid remains inside the sealed bag.
Acceptable Bags
Be sure you know what types of bags the vacuum sealer can use. Some vacuum sealers can use any type and brand of bag, while others only use specific ones. You want to make sure you have easy access to purchase replacement bags and that they are affordable. You should determine that as part of your vacuum sealer selection.
Vacuum Strength
The more strength of the vacuum in your vacuum sealer, the faster it will seal. While this may seem like a good thing, it may not always be. Make sure that no matter what vacuum sealing strength you have, that you can manually control how fast it seals.
Ease Of Use And Safety
There is nothing worse than buying a new item and not being able to use it. Make sure that it has an automatic or simple to understand the operation. You also want to ensure that your machine has been rated safe to use.
Warranty And Replacements
All manufacturers claim they have the most durable vacuum sealer. Make sure they back up that confidence with a warranty. No ones expect something to happen to their sealer, but you want to make sure you are covered, just in case.
The vacuum sealers have parts that may need to be replaced. Make sure you purchase a vacuum sealer from a reputable brand that will be around for some time.
Expenses
When considering the cost of a vacuum sealer, an obvious cost is the initial price of the machine. You should not forget the cost of bags, or plastic rolls and any other items you need to work your vacuum sealer. Add those items into the cost of the unit when you are looking at overall price.
---
Conclusion
We have provided for you a list of the leading commercial vacuum sealer products. We intended to find vacuum sealers that maintain the best seal while keeping needed liquid with the food.
We wanted to find vacuum sealers that can produce a high volume of sealed bags without impacting the quality of the seal. We have done all the research and believe we have the five best commercial vacuum sealers products across many categories.
---