What is the Best Cupcake Carrier?
We have picked the VonShef Snap and Stack Cupcake Storage Container as the best cupcake carrier as it provides a good amount of space has two tiers and can be used for versatile purposes. The lightweight design and carry handle make it easier to transport than some options, and it provides all of this at a good price.
---
Maybe you have a child's birthday coming up, it is your turn to bring snacks for the baseball team, or you want to treat your coworkers with cupcakes. Whatever the case may be, the best cupcake carrier can make a huge difference.
If you are ready to shop for the top cupcake carrier, there are a few characteristics you need to pay attention to. First, the size and capacity of the cupcake carrier are as equally important as is the materials it is made from.
Finally, the size of the slots and the height of the lid can also affect the cupcakes you place in it. Research and determine the features you need for your desserts before shopping.
---
Quick Navigation
Top 5 Cupcake Carrier: Our Picks & Recommendations
---
5 Best Cupcake Carrier Reviews
We want to bring you the best cupcake carrier for your kitchen, so we searched through many ratings and reviews for different models.
Out of all of the ones we researched, we finally minimized our list to the following five cupcake carriers based on their size, price, and ease of transport.
---
Best Cupcake Carrier Overall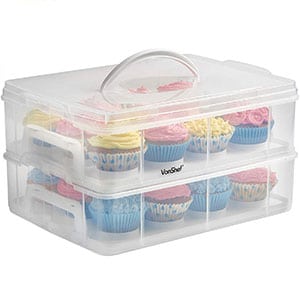 What You Will Love: This cupcake container can hold 24 cupcakes or two large cakes.
The VonShef Snap and Stack Cupcake Storage Carrier is a baker's friend. It has two tiers that are reversible. One side has slots for cupcakes, and the reverse side is flat for cakes.
There are two locking clips on the sides and a carrying handle. At around $35 or $40, it is not as expensive as some well-known brand options.
However, there are cheaper ones available. The fact that it has two tiers is great, but there is little space left for decorations or tall icing.
If you purchase this VonShef product, do not plan on doing any fancy decorating as you may end up flattening it.
It is lightweight but users have stated that the construction is flimsier than they expected. All in all, it offers some great features and benefits at a reasonable price.
Pros
Cheaper than some brands
Two Tiers
Space for 24 cupcakes or 2 large cakes
Lightweight
Cons
Flimsy construction
Not tall enough for high decorations or icing
---
Best Cupcake Carrier on a Budget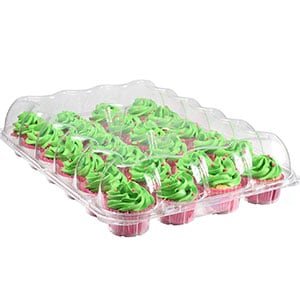 What You Will Love: These have a large dome lid for tall icing and decorations.
The Katgely 24 Pack Cupcake Box is a favorite among many home bakers. These boxes provide plenty of storage space, and you can be creative with tall frosting and decorations without worrying about flattening them.
These are what I need. It never fails that I get carried away with my decorating and forget that my icing will not fit in my carrier. If I had these, I would never have to think about it again.
After you decorate to your heart's delight, you can show your cupcakes off in these clear containers that look like they came from a professional shop.
The pack comes with a set of four plastic containers for less than $20 on a regular day. The plastic is BPA free, and both disposable and reusable.
After use, wash them by hand with soapy water and you will get a few more uses out of them.
The downside is simply that because they are disposable, they may break after a few uses, but that does not seem to diminish the value.
In fact, many users said that they love these so much, they will buy them over and over again.
Pros
Dome lids for tall frosting and designs
Professional-looking clear plastic
Snap securely shut
Disposable or reusable
BPA free
Cons
The plastic will likely break after several uses
---
Best Compartment Cupcake Carrier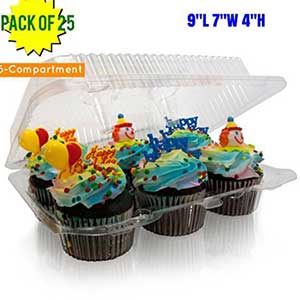 What You Will Love: This set comes with 25 containers that hold 6 cupcakes each.
The Bakers Pantry 6 Compartment Cupcake Container is another winner for tall decorations and frosting as a result of the dome lids.
At 4" high, you have a lot of space for toppings. The professional–looking clear plastic is BPA free, disposable, and reusable.
If you are not too rough on them and keep them washed, you can get many uses out of them. The hinged lid snaps into the tabs securely. Furthermore, you can stack them on one another for easier transport.
If you are not careful and leave them close to a heat source, you can damage the tabs that keep them closed. With care, though, you can keep them around for a while.
Pros
25 containers for a great price
The tall lid to hold tall decorations
BPA free plastic, stackable
Closes securely
Disposable and reusable according to your desires
Cons
Plastic can easily melt and break
---
Best 2-layer Cupcake Carrier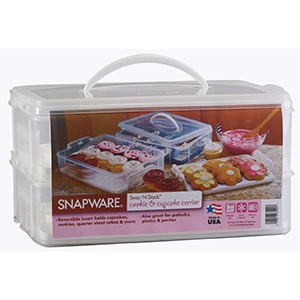 What You Will Love: This carrier can hold up to 24 cupcakes or cookies, sheet cakes, and more.
The Snapware Snap 'N Stack Cookie and Cupcake Carrier has two layers that can each hold up to 12 cookies or cupcakes.
The layers are stackable. In fact, you can purchase an additional carrier and stack those on, too. The container is BPA free, airtight, and durable.
As a result, it can be thrown into the dishwasher. It is both freezer and microwave safe, too. It comes with a limited lifetime warranty against defects and is a really great price.
Some complaints are that not only are the snaps flimsy but the cupcakes do not sit securely during transport.
Pros
Great price
BPA free
Two layers
Stackable
Airtight
Freezer and dishwasher safe
Cons
Snaps may break easily and may not sit securely during transport
---
Best 36 Cupcake Carrier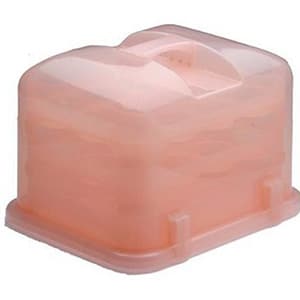 What You Will Love: This carrier can hold up to 36 cupcakes and it comes in a variety of colors.
The Cupcake Courier Storage Container is an excellent option for regular size and mini cupcakes.
It has three stackable trays that can hold 12 regular cupcakes, or you can remove the trays to carry a cake. Also, there are multiple color options to choose from including Lemongrass, Petal Pink, and Soft Blue Sky.
The carrier snaps securely and has a carry handle on the top. If you want to make tall iced cupcakes, only make enough for the top tray.
There is not enough space between the other trays for tall items. And at 12 ½ x 16 x 11 inches, it can be difficult to store in your kitchen.
Pros
Three stackable trays with 12 slots each
Trays are removable to transport or store cake
Multiple color options
Carry handle
Great for mini cupcakes
Cons
Fairly expensive
Bulky to store
Only the top layer can have tall icing or decorations
---
The cupcake carrier that you choose is equally as important as the cupcakes you put in it. The best cupcake carrier will hold not only the cupcakes you wish to transport with ease but also be durable, and not break the bank.
With many options available, complete your research before shopping so you can choose the top cupcake carrier for you.
---
Related Articles
---