What is the Best Electric Pressure Cooker?
We have picked the Instant Pot DUO60 7-in-1 Multi-Use Programmable Pressure Cooker as the top electric pressure cooker as it is seven kitchen appliances in one, made from food grade stainless steel, and has no chemical coatings. It also comes with 10 safety mechanisms, 14 Smart Programs, and technology that makes it self-adjust if the food is cooking too quickly.
---
5 Top Electric Pressure Cookers: Our Picks & Recommendations
---
Electric pressure cookers can be an incredible asset to any kitchen. They can cut cooking time down tremendously and provide delicious food.
Pressure cookers can help you feed your family a home cooked meal no matter how busy you are. The result is more family time and less fast food- both healthy benefits.
Parents are not the only ones that find them useful, though. A variety of people love them, and that is why there is a variety of electric pressure cookers to choose from.
They come in different shapes, sizes, and materials. Some have more settings and capabilities than other. Ultimately, you will have to choose the one that is best for your family size, your meals, and your budget.
---
5 Best Electric Pressure Cooker Reviews
To find the top electric pressure cookers, we analyzed the ratings and reviews of both buyers and experts.
From all of the models we looked into, we chose the following five electric pressure cookers based on their convenience, cooking capabilities, and their safety.
---
Best Overall Electric Pressure Cooker: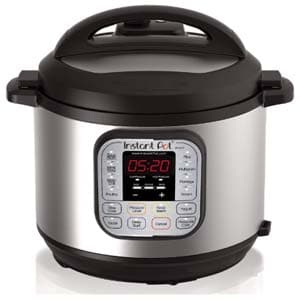 What You Will Love: This is seven kitchen appliances in one.
The Instant Pot Duo is the best 6-quart pressure cooker available thanks to its performance and the fact that it can replace seven kitchen appliances.
It acts as a pressure cooker, slow cooker, steamer, yogurt maker, warmer, sauté, and rice cooker. It is equipped with 14 Smart Programs, which include meat/stew, poultry, keep warm, steam, and more.
The cooking pot is made from food grade stainless steel and has no chemical coatings.
It also comes equipped with 10 safety mechanisms and technology that monitors the pressure and temperature and adjusts the heat intensity. Ranging between $80 and $100, it is an expensive item.
However, since it acts as so many appliances, the cost per function is less than buying them all separately. Additionally, there have been a few units that have stopped working after a year or so of use.
Pros:
Highly recommended
7 products in 1
Programmable with 14 smart programs
Food grade stainless steel
Safety mechanisms
Great technology
Cons:
Kind of expensive
May wear out after a year of use
---
Best Budget Electric Pressure Cooker: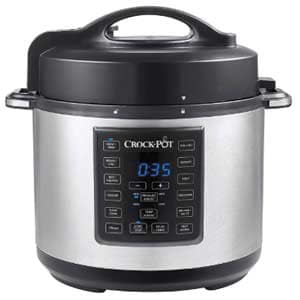 What You Will Love: This multi-cooker gives you eight one-touch cooking settings.
The Crock-Pot 6-Quart 8-in-1 Multi-Use Express Pressure Cooker lets you slow cook, brown and sauté, pressure cook, or steam. It gives you eight meal settings that include meat/stew, poultry, soup, dessert, and more.
Clean up is a breeze since the pot resists stuck-on food and you can throw it in the dishwasher.
For those busy parents who shuffle kids to sporting events all day, you can add your ingredients before you leave home. Then, you can set the delay timer so it is hot and fresh when you arrive home.
It can also reduce the number of drive-thru dinners you eat. The purchase includes a recipe book, serving spoon, and steaming rack. It is fairly priced for its capabilities.
A potential problem for some is that you must use the preset buttons, but you can increase or decrease the time- except for the poultry setting.
Pros:
Eight cooking settings
Resists stuck on food
Dishwasher safe
Delayed cooking
Recipe book
Steaming rack
Fair price
Cons:
Does not give as much control over cook times and settings as other pressure cookers and multi-cookers
---
Best for Advanced Cooks:
What You Will Love: This cooker adds new features, including cake, egg, and sterilize.
Instant Pot Ultra 10-in-1 Multi-Use Programmable Pressure Cooker brings some great new features to pressure cookers.
It can replace the following 10 kitchen appliances: rice/porridge cooker, pressure cooker, cake maker, egg cooker, slow cooker, yogurt maker, sauté/searing, steamer, warmer, and sterilizer.
Additionally, it provides altitude adjustment, steam release, cooking indicator, and an ultra button that allows for custom programming.
This pressure cooker comes with a serving spoon, a soup spoon, measuring cup, recipe booklet, and a steam rack with handles. It monitors the pressure and temperature to ensure your food is cooked the way you want.
It has 11 safety features and is made from food grade stainless steel. At around $130 and up, it is a bit expensive.
Pros:
10 appliances in one
Adds cake maker and egg cooker
Sterilize features, altitude adjustment steam release
Ultra button which allows for customer programming
Comes with great accessories
Food grade stainless steel
11 safety features
Cons:
---
Best Ceramic Electric Pressure Cooker:
What You Will Love: It has TenderCrisp Technology that gives your meals a crispy finish.
The Ninja Foodi Pressure Cooker is a 6.5 qt pressure cooker that also steams and air fries your food. It is ceramic coated and nonstick making it easy to clean.
The 4 qt cook and crisp basket can hold 3 lbs of French fries or 5 lbs of chicken, so it is a great size for a large family. You know all those times when you realize way too late in the day that you forgot to lay out dinner to thaw?
I do this quite often, but this pressure cooker solves that problem. It even evenly cooks frozen foods to crispy deliciousness with no need to thaw first.
It has 14 safety features, and it comes with the following accessories: crisping lid, stainless steel reversible rack, ceramic-coated cook and crisp basket, and over 45 recipes. At $200 and up, it is definitely expensive, but it comes so highly recommended that it seems a worthy investment.
Pros:
Can cook from frozen
4 qt cook and crisp basket holds a great deal
Ceramic coated and nonstick
Easy to clean
14 safety features
Great accessories
Cons:
---
Best Stainless Steel Electric Pressure Cooker: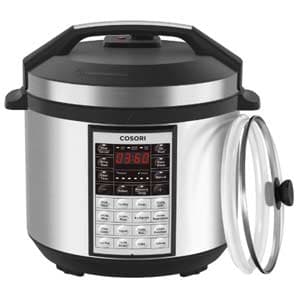 What You Will Love: This pressure cooker has 19 programmed functions, and gives you the capability to cook two dishes at once.
With the COSORI Electrical Pressure Cooker, you can limit your cooking time by cooking two dishes at once. This seems like an extremely useful kitchen companion for busy or working moms and dads.
It comes with extra sealing ring, glass lid, ladle, rice spoon, water collection cup, a measuring cup, and 50 recipes.
It has 10 safety mechanisms and six pressure settings. The food grade stainless steel is made with a 3-ply bottom to make it tougher. A little under $100, it is in the mid-level price range.
On the downside, with so many buttons and settings, it may take a while to learn them all, so be patient. Read the user manual carefully before use.
Pros:
19 programmed functions
Cook two dishes at once
Great accessories and over 50 recipes
Strong 3-ply bottom, food grade stainless steel
10 safety features, okay price
Cons:
May take some time to learn all functions
---
If you are looking for a way to feed you and your family more healthy, less processed foods, an electric pressure cooker might be the answer for you.
With all of the options, be sure you research and determine what features you want before you shop so that you can pick the best electric pressure cooker for you.
---
Related Articles: