What is the Best Fillet Knife?
When looking for a fillet knife, there are certain things you need to think about: the blade, easy to sharpen, resistant to stains and rust, the durability, and more. With these things in mind, we choose the Victorinox 8-inch flex boning knife as our top pick. It has the non-slip handle for precision and excellent control. This type of blade will help you have perfect control whether you are working to get the meat from around a bone in one swipe or deboning and filleting a delicate fish.
---
Quick Comparison: 5 Top Fillet Knives
---
How to Choose the Best Fillet Knife?
When choosing your fillet knife, there are various factors to take into consideration.
Flexibility
The flexible blade is one of the most important aspects of a fillet knife because a flexible blade will be able to go into a thick cut of meat without breaking.
Good flexibility also makes it the perfect fillet knife for fish. Flexibility also creates a better control for the user and will allow you to get the meat closest to the bone.
Handle Design
When deboning meat or fish, and cutting large quantities of meat, things will get messy and slippery.
If you put your full force into the handle of the fillet knife and it's slippery, you are likely to cut yourself or make a mess of the fillet or boning job. A textured gripping handle helps to take care of the possibility of slipping and gives you precise control.
It's also important for the fillet knife's blade to go all the way into the handle because it is less likely to break with force and will last longer.
Blade Design
A straight blade design with the curved cutting edge give you a better design to get close to bones, and it is much more useful for intricate areas with one pass.
This keeps the meat in one piece with clean cuts. You will be able to debone a fish in one swipe, making it a breeze to debone, clean, and perfectly fillet your delicate fish.
Blade Material
Most fillet knives are stainless steel, but as a buyer, you want to pay close attention to the type of stainless steel used because not all are created equal.

Cold tempered steel with a high carbon value has the best quality. The high carbon knives usually weigh less, are more durable, and they allow you to use the fillet knife on any cut of meat you want.

By design, the blade is naturally rust and stain resistant. You do want to take care of your knife properly, which is generally a hand wash instead of running it through the dishwasher.
Size
The recommended best size for a fillet knife is 5 to 6.5 inches for removing bone from the most delicate cuts of meat.
This size will make it easier to control, but it won't hold you up from doing your task. It also makes it lightweight for ease of handling with larger jobs.
There are many kitchen knives on the market to choose from, and prices will vary widely. The temptation to purchase a knife by price will be there, but a cheaper knife will cost in the cuts.
A higher end knife comes with better control, precision, and durability. They also tend to be safer because they are less likely to break while you are using force in the deboning process.
Electric
For some, an electric fillet knife is the quickest and easiest to use. The Waring Pro EK120 was voted the best electric fillet knife. It has a cordless operation and adjustable slicing guide to ensure consistent fillets.
An electric option will be heavier and larger to handle and operate, and it does not have the flexibility or precision a hand-held knife does.
Whichever knife you choose, make sure you are comfortable with it before you go after a large deboning job.
---
Fillet Knife vs Utility Knife
A utility knife is a medium size general use kitchen knife used for cutting meats and cheeses and other foods that don't require an extremely sharp blade. It's larger than a paring knife but smaller than a chef's knife and most recognized for its versatility.
It differs from a fillet knife in that it is a general use tool. Fillet knives are most commonly used for removing bones and skin from meat, particularly fish. However, some fillet knives are all-purpose and can be used for boning and filleting.
More than likely, it would be more difficult to use a utility knife to remove bones and skin from meat and fish because of the size and sharpness of the knife.
A fillet knife would produce precise results because it is expressly designed for separating bones and skin from meat.
---
Fillet knife vs Boning Knife
These two knives are closely related. The biggest difference, however, rests in the fact that fillet knives are designed to remove both bones and skin from meat or fish while boning knives are designed to remove bones from meat.
They also differ in appearance. Fillet knives have a thin blade that can easily be inserted between the skin and the bones of meat or fish while boning knives taper to a sharp point.
These two knives overlap in function in that boning knives can often be used to remove both bones and skin from meat just like fillet knives. It should also be noted that there are all-purpose fillet knives.
---
Fillet knife vs Carving Knife
Fillet knives are much thinner and smaller than carving knives. These knives are small and easy to handle, allowing you to accurately make precise cuts to meat or fish.
Carving knives differ in that they are wide and allow you to control what you're cutting. The widest part of the knife rest against what you're cutting allowing you to cut with more precision and control. These knives are used to cut thick meats like roasts.
It should also be noted that carving knives generally don't have a serrated edge because of the texture of many types of meats and chicken. This is also why carving knives aren't general use knives and are usually used expressly for cutting chicken and meats.
---
How long should a fillet knife be?
Fillet knives generally range from four inches to nine inches. However, they can be larger. Larger knives are made to fillet large fish. Most fillet knives come in four sizes. These sizes are 4, 6, 7.5 and 9 inches. However, these knives can be as long as 11 inches as well.
You would choose a knife based on both the girth and surface area of the fish. This is why smaller knives are designed to be used for smaller fish and large knives are recommended for larger fish.
---
6 Best Fillet Knife Reviews
---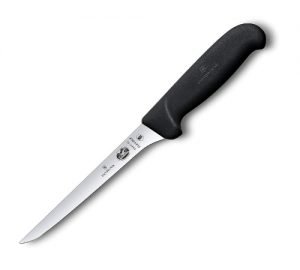 After reviewing the top rated fillet knives with the top fillet knife characteristics, the Victorinox stood out. Their 8-inch Flex Boning and Fillet knife met all the qualities of the top fillet knife for deboning animals and the best fish fillet knife on the market.
The Victorinox brand also stood out for making time-trusted, high-quality knives and being voted one of the best brands worldwide in 2016. This knife is also recommended by some of the top chefs.
The Victorinox 8-inch fillet knife has the Fibrox patented fully textured, non-slip handle for precision and excellent control. It is perfect for small or large jobs in the kitchen or outdoors.
The blade is a perfect size and flexible to allow you to get close to the bone, use force without it breaking and has superb control.
It is ice-tempered stainless steel with a high carbon value is lightweight, stays sharp longer, easier to sharpen, and the blade extends the length of the handle.
The blade is perfectly designed to be powerful enough to strip most any game and flexible to manage delicate tasks like deboning fish. Perfect for cutting away silver skin and manage its way around bones with precision quickly.
After careful review, I recommend the Victorinox 8-inch Flex fillet knife as the best fillet knife.
It's ideal for use at home deboning work with chicken or fish, as well as cutting the perfect fillets in one swipe. It's also the top fish fillet knife and perfect for deboning wild game.
The design and quality are superior and meets all the top fillet knife elements:
The blade is ice-tempered, high carbon stainless steel
It is lightweight and will stay sharp for the length of a large job without re-sharpening
The design makes it easy to sharpen
The narrow blade has the flexibility for control and precision for large deboning jobs and delicate fish deboning and filleting
The blade is within the recommended length
The textured handle is designed for non-slip control and safety for the messiest jobs
The design, material, and construction make it durable to last for years of use
---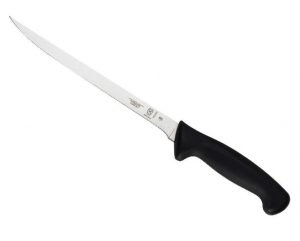 Made with a high carbon, non-staining Japanese steel blade that is one piece going into the handle.
The blade will stay razor sharp for a large job and is easy to sharpen. The handle is made of Santoprene for comfort and polypropylene for durability.
This Mercer knife has textured finger points for slip-resistant control and engineered with a protective finger guard where the blade meets the handle.
Pros:
Japanese high carbon stainless steel blade, one piece blade,
Comfortable handle with textured finger points
Cons:
The blade is not cold-tempered,
Less flexibility, and longer than recommended;
Handle is not entirely textured
---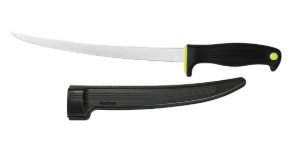 Available in 7- and 9-inch Japanese 420J2 stainless steel blade with a satin finish.
The lightweight blade has some flexibility to allow it to bend without breaking. The handle is co-polymer for grip, texture, and durability.
It is contoured for comfort with hand protectors at both ends for safety and has neon highlights for underwater use.
Pros:
Japanese high carbon stainless steel blade;
Lightweight,
Flexible,
Handle has some texture
Cons:
Blade is not cold-tempered, 9-inch blade not recommended,
Handle is not fully textured
---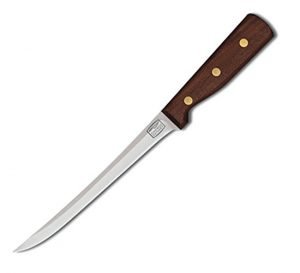 Made with high carbon 420 stainless steel blade with exclusive taper grind edge to stay sharp and ease in sharpening.
A narrow, thin blade for filleting. Blade extends into the ergonomic solid walnut wood handle and secured with triple-compression brass rivets.
Pros:
Blade is high carbon stainless steel and is one piece,
Stylish walnut wood handle
Cons:
Blade is longer than recommended,
Non-flexible, and not cold-tempered;
Handle has no texturing
---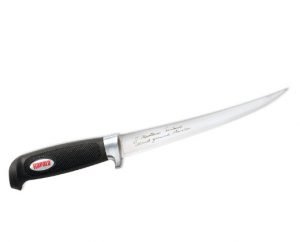 Handcrafted stainless steel blade in a variety of sizes with a progressive double-tapered blade for strength and directional stability.
Flexible tip for delicate filleting. Thermoplastic soft grip handle with a textured finish and enlarged finger guard for safety.
Pros:
Flexible handcrafted blade,
Stainless steel, flexible tip,
Double-tapered blade,
Soft grip textured handle
Cons:
Reviews lack details of the blade's steel specifics and if the blade is one piece into the handle
---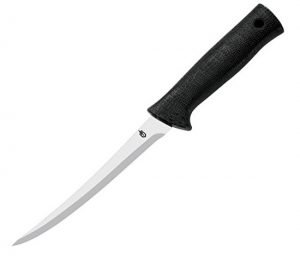 Blade is 420-high carbon stainless steel with a clip point blade design, a fine blade type, and is the full length of the fillet knife.
The handle is glass-filled nylon with the gater overmold texture.
Pros:
High carbon stainless steel blade with a thin blade and handle has some texture
Cons:
Blade has less flexibility, is not cold-tempered,
Handle's texture is a light texture
---
How to Fillet a Fish?
Learning to fillet a fish isn't the easiest process to learn but it's quite useful. Once you become proficient, you will be able to properly fillet a fish quickly and easily.
The end goal is a bone-free fillet that will be easy to cook. This is one of the many reasons why people use fillet knives for fish.
Begin by placing a scaled fish on a clean cutting board and removing the fins. Use scissors to remove the fins from all areas of the fish. Use a fillet knife to pierce the stomach of the fish making a small hole near the tail of the fish.
Then, split the fish in half by gently running the knife from the tail to the head. Spread the fish open and clean out the stomach. Afterward, thoroughly rinse the fish in cold water and place it on a cutting board.
Remove the head by cutting right below the gills on each side of the fish. Then, start at the tail, place the knife between the spine and the flesh, and gently slice down the length of the fish.
Gently guide your knife following the shape of the fish particularly around the rib bones.
Carefully go over these bones and remove the fillet. Flip the fish over and start again. Repeat this process for each fillet. Remember to begin at the tail and cut upwards, toward the head.
---
How to Use a Fillet Knife?
Fillet knives are precise tools that have a strong yet flexible and sharp blade designed for control and superior cutting. These blades usually vary between 6.5 and 8 inches in length.
The sharpness and length of these blades make it easy to precisely separate bones and skin form different meats and fish, functionally bending around sharp edges.
The precision and versatility of these knives make it easy to cut both thin and thick slices of meat with ease.
Filleting meat or fish is simply removing the meat from the bone. Begin by locating the bone or bones on the meat or fish. Hold the knife firmly, get as close to the bone as possible and gently cut around the bone.
Simply hold the base of the knife with one hand and the meat or the fish with the other. Take your time and carefully cut around the bone or skin. Keep in mind that these knives are designed for precision when cutting very thin meats as well as thicker meats.
As you firmly grip the handle of the knife, use the upper part of the knife to slowly cut along the length of the meat or fish. This will produce a clean even cut or fillet.
Make a cut on each side of the fish or meat using the same technique each time. It's important to cut slowly because a fillet knife is extremely sharp, which allows you to make thin clean cuts and get as much meat off of the bone as possible.
This can be done without tearing up the meat or fish. Plus, using this method allows you to isolate the bone and cleanly separate and remove it from the meat.
This is why fillet knives are thin and sharp, making it easy to fillet meat or fish without wasting or tearing up the meat unnecessarily.
---
How to Sharpen a Fillet Knife?
One of the main reasons why fillet knives are essential when it comes to making clean precise cuts is based almost entirely on the sharpness of this kitchen tool. This means that it needs to be sharpened on a regular basis. With use, all knives become dull.
However, a fillet knife is the is one of the best kitchen tools to use when you want to fillet meats and fish. There are a variety of different tools that can be used to sharpen a fillet knife.
However, which tool you choose to use can be based on where you are as well as convenience and function.
For example, if you are outdoors an electric knife sharpener wouldn't be a practical option. However, there are tools that can be used that don't require electricity.
Manual Methods: Sharpening Stones
If you are outdoors and need to sharpen a fillet knife, Whetstone or diamond stone are effective stones and practical choices.
One of the advantages of using sharpening stones is the control that you have using this manual method.
Although this method is manual, it does require some proficiency to ensure that you don't ruin your blade. This is why it is suggested that you practice on cheap knives before using these stones on your expensive knives.
The key to getting your blade as sharp as possible lies in using the correct angle. Slide the cutting edge over your sharpening stone using the same angle you would use to slice butter.
The handle should be positioned slightly above the sharpening stone as you move the knife back and forth. Sharpen both sides of the knife using this same motion to get the blade as sharp as possible.
The Electric Method
An electric blade sharpener is the most convenient way to sharpen a blade. Electric sharpeners generally have two settings.
One setting is actually used to sharpen the blade by removing steel. The second setting is used to hone the blades. Pull the blade through the sharpener until it reaches your desired sharpness.
The honing setting is used to restore the edge of the knife to prevent it from becoming dull. Use the honing setting when your blade has been used heavily for a long period of time.
However, your blade will have to be sharpened periodically even though the honing setting will prolong its use.

---