What is the Best Fletching Jig?
We have picked the Last Chance Fletching Jig as the best fletching jig due to its a high level of accuracy, its ability to fletch 4 vanes at a time, and its ability to fletch both left and right helical. It can also work with feathers.
---
To some participants, archery is just an occasional hobby that they enjoy when the whim arises. Others are avid archers who enjoy this outdoor recreation every chance they get.
Regardless of which group you fit into, you will likely find yourself needing your arrows fletched at times.
In this case, there are two options: continue purchasing pre-fletched arrows or save money by fletching your own arrows.
There are multiple fletching jigs available on the market with different capabilities.
The one that you choose will depend on how frequently you will use it, what type of best hunting arrows you will be fletching, whether you want straight, offset, or helical fletching, and your budget.
---
Quick Navigation
5 Top Fletching Jigs: Our Picks & Recommendation
---
5 Best Fletching Jig Reviews
To find the best fletching jigs, we searched through numerous reviews and ratings.
From the many options we looked at, we carefully considered each to bring you the following five fletching jigs based on durability, performance, and versatility.
---
Best Overall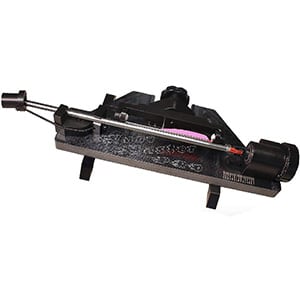 What You Will Love: This fletching jig can do left or right helical up to 5 degrees.
The Last Chance Fletching Jig has a high level of accuracy and is configurable. It has the ability to do helical fletching up to 0- 5 degrees as well as straight and offset fletching.
This fletching jig is highly recommended among users who are serious about their shooting gear because it is easy to use and performs well.
Unfortunately, the Last Chance Fletching jig applies uneven pressure along the length of the vane. As a result, the vane may have difficulty sticking to the shaft.
In fact, the vane may even fall off of the shaft during or prior to flight. Also, priced at over $300, this fletching jig is probably out of reach for many.
Pros
Can do left or right helical 0-5 degrees
High level of accuracy
Works with feathers
Can handle up to 4 vanes
Cons
Expensive
Max length 4-inch vane
Uneven pressure affects the vane's ability to stick to the shaft
---
Best Budget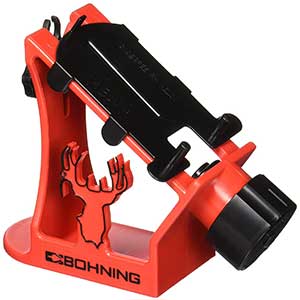 What You Will Love: It can fletch 2.25" vanes at a much more budget-friendly price.
The Bohning Blazer Fletching Jig is an affordable option for fletching your blazers and it can put a 3 degree right helical on even a small vane.
The user can fletch three vanes at a time at 120 degrees apart on standard carbon shafts. It is not very durable due to the plastic construction.
It can only fletch blazers so it is not as versatile as other options. However, if you will only be fletching blazers, this is a very affordable option for you. It is also a good starter jig or good for limited use.
Pros
Can put a right helical on a small vane
Easy to set up
User-friendly
Fletches 3 vanes at a time
Cons
Plastic construction decreases durability
Only for fletching blazers
Lack of versatility
---
Best Helical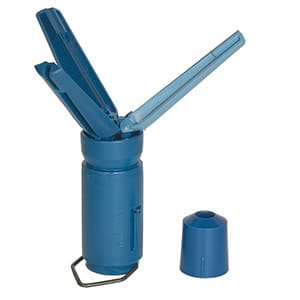 What You Will Love: It is a quick, convenient, and good value for the price.
The Arizona Rim E-Z Fletch Mini can fletch right helical on up to three 2 ¼" vanes at one time.
While it does take some practice to decide on the right amount of glue, once you have, you can fetch up to a dozen shafts in around 20 minutes.
It is convenient and easy to use. Users report tight groupings due to this jig. This jig is constructed from plastic so durability is not the greatest.
Also, the plastic needs to be coated with wax or glue sticks to it. It is a very good value for the money.
Pros
Quick
Convenient
Good value
Right helical on three vanes at once
Helps tighten groupings
Cons
Made from plastic so may not be durable
Glue sticks to plastic if not waxed
---
Best Target Shooter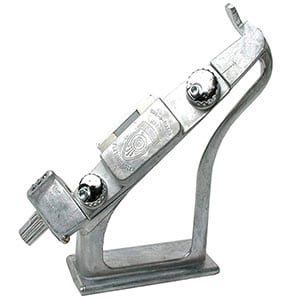 What You Will Love: It is constructed from die-cast alloy and is very precise.
The Bitzenburger Fletching can fletch any size shaft so it is very versatile. It can also fletch straight, right, left, or offset options.
However, it can only fletch one vane at a time which results in longer fletching times. The jig is very sturdy and durable due to the die-cast alloy, but the clamp is sold separately.
A strong magnet makes the jig self-supporting. As a result, the fletching process is easier for you.
This jig is pricier than some other options, but users state that it is worth the extra cost.
Pros
Durable die-cast alloy
Excellent precision
Good for any size shift
Self-supporting magnet
Versatile
Cons
More expensive than some options
Fletches one vane at a time
A clamp is sold separately
---
Best Helix Tower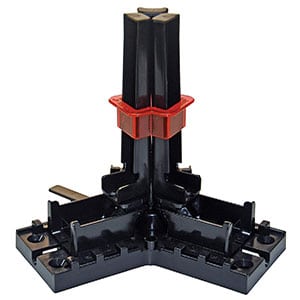 What You Will Love: It has five center post options for use with different arrow diameters.
The Bohning Helix Tower Fletching Jig provides a three degree right helical on up to three vanes at a time. Those vanes are spaced 120 degrees apart and set very quickly.
The center post can fit five different diameters but only works with shafts that have push fit nocks- no feathers.
You may experience misalignment at times due to inconsistency in performance. This jig is bulky and more expensive than some options. However, users still love this jig and recommend it to others.
Pros
Three degrees right helical
Fletch three vanes at a time
Vanes spaced 120 degrees apart
Quick set vanes
Fits five different diameters
Cons
Bulky
More expensive than some options
Only for shafts with push fit nocks
Possible misalignment
Inconsistent performance
---
Fletching jigs are an excellent resource for those who enjoy archery either as a hobbyist or an enthusiast.
With all the options available, researching prior to shopping is an important step. Our recommendation for the best fletching jig is a great place to start your research.
---
Related Article
---