Are you looking to add a steamer to your kitchen to create healthy food without the use of oils?
Then you'll want to find out all about the different features included in the best food steamer.
We've collected some of the most popular products and created the following buying guide and product reviews to make your search for the best food steamer fast and easy.
Quick Navigation
The Most Recommended Best Food Steamer: 5+ Best Reviewed
How to Choose the Best Food Steamer
Before you click to buy the best food steamer, you'll need to know what you will expect of your new kitchen appliance.
Steaming cooks food using heat to boil water in a lower chamber that sends steam up through the different steam baskets.
Food remains moist while retaining more of the nutritional value that is typically lost through boiling.
Food steamers don't heat up the kitchen as much as traditional stoves and ovens, making steamers a nice option for cooking during the summer.
What Size Should I Choose?
How many people are you cooking for?
If you are cooking an entire meal, one person will eat at least a quart of food. If you're steaming for the family, you'll want a food steamer able to produce at least 5 quarts at the same time.
However!
If you're only steaming rice, you can opt for a smaller unit. You may also want to take into consideration if the basket tiers are stackable for easy storage as 3-tier units can be quite tall.
Material
Most electric steamers are made out of plastics, with many of them being manufactured overseas.
You will want to check if the plastics are BPA free, especially in the cooking trays. Otherwise look for glass or stainless steel steam baskets.
What Types of Food Steamers are Available?
Electric Steamer: An electric steamer is a small countertop appliance usually with one or two steaming chambers that is suitable to steaming rice, vegetables, and even meat. It may have a digital timer, allowing you to preset how long you wish to cook your food. It has a sealed top lid and a drainer cup at the bottom that collects the condensed liquid from the steaming process that can be reintroduced into your food for better nutrition.
Bamboo Steamer: Bamboo steamers have been used for millennia and are still widely used in preparing Asian cuisines. This simple and organic option works by placing food inside the stackable steamer baskets which are then placed over a wok or pot of simmering water. The perforated bottom of the bamboo steamers allows the moist heat to rise through the stack, cooking each layer. They are great for steaming veggies, rice, and meat in separate sections without adding yet another appliance to your crowded kitchen.
Steamer Basket: Typically crafted out of lightweight aluminum or stainless steel, this basket has short legs meant to raise the food above the water, and collapsible sides with no lid. Designed to fit into a variety of cooking pots from four to eight-inch diameters, they are commonly used to steam vegetables using the pot's lid to seal in the steam. Most models are not stackable and any steam is lost back into the simmering water. It's a compact and inexpensive option when looking for a simple steam option for your kitchen.
Microwave Steamer: It is possible to take advantage of steam when cooking in the microwave, but you are still limited by the speed and violence of the microwave process. These are typically sold as a complete pot/steamer set. Place water into the bottom, add the food you wish to steam in the top section, close the perforated lid and heat in the microwave until your meal is cooked appropriately. It's a nice option for the person living in a small studio or dorm, or who likes to cook at the office, but will not create the same results as the more traditional methods.
The Most Recommended Best Food Steamer: 10 Best Food Steamer Reviews By Sujana Marie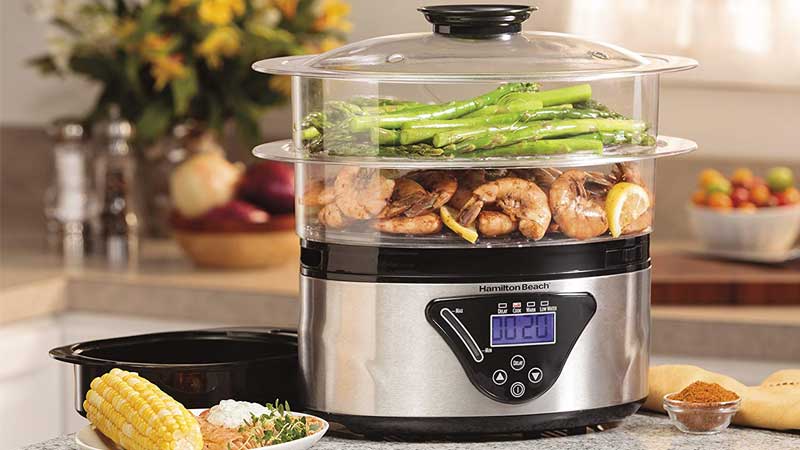 1) Rosewill 3-Tier Stackable Baskets Electric Food Steamer Review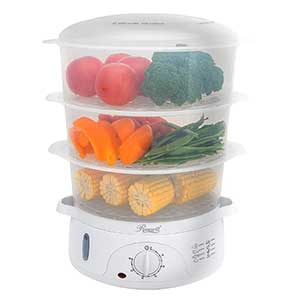 Rosewill Food Steamer comes with 3 stacked steaming baskets and a dedicated fan base.
On the face, it looks and works much like several other bargain steamers but costs twice the price.
However, very few owners have any problems with the unit making it one of the most popular steamers out there.
It has a rapid-heat startup so you're cooking in under a minute with a reliable mechanical timer.
There's no touchpad to wear out and the baskets are all dishwasher safe.
Best of all, you're able to cook up to 9.5 quarts of food, meaning you can cook just for the two of you or step up the streaming game for a dinner party.
2) Ovente Electric Vegetable and Food Steamer Review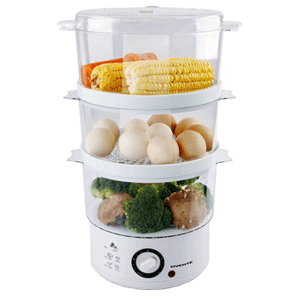 This economical unit offers simplicity in favor of efficiency.  With three steaming tiers, it's ready to steam a complete meal all at once.
Instead of a digital control pad, it has a simple twist analog timer with four 15-minute increments allowing you to keep steaming for up to one hour.
All of its removable parts are dishwasher safe, meaning clean up will be fast and easy.
Each segment can hold up to 2 quarts of food, for a total of 7.5 quarts of prepared food possible.
It has a small 8-inch wide footprint making it easy to store and fit on your counter when you're looking to steam your next meal.
3) Euro Cuisine Electric Food Steamer Review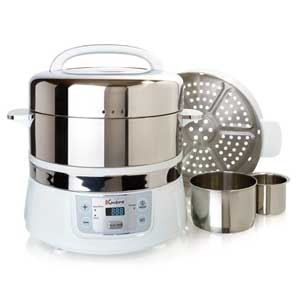 If you're looking to steam lots of food for your entire family, the Euro Cuisine just might be the right choice.
Able to hold up to 17 quarts of food in its two-section food steamer, you can cook enough rice to feed a small army or cook ahead for the week.
It features a digital timer pad and will shut off automatically when cooking is over or if the water tank is empty.
However!
You are paying significantly more for this stainless steel food steamer.  When you've got a big family or are steaming rice for a cookout, it's a nice unit to have.
4) Bella 7.4 Quart Food Steamer Review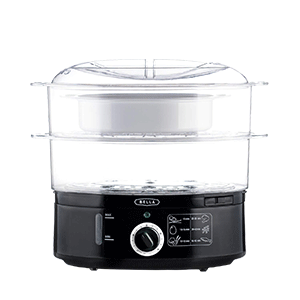 For the small but busy kitchen, the Bella Food Steamer has all the functionality you need without the unnecessary extras.
Two steaming tiers fit enough food for two people to enjoy a hot meal. The timer dial on the front works just like old egg timers, including the clicking noise as it counts down.
It heats up quickly and provides steady heat throughout the steaming process. Some users have found that the catch tray underneath is almost too small to collect the condensed steam.
This food steamer automatically shuts off at the end of the cooking cycle and delivers reliable performance for an extremely reasonable price tag.
5) Hamilton Beach Digital Food Steamer Review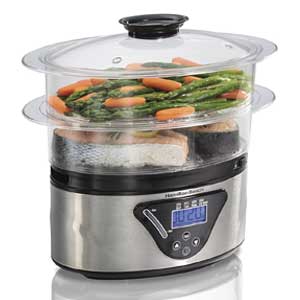 This electric food steamer offers two stackable trays that have a middle divider that can be removed, allowing it cook tall items such as entire heads of broccoli or tamales without crushing them.
Its timer includes the option of the delayed cook, which lets you load up the steamer and set it to start steaming up to 24 hours later.
You'll have a whole meal hot and ready when you get home from work.
The food steamer trays are plastic, not glass, and are fairly thin, leaving many users to question its durability.
6) Aroma Housewares Professional 5-Quart Food Steamer Review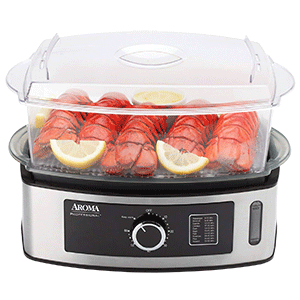 The aroma offers up this single basket steamer and adds the description of professional to it.
While it does have a warmer setting that will maintain your hot food until you're ready to serve, it doesn't have the same versatility that most other multi-tier units offer.
It has an extra large 5-quart basket, allowing you to cook a massive amount of rice at one time, but there's no ability to separate out meat, fish, and vegetables to maintain clear and distinct flavors.
Users appear to enjoy it, but it may spend more time in the cupboard instead of steaming a small meal for you and a friend.
7) Pyle PKEC12 – Rapid Egg Cooker and Vegetable Food Steamer Review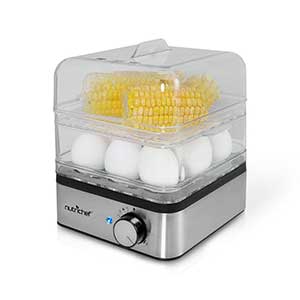 While most electric steamers focus on the preparation of rice, there are a few designed specifically for cooking eggs.
This small countertop unit comes with two tiers and a tray that carefully cradles 9 eggs.
Steaming creates a softer white and creamier yolk and can be used when cooking custard.
The timer only runs to 10 minutes, so for hard-boiled, you may have to add a few extra minutes.
It works well for many veggies, but fish, meats, and rice won't cook all the way on the allotted time.  If you want steamed eggs, this is a compact and efficient unit for that purpose.
Related Reading: Best Egg Cooker
8) Viante Intellisteam Counter Top Food Steamer Review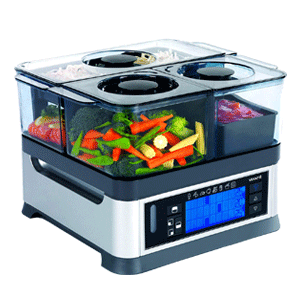 Do you love to eat and often are cooking just for yourself?
The Viante Intellisteam is an entertaining and easy to use steamer able to create perfectly steamed meals just for you. This one layer unit can be separated into four small cups.
Use the digital information center to select which foods are being cooked in each segment and the unit determines when to heat each section, delivering four perfectly cooked items all at the same time.
Its cost is prohibitive for the budget conscious family, but for those who are looking for a high-tech food steamer designed just for one, this unit just might be the perfect solution.
9) Black and Decker Food Steamer Review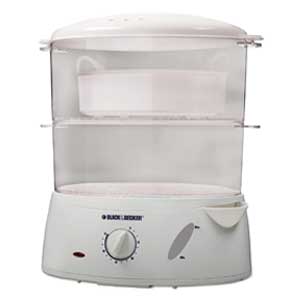 Black and Decker have been producing electric food steamers for many years, with many users returning to replace their old unit after it simply wore out.
However, it seems that new manufacturing standards are significantly below par with users complaining of the new unit coming with flimsy and cheap steaming baskets and failure to function after just a few uses.
Its price is listed above other basic models but doesn't share their reliable performance. One feature it does have is an herb scent envelope inside the steam basket used to infuse food with flavor.
10) Aroma Housewares 5-Quart Food Steamer Review
This large steamer features a two-tier design with a simple spin timer.  The upper section has a domed roof for a little more space than the bottom basket.
It has a small footprint taking up almost no room on your counter and is small enough to be stored without a problem. It has a warming setting and comes with an instruction booklet.
Some users reported rust developing on it after a few months, but it is overall a reliable and reasonably priced option for the small family looking to steam their favorite rice and vegetables.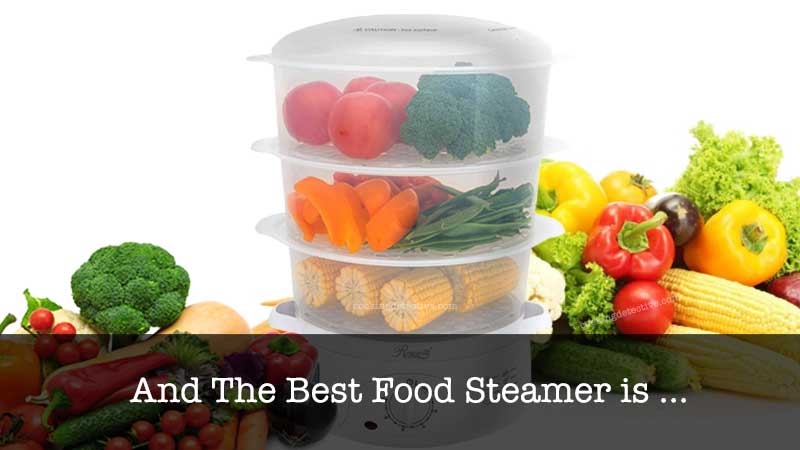 So, Which is the Best Food Steamer?
If you're looking for a basic electric food steamer able to produce three different foods at the same time without emptying out your wallet, the Rosewill 3-Tier Stackable Baskets Electric Food Steamer with Timer is the one for you.
Its kitchen-friendly design includes three levels, an easy spin dial ready to time your meal up to 60 minutes and offers the convenience of dishwasher-safe baskets.
For the individual who likes to be entertained by their kitchen appliances, the Viante Intellisteam Counter Top Food Steamer is a programmable steamer able to perfectly time your four-section meal made just for you.
We hope you have enjoyed reading our best food steamer product reviews and the buying guide. If you think it is helpful, please share it on social media.
---
Related: