What Is The Best Ground Blind Chair?
There are many ground blind chairs out there, so to choose the right one, there are a few things you should consider: price, convenience, weight, durability, comfort, and more. Considering these factors, we chose the Guide Gear Swivel Hunting Chair as the best ground blind chair. The Guide Gear Swivel Hunting chair is a comfortable hunting chair with swivel capabilities. It is also budget friendly.
---
Avid hunters know the importance of a ground blind in hunting. It is the best way to stay undetected by your prey. Hunting chairs for ground blinds are an equally important part of your hunting gear.
After all, you will likely be sitting in the ground blind for long periods, so you need a chair that can support you during that time.
There are lots of options and types to choose from: swivel chairs, lightweight chairs, padded and not padded, foldable, and more.
You want to choose one that will be helpful to you while hunting- not a hindrance.
---
Quick Navigation
5 Top Ground Blind Chairs: Our Picks & Recommendation
---
5 Best Ground Blind Chair Reviews
To find the top ground blind chair, we searched through the ratings and reviews of dozens of models.
Out of all the ones we looked at, we decided on the following five ground blind chairs according to their prices, comfort, weight, and durability.
Best Ground Blind Chair Overall: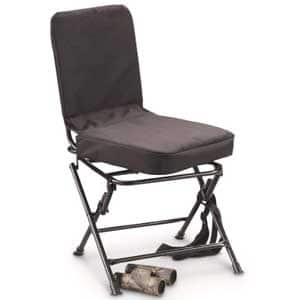 What You Will Love: This ground blind hunting chair swivels 360 degrees quietly.
The Guide Gear Swivel Hunting Chair is a budget friendly chair that works well in ground blinds. It is lightweight as it only weighs about 11 lbs, and it comes with a strap so you can carry it easily.
With a 360 degree swivel, you can watch each side of your ground blind. The seat is padded keeping you comfortable for long periods of time. The back, however, is not padded well.
If you plan to sit in it for a while, you should bring a pillow or extra cushion for your back. Additionally, after some time, the seat cushion will compress making it much less comfortable.
Pros:
Great price
Cushioned seat
Lightweight
Strap for carrying
360 degree quiet swivel seat
Cons:
Back is not padded well
Seat cushion compresses over time
---
Best Ground Blind Chair on a Budget: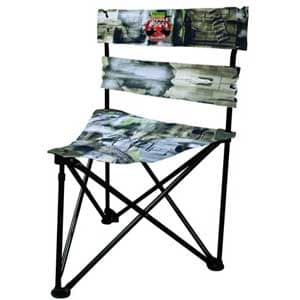 What You Will Love: It is a sturdy, folding, lightweight hunting chair.
The Primos Hunting Double Bull Tri Stool is a very sturdy hunting chair for ground blinds. It is made with a steel frame and can hold up to 300 lbs.
The feet are wide for extra support, and the flared back provides a lot of comfort while hunting. It only weighs 6.5 lbs, folds, and has a shoulder strap to make it transport simple.
Some users have stated that it was not really tall enough for their blinds, but that is relative to how high the blind's windows are placed. It states that it sits 16" off of the ground. This Primos stool also comes at an excellent price.
Pros:
Steel frame
Holds up to 300 lbs
Wide feet and flared back
Lightweight
Great price
Cons:
May be too short for some ground blinds
---
Best Adjustable Lightweight Hunting Chairs:
What You Will Love: It is a lightweight yet sturdy stool.
The ALPS OutdoorZ Stool is great for outdoor recreations. It is made with a steel frame and durable 600D polyester. This folding hunting chair weighs only 2.5 lbs but can hold up to 250 lbs.
There is a mesh storage pocket underneath, and it comes with both a shoulder strap and a shoulder bag so you can carry it with ease. Even better, it is regularly priced at around $20.
Unfortunately, the screws have a tendency to wiggle loose over time, so to be safe, check them before and after each hunting trip.
Then, you can tighten as you go instead of being surprised when you cannot find them. There is no back to it as it is only a stool, so if you require back support, this is not the hunting chair for you.
Pros:
Great price
Lightweight
Durable
Folds
Easy to carry
Cons:
Screws loosen over time
No back support for those who need it
---
Best Dove Hunting Ground Blind Chair
What You Will Love: This ground blind hunting chair has space for drinks, ammo, and more.
The Browning Camping Dove Hunting Chair has a steel frame and is covered with Mossy Oak Blades fabric. It has a 22" wide backrest, a built in insulated cooler for drinks and snacks, and side pockets for extra storage.
Though many say it is comfortable for a while, the 15" seat is not padded so you may find yourself being uncomfortable after a few hours. It is sturdy enough to hold up to 275 lbs.
Sadly, the additional features on this dove hunting chair make it weigh 8.5 lbs, so it is a little heavier than many others.
Usually ranging between $30 and $40, this ground blind chair is fairly priced, and it comes with a limited lifetime warranty.
Pros:
Durable and sturdy frame holds up to 275 lbs
Wide backrest
Built in insulated cooler
Storage pockets
Foldable
Good price
Warranty
Cons:
Seat is not padded
May be too heavy for some who walk long distances
---
Best Turkey Hunting Ground Blind Chair: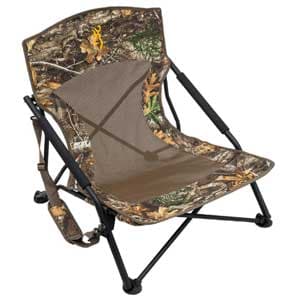 What You Will Love: It has rotating feet for uneven terrain.
The Browning Camping Strutter Chair comes with arms for extra comfort. Though it comes with a carrying case, there is a padded shoulder strap that hooks to the chair in case you do not want to take the bag.
The steel frame makes it durable, and the four rotating feet means it can be used on uneven ground. It is sturdy enough to hold up to 300 lbs and there is a wider version available.
The chair is easy to use and is compact when folded. At 7 lbs, it is heavier than many options as well as a bit more expensive.
Additionally, over time it may develop a squeaky noise that scares off your turkey before you can shoot.
Pros:
Rotating feet
Compact folding,
Padded shoulder strap
Durable
Arms
Cons:
Heavier and more expensive than many options
May develop squeaky noise
---
If you want to get the best ground blind chair for your budget and your purpose, it is imperative to research your options. All of those listed in this article are great choices with great reviews. Check them out for yourself to see if one fits your needs.
---
Related Articles:
---