What are the Best Hiking Shoes for Flat Feet?
We have picked the Merrell Men's Moab 2 Vent Hiking Shoes as the best hiking shoes for flat feet as they are constructed from a mix of durable leather and breathable mesh to limit the risk of bacterial and fungus growth. Both the toes and ankles are protected, and the heel cushioning is shock absorbing.
---
Avid hikers already need shoes that offer excellent support. Hikers with flat feet need to be even more picky about their hiking shoes, though, since they have difficulty with regular shoes and high arch support.
Hiking is much different than walking on a regular street, so it can be challenging for those with any foot injuries or flat feet. That does not mean they must avoid it though.
With the right pair of hiking shoes, almost anyone can enjoy this outdoor recreation. To help you do this, we have written this article to teach you what to look for and how to find the best hiking shoes for flat feet.
---
Quick Navigation
Top 7 Best Hiking Shoes for Flat Feet: Our Picks & Recommendations
---
How to Choose the Best Hiking Shoes for Flat Feet?
When choosing the best hiking shoes for flat feet, consider the following factors:
Stability and Support
If you have ever been hiking, you know that your feet come into contact with a much different type of terrain than what you walk on daily. As such, it is important that you find hiking shoes that provide a great deal of stability and support.
This includes the outer sole as it needs to provide good grip and traction. Without adequate support, you have an increased chance of being injured during your hike.
Toe Protection
You want to protect your toes from bumps, dings, and more serious potential injuries along your hike. A great way to do this is to purchase steel toed boots and hiking shoes with an otherwise protected toe box.
Fit
Getting the right fit in hiking shoes is very important. Shoes that are too loose will not provide good protection, and will increase fatigue as you have to compensate for the misfit as you walk.
At the same time, shoes that are too tight might decrease circulation to your feet causing a totally different set of problems. Shoes that do not fit well can also leave you with a lot of blisters.
For a good fit, choose a pair that fits your foot sort of like a glove. Also, as your toes will be working more than usual, it is not a bad idea to get shoes with a wider toe box.
Comfortable Footbed
When you have flat feet, you do not want to purchase hiking boots with high arches. Those will cause a lot of pain and discomfort while you are hiking.
Look for an insole with decent cushioning for comfort while hiking. Also, go for some with padded ankle collars. These will provide a protective layer for your ankles from external elements and increase the secure grip.
Quality Materials
A hiker experiences all types of weather and terrain, so having a hiking shoe with a mix of materials is best. Gore-Tex is a great option as it is not only durable but also waterproof and breathable. All three of those characteristics are great for hikers.
Motion Control
If you have any type of foot or ankle injury, or if you experience over-pronation, you want hiking shoes that include motion control. These types of shoes can help you correct your gait while hiking, and help prevent further injury.
Cushioning
Of course, you want some good cushioning in your hiking shoes- and the more, the better. Your insole definitely needs to be cushioned as well as the ankle collar. If you must, replace the current insoles with supplemental ones.
Durability
During a hike is not a good time for your shoes to fall apart on you. That is why it is important to find hiking shoe with materials that can withstand the tough work you put them through.
Gore-Tex and leather are going to be two of the most durable options. There are synthetic options available, but they tend to wear out much more quickly.
Pricing
Bottom line with pricing is that good hiking shoes will be a higher investment than those that will easily fall apart or that lack support.
Remember that your hiking shoes are supporting your entire body on rugged terrain. Protect yourself by investing in a great pair.
---
7 Best Hiking Shoes for Flat Feet
Here's a list of the hiking shoes for flat feet on the market today:
---
Best Overall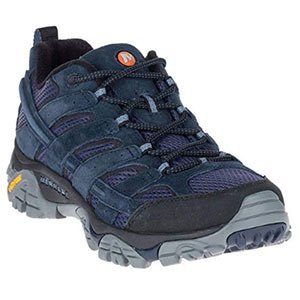 What You Will Love: The heel has been developed with shock absorbing cushioning.
The Merrell Men's Moab 2 is a great hiking shoe made from a mix of suede leather and breathable mesh, which provides a combination of support and ventilation.
Thanks to the closed-cell tongue, moisture and other external items stay out of the shoe. The air cushion in the heel absorbs the shock you face during your hike. There is also a protective toe cap that reduces the risk of toe injuries.
Unfortunately, the toe box tends to get wider with use, and they are not completely waterproof. The prices range drastically from $67 to $220 depending on the color and size you purchase.
What We Liked:
mix of suede leather and breathable mesh
closed-cell foam tongue provides tight fit to keep moisture and debris out
protective rubber toe cap
lots of color options
shock absorption in the heel
great grip
wide toe box
What We Did Not:
not waterproof
run a little small
toe box widens
---
Best Budget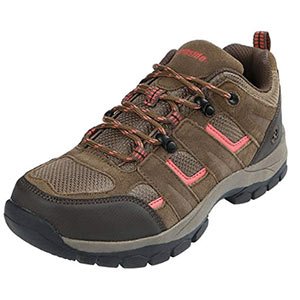 What You Will Love: They are constructed from a mix of waterproof and water resistant materials.
The Northside Monroe Low Hiking Shoes are a very budget friendly option, and are excellent for those who do not hike very often or for long periods.
With the weather resistant material and the moisture wicking lining, you do not have to worry about wet, sweaty, or smelly feet. This is also good as it decreases the chance of fungus and bacteria growing.
They offer great heel support and abrasion guards around the arch and the toes to help prevent discomfort. The multi directional rubber sole also provides great traction and shock absorption.
Unfortunately, they do not stand up long to constant use, but at prices between $25 and $50, they are worth a shot.
What We Liked:
budget friendly
water resistant
moisture wicking lining
rubber outer sole provides multi directional traction and shock absorption
abrasion guards at arch and toe
great heel support
What We Did Not:
---
Best Hiking Shoes for Flat Feet in Leather
What You Will Love: These shoes offer outstanding protection for your entire foot.
The Vasque Men's Breeze 2.0 Hiking Boots are, I believe, some of the best hiking boots available.
They are made from durable and waterproof Gore-Tex material that provides breathability at the same time.
The ankle collar is padded to provide extra comfort and stability. The gusseted tongue helps provide a secure fit while keeping external items out of your shoes.
The cushioned footbed and molded toe bumper also go a long way in providing comfort and protection during hikes. Somehow, these boots are able to provide all of these features while still remaining lightweight. The prices can range anywhere from $85 to $170.
What We Liked:
lightweight
breathable
made with Gore-Tex
padded ankle collar
gusseted tongue prevents external things from getting inside
cushioned foot bed
molded toe bumper
What We Did Not:
price ranges get expensive
---
Best Waterproof Hiking Shoes for Flat Feet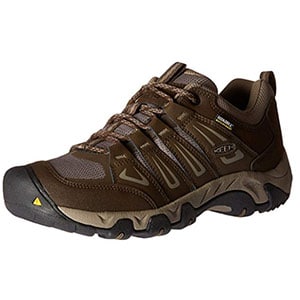 What You Will Love: The wide toe box prevents your toes from being scrunched up, which leaves you with less discomfort and less chance of long term pain.
The KEEN Men's Oakridge Waterproof Hiking Shoes are a good choice for many hikers. They provide a comfortable fit in waterproof material.
The upper is made from breathable mesh, and the wide toe box is fixed with a protective toe cap. The rubber soles provide multi directional traction and stability.
You might find that the shoes are a bit loose around the ankles, but most buyers have found this can be fixed by tying the laces as if they were running shoes.
Prices start around $88 and go all the way up to $225, which is a bit high. However, they are pretty durable, so if you hike often, they are a good investment.
What We Liked:
waterproof
front and back pull loops
multi directional stability
rubber sole
breathable mesh upper
protective toe cap
wide toe box
What We Did Not:
prices can get pretty high
can be loose around ankles
---
Best Hiking Shoes for Flat Feet for Men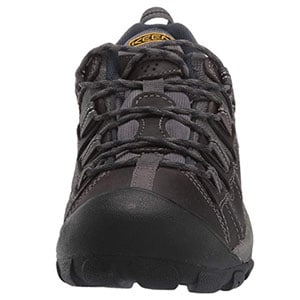 What You Will Love: The traction from the shoe offer the ability to hike in snowy and wet weather, so you are not limited to certain terrain types.
The KEEN Men's hiking shoes have been known to take care of people with any foot issues or foot pain.
The rubber soles and insoles are created with just the right amount of arch support without being intrusive. The easy-on pull tab makes them easy for anyone to put on, and they have provided a great amount of traction.
The material is both water resistant and breathable. They are reported to run a little small, so you may choose to get a larger size. Also, prices can be up to $246, so they are a large initial investment.
What We Liked:
rubber sole
durable leather uppers
easy-on heel pull
water resistant mesh lining
aggressive lug pattern for higher traction
breathable
What We Did Not:
can be expensive
run a little small
---
Best Hiking Shoes for Flat Feet for Women
What You Will Love: These are very comfortable and supportive in style.
These Merrell Women's hikers are a favorite among female hikers and non hikers alike, especially those with foot challenges and pain.
The footbed is contoured, so it is designed to fit your foot, though some may require to get flatter inserts.
The mesh lining is breathable, the tongue keeps weather and debris out, and they use organic odor control. The air cushioned heel provides excellent shock absorption.
Prices range from $63 to $125, depending on the colors and size you choose. One big down side is that users have noticed that they are not slip resistant at all, which could cause trouble during hikes. Others, though, state that the traction is great.
What We Liked:
great, vibrant color options
contoured footbed
tongue keeps external debris out of shoes
air cushion heel is shock absorbing
organic odor control
Breathable mesh lining
What We Did Not:
wide price range
not slip resistant at all
---
Best Unisex Hiking Shoes for Flat Feet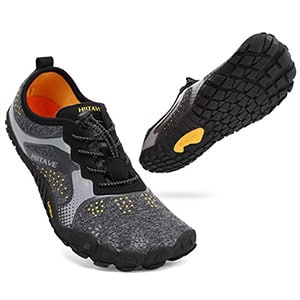 What You Will Love: These hiking shoes have zero heel- to- toe drop construction, so your heel and toes are the same distance from the ground. This encourages proper form during your hike.
The Hiitave Barefoot Hiking Shoes are a great shoe for hikers with flat feet.
The thin but support sole provides just enough support without pushing into the feet. The toe box is wide so your toes are never cramped. The square tread on the sole gives the wearer awesome traction.
They are also very breathable and flexible, and are made to fit your feet like a glove. The midsole provides a great amount of shock absorption, and they are incredibly lightweight.
The only real downside about this shoes that I can see is that there is no ankle support. Prices are very affordable, running between $36 and $40.
What We Liked :
affordable
stretchy and breathable
synthetic overlays provide support
shock absorbing midsole
rubber outsole with square tread provides great grip
wide toe box
lightweight and flexible
keeps heel and toes same distance from ground
What We Did Not:
---
In this article, we have taken a look at what makes up the best hiking shoes for flat feet, and provided reviews of what we consider the top seven shoes. By using this information, you can feel confident when shopping for your next pair of hiking shoes.
---
Related Articles:
---