What is the Best Juicer for Carrots?
We have picked the Tribest GSE-5010 Greenstar Elite as the top juicer for carrots as it is portable, has twin gears that help squeeze all the vitamins and nutrients out, and has a reverse switch to prevent or fix any jams you experience. It also has a very sleek look and it comes with a 12-year warranty.
---
Juicers are a great kitchen appliance to have handy, but not all juicers are created equally. If you want juice from tougher and fibrous fruits and vegetables such as carrots, you need a juicer made specifically for those items.
For carrot juice and beet juice lovers, having the perfect juicer for carrots in your kitchen can seem like a dream come true.
---
Quick Navigation
Top 7 Best Juicer for Carrots: Our Picks & Recommendations
---
Why Should You Use a Top-Notch Carrot Juicer?
You may be thinking that it is a waste of time and money to have a carrot juicer when you already have a juicer.
Let me ask one question: Have you ever tried to put carrots or other tough veggies through a regular juicer?
I mean, without having to boil them down to completely soft and mushy? That, my friends, is what a carrot juicer can do for you.
With a juicer that is specifically designed to handle veggies like carrots, it will not only squeeze every drop of health out of the vegetable for you, but it will do it when they are raw.
Carrots have such amazing health benefits thanks to its natural vitamins and minerals. Having a top-notch carrot juicer at home can help you make this extremely healthy juice for your whole family.
And if you already drink carrot juice or vegetable juices, making your own at home can save you money. Additionally, when the juice is made at home, you know exactly what is going in it.
As much as we would like to trust companies to not add extras, some things have to be added to preserve items while they sit on shelves. This is not a problem if you make fresh juice at home.
---
How to Choose the Right Juicer for Carrots?
When you are ready to buy the best juicer machine for carrots, you should consider the following factors:
What are the types?
Most carrot juicers will be either centrifugal or cold press/masticating. The carrot juicers you see constantly are likely the centrifugal type as that is the most affordable type available.
The cold press/masticating juicer is more expensive but can also handle tough veggies the best.
Ease and Time of Use
You want a juicer that is both easy to operate and easy to clean. You may want a juicer that does not take long to work, but the slower ones are actually better for giving you the healthiest ingredients.
Speed
The rate of speed is pretty much like the time it takes to operate. The faster the juicer goes, the fewer vitamins and nutrients you will get. If you use a slower speed, you give the juicer more time to do what it was made for.
Motor Power
Regardless of the speed, you want a powerful motor. Weak motors will not be able to handle tough vegetables. You might as well use a regular juicer instead of one with a weak motor.
Time
This time category is actually referring to how long you can store the juice after it's made. Due to centrifugal juicers fast process, too much oxygen is left in the juice.
If you are not aware, oxygen is not good for preserving as it can cause bacteria to grow. With masticating juicers, the slower process allows you to store it a little longer.
Quantity
How much juice can the juicer provide at a time? Some can only put out a small amount in one use. Others can go much longer. This category will depend strictly on how much juice you and your family will need at a time.
Expenses
Centrifugal juicers generally cost less up front, but as you get less of the vitamins and nutrients and cannot store their juice as long, you will be using more vegetables and juicing them more often.
Therefore, you have to consider not just the money for the juicer itself but also the money you will spend on vegetables and the time you will spend making the juice.
What else can you use it for?
A juicer for carrots can also get through the veggies needed to make items such as smoothies, sauces, ground coffee, and more.
---
7 Best Juicer for Carrots Reviews
To find the top juicer for carrots, we sifted through the ratings and reviews of many juicers.
We decided on the following seven juicers as the best juicers due to their performance in their respective juicer types, the extra features they give, the warranties, and their ease of cleaning and use.
---
Best Overall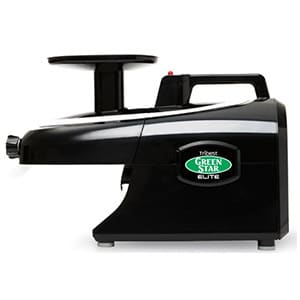 What You Will Love: This juicer has twin gears whose teeth are designed to help squeeze every possible drop from your vegetables.
The Tribest GSE-5010 Greenstar Elite is a sleek looking, portable juicer. The handle is balanced for better grip and easier carrying capabilities.
The twin gear masticating system provides more vitamins and nutrients in the juice so it can be stored for longer.
The 200-watt motor gives this machine enough strength to even grind nuts. The 110 RPM of the juicer aids in this process as it works slowly and deliberately.
It is both easy to clean and easy to put together. It also comes with a reverse switch that can help prevent jamming.
At over $600, it is a rather expensive item. However, if you are consistently buying juice, it will probably save you more than it costs.
The extended 12-year warranty does not hurt either, as I feel that shows how much the company believes in this product.
Pros:
Twin gears
110 RPM
12-year warranty
Balanced handle
Masticating
Portable
Comes with a drip tray
Reverse switch
Sleek design
Cons:
---
Best Budget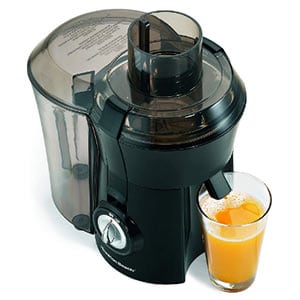 What You Will Love: It can provide juice in seconds at a very nice price.
The Hamilton Beach Juicer Machine is a handy kitchen appliance for those who love carrot juice. It is especially good for those that need their juice in a hurry, like days you are running late for work.
The powerful 800-watt motor can eat through your tough veggies in short order. In fact, some users have stated that it goes so fast, it actually jumps around like popcorn on their counters. Due to that, it is probably best not to leave it unattended unless you do not mind the mess.
Thanks to the 3-inch feed chute, you can put most veggies in without having to precut them. It at least cuts down on the cutting.
It is easy to clean as all of the removable parts are dishwasher safe, and it comes with a cleaning brush. The materials are BPA free, which we love, and there is an extra-large pulp bin.
Remember, though, that the faster a juicer works, the fewer nutrients the juice includes. Still, for under $60 it is a great carrot juicer, and it comes with a 3-year limited warranty.
Pros:
Very budget friendly
800-watt motor
3-inch feed chute
Easy to clean
3-year limited warranty
BPA free
Extra-large pulp bin
Cons:
---
Best Centrifugal Carrot Juicer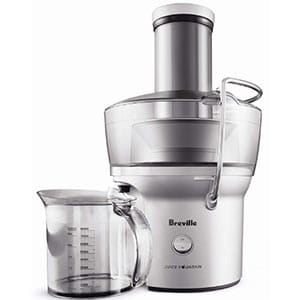 What You Will Love: It has a very neat design and will not operate unless the juice covers in place.
The Breville BJE200XL Compact Juicer Fountain has a powerful 700-watt motor that operates at 14,000 RPM. The design was meant to aid in increased extraction.
The fountain design is cute, and it is compact so it does not need a lot of space. The feeding tube is wide to cut down on prep time.
Most of the parts are dishwasher safe, but it comes with a cleaning brush for the parts that are not. It has an Italian made micro mesh filter and a built-in froth separator.
There have been a few reports that the sides start leaking after around eight or ten months of use.
This is something I might expect from a budget pick, but it is a bit disappointing here as this juicer runs anywhere from $99 to $120. Still, a lot of users did love it, so it might be worth a shot.
Pros:
700 watts
Heavy duty
14,000 RPM
3 inch centered feed tube
Safety features
Some dishwasher safe parts
Stainless steel cutting disc
110-120 volts
One year warranty
Micro mesh filter
Cons:
---
Best Masticating Carrot Juicer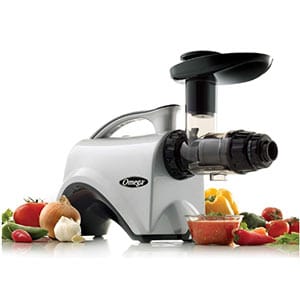 What You Will Love: The slow rolling 80 RPM speed builds up heat and results in oxidation. This provides juice that can last longer than many other models.
The Omega NC 800HDS Juice Extractor is quiet, but do not let that fool you into thinking it is not working.
Though it works very slowly, it is powerful enough to process tough ingredients.
Its slow speed means that it is providing more nutrient enriched juice that can be stored for a time. It also produces a lot of juice so it saves you even more money.
There are five adjustable settings and it automatically ejects the pulp for you.
The built-in handle gives you greater control over the juicer, and it comes with an amazing 15-year warranty that covers parts and performance.
That gives me faith that it will last a while, which makes the $400 to $450 price tag seem a little more worth it.
Pros:
15-year warranty for parts and performance uses only 80 RPM resulting in oxidation
Dual-stage masticating extraction
150 watts
Quiet
5 adjustable settings
Automatic pulp ejection
Built-in handle for easy control
Cons:
---
Best Stainless Steel Carrot Juicer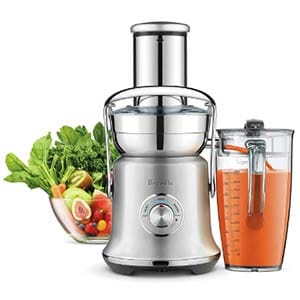 What You Will Love: If you feel that the machine is too loud, you can simply switch on the quiet setting, which reduces 40% of the noise caused by the motor.
The Breville Juice Fountain Cold XL is a unique machine. It uses what is called Cold Spin Technology where the juice flows up through a stainless steel cutting disc that is surrounded by a mesh filter.
If that sounds confusing, it's okay. Basically, the way it processes the juice means that it should be cold or cool when it comes out.
The 3.5-inch feed chute prevents the need to pre-cut vegetables, and the juice that is produced can be stored up to 3 days in your fridge.
The 1200 watt motor helps it eat through veggies and produce up to 70 fl oz. at a time much faster than traditional machines.
The only negative thing I could find is the price. At around $350, it is a large investment, but the benefits kind of outweigh the price.
Pros:
3.5-inch extra-wide feed chute
Quiet setting for a 40% quieter juicing
Extracts up to 70 oz of juice very quickly
Cold spin technology helps keep juice cold
Can store the juice up to 3 days
1200 watts
Cons:
---
Best Small Carrot Juicer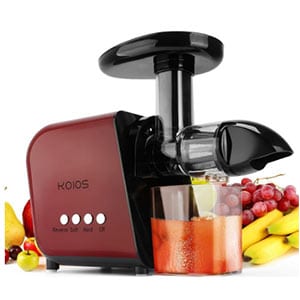 What You Will Love: Many parts are dishwasher safe, and all plastic is BPA free. It comes with a juice jug and a veggie brush.
The Koios Masticating Juicer is an easy to operate and quiet machine. The spiral squeezing tool is 7 levels longer than other juicers masticating juicers, giving you more juice from your fruit and veggies.
It runs at 80 RPM, so you can rest assured that you are getting more minerals and nutrients. Also, it is FDA certified and has a 3-year guarantee.
Though the machine is great for most fibrous fruits and vegetables, it does struggle a bit with leafy greens. If you were hoping to use this machine for those, this probably is not your best choice.
Also, you have to move quickly when this one comes available as it sells out quickly. While that is unfortunate, it should also show you how well it works. Because it sells out quickly, it is hard to pin down a price on it.
Other comparable juicers run between $100 and $150, so I expect this one to be similar, though we will have to wait until it's available again to know for sure.
Pros:
3 year guarantee
Comes with juice jug and veggie brush
Great for many fibrous fruits and veggies
Easy to assemble
Operate and clean
Some parts are dishwasher safe
Quiet machine
Keeps many minerals and nutrients
BPA free
FDA certified
Less pulp
80 RPMs
Spiral squeezing tool is 7 levels longer than other juicers
Cons:
Struggles with leafy greens, sells out often
---
Best Large Carrot Juicer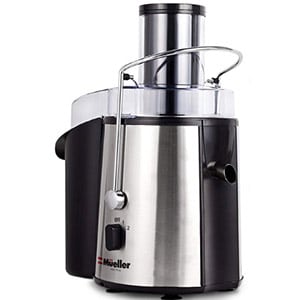 What You Will Love: With this awesome juicer, even the slow speed is super-fast.
The last juicer on our list actually won the "2018 Excellence in Housewares Awards", which is kind of awesome since it is also one of the lowest priced ones at less than $60.
The Mueller Austria Ultra Juicer uses 1100 watts, which is great for a centrifugal juicer. The 3-inch feed chute is great for whole fruits and vegetables. Its materials are BPA free, and it has an anti-drip feature to minimize the mess.
It claims to produce a 16 oz. cup in about 8 seconds, which is really fast. As I found nothing to debate that, I am inclined to believe it.
It has two speeds: 1 is the "low" speed that runs from 12,000 to 15,000 RPM. 2 run from 15,000 to 18,000 RPM. The silver housing is a modern look, and you get a 100% 2-year warranty.
The only complaint I could find from buyers was that there is no rubber gasket between the top piece and the pulp basin, so you may see pulp coming through that section.
Pros:
Fast
Affordable
The large feed chute
1100 watts
BPA free
Anti-drip feature
Modern look
2-year warranty
Cons:
Pulp may leak around pulp basin
---
We have taken a look at what we consider the best juicer for carrots and six other great options. If you are ready to take the dive, use this buying guide and review to find the top carrot juicer for you.
---
More Juicer Related Articles
---