What Is The Best Large Pressure Cooker?
We have picked the All American 921 21.5 Quart Pressure Cooker as the top large pressure cooker as has versatile uses, no need for a gasket, an action clamping lock the allow pressure to build, and is heavy duty cast aluminum. Additionally, it is easy to clean, has an easy on/off handle, and produces high enough heat that bacteria is obliterated.
---
If you love healthy food but hate standing in the kitchen for hours to make it, we have a solution for you. Pressure cookers are wonderful for cooking foods fast while leaving the nutrients behind.
There are different size pressure cookers, but for anyone cooking for more than two people or making a large meal, a large pressure cooker is best. Even the large ones, however, come with many different options.
To be sure that you choose the top large pressure cooker for yourself, your family, and your recipes, do your research prior to shopping.
---
Quick Navigation
Top 5 Best Large Pressure Cookers: Our Picks & Recommendations
---
5 Best Large Pressure Cooker Reviews
When we decided to find the superior large pressure cookers available, we looked and analyzed dozens of models as well as the ratings and reviews from buyers and experts. In doing so, we chose the following five large pressure cookers due to their versatility, performance, and safety features.
---
Best Overall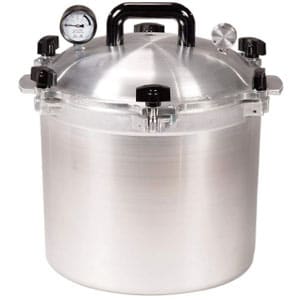 What You Will Love: This large pressure cooker doubles as a canner and does not need a gasket.
The All American 921 21.5 Quart Cooker is a great kitchen appliance. It has a metal to metal sealing arrangement, meaning that it does not need a gasket.
No gasket means that you do not have to worry about them cracking or breaking, and you do not have to replace them.
The action clamping lock aligns the lid with the cooker to create a steam tight seal. It is made from heavy duty cast aluminum that is easy to clean and has a stay cool handle.
The cooker produces high enough heat that you do not have to worry about bacteria. It also doubles as a canner for those who love to can their own foods. At over $200, though, it is quite expensive.
Pros:
Metal to metal sealing arrangement,
action clamping locks,
Doubles as a canner,
High enough heat to destroy bacteria,
Heavy duty cast aluminum,
Pressure regulator with settings of 5, 10, and 15 psi,
Stay cool handle,
easy on off handle,
No gaskets to worry with
Cons:
---
Best Budget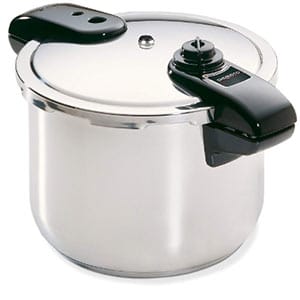 What You Will Love: As an 8 QT pressure cooker with an additional steaming basket, you can cook a big meal much faster.
The Presto 01370 8 QT Stainless Steel Cooker has a pressure regulator that helps ensure you cook with the correct pressure.
It can cut your cooking time in half saving you both time and energy usage. It is a stainless steel cooker with a tri-clad base for faster cooking and even heat distribution.
Additionally, you can put the stainless steel steaming basket to use to double the food you cook at once.
The cover lock indicator tells you if there is steam inside the pot or not. It also comes with a cookbook for those who want to expand their pressure cooker abilities.
At around $60, it is a good price in comparison to others. Unfortunately, it will take some time to get used to it.
Pros:
Affordable,
Large capacity,
Steaming basket for separate foods,
Cooks quickly and evenly,
Comes with cookbook,
Cover lock indicator
Cons:
Takes some getting used to
---
Best 8 QT Pressure Cooker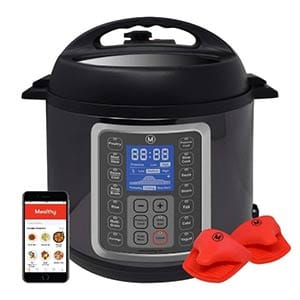 What You Will Love: It has 9 capabilities in one gadget including pressure cooking, slow cooking, sautéing, cooking eggs and rice, yogurt maker, and more.
The Mealthy MultiPot 9-in-1 Programmable Pressure Cooker has 14 easy touch settings and can replace nine different appliances at once.
Thanks to the included steaming basket, you can cook two different foods at a time. The bright red float located beside the vent tells you when the desired pressure is reached.
This multiport has a safety locking lid with smart locking sensors. The pressure regulation system keeps your food cooking at the right amount of pressure.
As added bonuses, you will also receive silicone mitts, extra silicone gaskets, a ladle, a rice paddle, and a measuring cup. Priced at over $100, it is a bit expensive.
However, all of the features and benefits that come with it might make it a worthy investment.
Pros:
One year warranty,
9 appliances in one,
Two dishes at once with included stainless steel steamer,
14 easy touch settings,
Extra silicone gasket,
Silicone mitts, ladle, rice paddle, measuring cup, bright red float tells you when desired pressure is reached
Cons:
---
Best 10 QT Pressure Cooker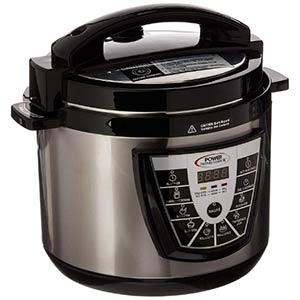 What You Will Love: Thanks to its fast cooking, the nutrients of the food will remain for your body to enjoy.
The Power XL 10 QT can cut your cooking time down to a fraction of your normal time. Due to it cooking so fast, the nutrients and flavor of your food will remain.
The non stick inner pot is dishwasher safe, saving you even more time. It is a 10 QT model so there is plenty of space for large meals. There is also a digital display panel and one touch settings.
This Power Pressure Cooker is designed for canning, slow cooking, and a keeping your food warm.
The steam release keeps your food from over cooking, and it has built in safety features. There is also flavor infusion technologies that help keep your food delicious and moist. The only downside is the price.
Pros:
10 QT capacity,
Versatile uses,
Digital display panel,
One touch settings flavor infusion technologies,
Steam release,
Non stick,
Dishwasher safe,
Does not cook nutrients
Cons:
---
Best 23 QT Pressure Cooker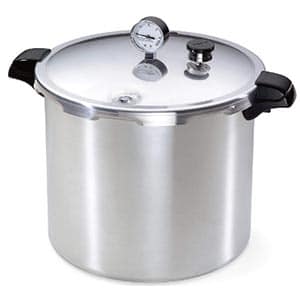 What You Will Love: This pressure cook is a great deal at its low price.
The Presto 01781 23 QT Pressure Canner and Cooker does more than just pressure cook your food. It also serves as a boiling water canner for those who enjoy preserving fruits, jellies, and more.
However, the large 23 QT capacity allows plenty of room for cooking big meals. It is a heavy gauge aluminum that cooks fast and evenly. It is great for both regular and smooth top cooking surfaces.
You will also find a 76 page instruction and recipe book.
This kitchen tool also comes with an extended 12-year warranty. It comes with both a canning and cooking rack.
This is, however, a stovetop cooker as opposed to an electric one. If this is your first time with a stovetop pressure cooker, there is a learning curve.
Pros:
Large capacity,
Pressure cooker and canner,
Great price,
Heavy gauge aluminum,
Cooks fast and evenly,
Comes with a recipe book,
Well known brand
Cons:
It is stovetop instead of electric, learning curve
---
If you are looking for a way to provide healthy food for your family in a short time, a large cooker is a good tool to add to your kitchen.
Large pressure cookers can cut your cooking time in half, and provide a large meal. Research these kitchen gadgets in order to choose the best large pressure cooker for your needs.
---
Related Articles