What is the Best Lump Charcoal?
We have picked the FOGO 35 LB All Natural Premium Hardwood Lump Charcoal as the best lump charcoal as it is handpicked from sustainably sourced Central American oak hardwood. It provides a restaurant quality smoked flavor, while the large lumps burn hot and long for juicy grilling and searing. It lights quickly and is ready to use in around 15 minutes.
---
Grilling out in your backyard is one of the great pleasures of summertime- even springtime and fall for some people.
Gathering with family and friends is great fun, but enjoying deliciously grilled and smoked food makes it even better. If you are looking for the best method of grilling, lump charcoal is a great option.
It is all natural with no additives or chemicals, and it provides a very distinct smoky flavor and aroma. If you are ready to improve your grilling skills, let the lump charcoal help.
---
Quick Navigation
Top 9 Lump Charcoals: Our Picks & Recommendations
---
Why You Should Use Lump Charcoal
Most grill connoisseurs choose charcoal over propane and briquettes when it comes to grilling because they enjoy the benefits that lump charcoal provides.
Charcoal is made from natural, pure wood- not composites- and this affects your grilling in many ways. First, it provides a smoky flavor and aroma.
Unlike composites, though, it is natural and not too intense because there are no additives or chemicals.
Different wood types will give your food a different flavor and aroma, so always check the bag you are purchasing for the types of wood included in the lump charcoal.
Second, the charcoal can reach extremely high temperatures- up to 1200 degrees- in moments, and it usually burns longer than propane and briquettes.
Even with the high temperatures, there is minimal waste and much less ash. Additionally, charcoal is more reactive to oxygen, so it is easier to control the flame and the temperature.
Even better is the fact that it is usually sustainably sourced. Often, lump charcoal is simply scraps from lumber and other sources that prevent cutting down additional wood.
As it is more flavorful, more natural, gets hotter for longer, and can be sustainably sourced, it has many benefits over propane and briquettes.
---
How to Choose the Top Lump Charcoal for Grilling
If you are new to grilling or never really given it much thought, you may not know that there are actually different types of lump charcoal.
You may try to go to the store and buy the first and cheapest thing you see, thinking it is all the same. Unfortunately, that method of purchasing lump charcoal can lead to disappointment in your food, mess, and more.
The following factors are things you should consider when choosing your lump charcoal.
Lump Charcoal VS Briquettes:
There tends to be a lot of debate between lump charcoal and briquettes. While it is mostly a personal preference, there are definite benefits with using each.
Briquettes keep a more consistent temperature, which makes them a more reliable product. However, they do come with additives making them less natural.
This can cause your meat to taste and smell weird. Lump charcoal, on the other hand, has no additives. You generally find it 100% natural, giving your food a great taste and aroma. Also, lump charcoal burns hotter for longer.
Grill Cooking Times:
Just as what you are cooking will impact your tools and processes in an oven, so will it in a charcoal grill. You should consider the food item you are cooking, how thick it is, and how much time it generally takes to cook.
If it takes a long time, you should either find charcoal that burns a little slower or cut the food into smaller pieces
This will prevent the food from being charred on the outside and raw on the inside. Smaller food items will likely take less time to cook, so pay attention to how big those items are.
Adjust your amount and type of charcoal, as well as your cooking times, as needed.
Know the Materials:
Different charcoal brands are made with different raw materials, each with its own burning pace and flavor. Klin-dry hardwood, oak, maple, and charred hardwood burn faster and longer than most others.
In fact, hardwood lumps are used and praised by expert chefs for their scent and the flavor that gets added to the food.
Your best bet is to first determine the type of flavor you would like your meat infused with, then purchase the charcoal that will produce that flavor.
At times, this information is printed on the product's packaging. Other times, you will have to do a little deeper research into the options available to you.
Size of the Charcoal Pieces:
The bigger the pieces of charcoal, the better they burn. Small pieces and fillers affect charcoal's ability to burn properly. It is no secret that you get what you pay for.
In the case of charcoal, you will often find that the cheaper the bag, the more fillers, and small pieces you will have.
This might be okay if you do not mind digging around for the large pieces, but that will only leave you with about half a bag of charcoal. It will likely be cheaper to buy the good quality charcoal up front.
Know Your Cooking Goal:
You will learn that different charcoals are better for different cooking. For instance, some may be better for cooking steaks while others are better for smoking.
Some create lower smoke content than others, making them better to use in apartment complexes and similar places. Knowing your cooking needs and cooking goals can lead you to choose the top lump charcoal for you.
---
Is Charcoal Grilling Safe for the Environment?
This is a relative question. Because charcoal is sustainably sourced, it does benefit the environment. However, it emits higher levels of carbon dioxide into the atmosphere than propane, making it less eco-friendly in that way.
The lower the quality of the materials in the lump charcoal, the higher the negative impact on the environment.
What are the Disadvantages of Charcoal?
For one thing, charcoal does not always maintain an even cooking temperature, which may make it hard to gauge the length of time you should leave an item cooking.
Also, as previously mentioned, it is not really 100% safe for the environment. If you do not purchase good quality lump charcoal, you might find yourself faced with a lot of sparks and ash.
It is also very important to note that charcoal gives off carbon monoxide, so charcoal grilling should only be done in wide open spaces.
---
9 Best Lump Charcoal Reviews
After analyzing multiple lump charcoal mixes, we chose the following nine to be the best due to their flavor, burn, size, and possible temperature.
---
Best Overall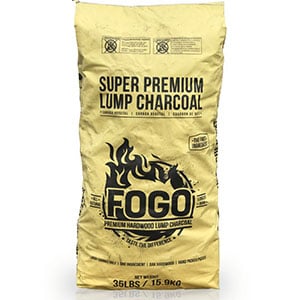 What You Will Love: It is 35 LBS of lump charcoal that provides a delicious hardwood smoked flavor.
The FOGO 35 LB All Natural Premium Hardwood Lump Charcoal is a brand you can trust to provide good sized charcoal.
The bag contains handpicked, large lumps from Central American oak providing an enjoyable oak smoked flavor.
Some of these large lumps may even be too large for regular size grill, leaving you to have to break them before using them. It lights quickly and burns hot.
In fact, it is ready to cook within 15 minutes. One thing to bear in mind, though, is that as these are larger lumps, some pieces may take a little longer to light than others. The initial price is a bit high, but you receive a lot of large lump charcoal.
Pros:
Produces hardwood smoked flavor
Restaurant quality
Lights quickly
Burns hotter and longer
Great for searing
Large lumps
Central America oak
Cons:
High price
May spark
Lumps may be too large
---
Best Budget: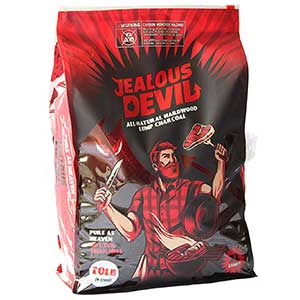 What You Will Love: This product can burn over 1170 F for over four hours in open grills.
The Jealous Devil All Natural Lump Charcoal- 20 LBS is a great choice for grillers who are looking for a mild hardwood smoked flavor.
Many users will find the flavor to be a little too mild for their desires. It is hand-picked sustainable South American hardwood, and you get larger pieces in the bag.
The product comes in a waterproof bag that is both resealable and easily portable thanks to its carry handle. It provides hot temperatures for long cooking periods.
However, some have noticed that it does not burn as hot as some other options, so this lump charcoal may not be a good choice if you want to sear your meat or need high temperatures for another reason.
Pros:
Fair initial price
20 lbs. and waterproof and resealable bag
Carry handle
Ultra-dense South American hardwoods
Restaurant quality
Hot temperatures
Long burn times
Handpicked
Mild flavor
Cons:
The flavor may be too mild for some
May burn too cool for some cooking needs
---
Best Natural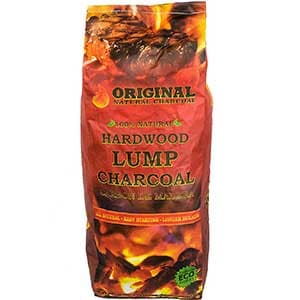 What You Will Love: It has a blend of apple, cherry, and oak hardwood, which provide a delicious flavor and aroma.
For those who enjoy a sweet flavor when grilling, the Original Natural Charcoal– 17.6 LB is a good choice for you. It is a tasty blend of apple, cherry, and oak hardwood. It is easy to light with just a piece of paper.
Though it claims to be a "no spark" charcoal, there have been a few reports of sparking. Additionally, it burns faster and hotter than many brands. In fact, it may burn too fast and hot for some people's cooking needs.
You may also find that it contains smaller pieces than you would like. However, if you are not satisfied with the product for any reason, they have a 100% satisfaction guarantee.
As there is not much to lose, it may be worth trying just for the sweet taste and aroma.
Pros:
Fair price
Blend of great hardwood
Sweet and fruity flavor
Quick to light-can use paper
No spark
Satisfaction guaranteed
Hot and fast burning
Cons:
May burn too fast
Contains some smaller lumps
---
Best Center Cut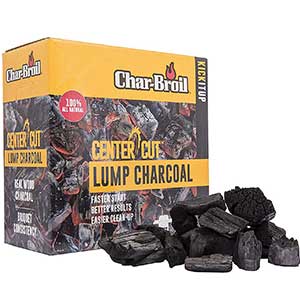 What You Will Love: This product contains only center cut hardwood- no bark or limbs are present- producing a cleaner burn and less ash waste.
The Char-Broil Center Cut Lump Charcoal- 11 LB is a product that comes in mostly uniform sized charcoal- around 3". However, you may find that some smaller pieces have found their way into your bag.
With the only center cut hardwood and no limbs or bark, this lump charcoal produces a clean burn that gives off a maximum of 3% ash waste.
That makes it a bit healthier for the environment than other options. It is lightweight and burns quickly, so it is a great option for grilling.
However, that same fast burning makes it less than ideal for smoking meats. The 11 LB bag is also priced very fairly.
Pros:
Low initial cost
Organic center cut hardwoods only
No bark or limbs
Clean burning
Uniform lump size-around 3"
Faster burning with less ash
Good for grilling
Lightweight
Healthier for the environment than other options
Easier cleanup
Cons:
Fast burning may make it unsuitable for smoking
---
Best for Big Green Egg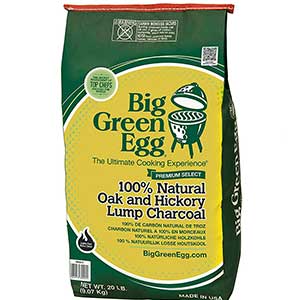 What You Will Love: This brand produces low waste and meets the EPA's environmental guidelines.
The Big Green Egg BIG CP Natural Lump Charcoal- 20 LB bag is United States made, so it adheres to the EPA's standards. It lights easily and is ready to use about ten minutes after lighting.
The natural premium oak and hickory wood are not carbonized- there are absolutely no additives. With this quality comes a higher price than many options, but it is a praised brand so grillers should try it at least once.
Users state that a small amount of this charcoal goes a long way. So though you are spending more upfront, it may last you longer than your normal charcoal.
You might also find that the lumps vary in size. In fact, there are many reports of the lumps being much smaller than other options, which might affect your grilling.
Pros:
Made in the United States
Meets EPA standards
Premium oak and hickory
Lights easily
Ready in a short time
Cons:
High price
Size of lumps may vary
---
Best for Kamado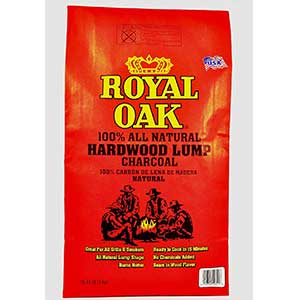 What You Will Love: This lump charcoal is great for all grills and smokers, including ceramic grills and kamados.
The Royal Oak Natural Lump Charcoal- 15.4 LB is an aromatic blend of sustainably sourced American oak, hickory, walnut, and maple wood.
It provides hot and slow, consistent burning for up to 18 hours while producing less ash than other brands. It may be a little difficult to get going.
However, once it is started, you can begin grilling in about 15 minutes. There are no additives or chemicals, and it is great for all grills and smokers.
The lumps may vary greatly in size, and some may be small enough to fall through the grate when burning. This will add to the mess you must clean. For the quality, it is a great price.
Pros:
Fair price
No chemicals or additives
The hotter and slow consistent burning
100% natural
Made from oak Hickory, maple and walnut trees
Ready in around 15 minutes
Cons:
Different size lumps in bag
Some small lumps may fall through grate
May take some effort to start
---
Best for Smoking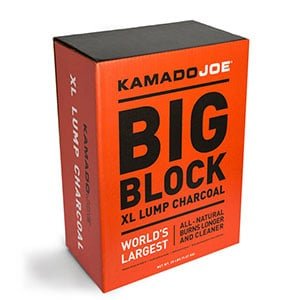 What You Will Love: This charcoal is a blend of Argentinian hardwoods.
The Kamado Joe KJ- Char Hardwood Lump Charcoal- 20 LB is unique in that it is a blend of Argentinian Guayacan, Guayaibi, Mistal, and White Quebracho hardwoods.
This blend gives food a very distinctive wood flavor. Though many people love this flavor, some may not. The large lumps of charcoal are great for smoking and will burn for up to 18 hours.
It burns hot and clean, making it a little more environmentally friendly than some brands.
Unfortunately, the large lumps are inconsistent in size, and some are large enough to require further breaking before use. Additionally, it lights quickly and easily and does not produce a lot of sparks.
Pros:
Fair price
A tasty blend of Argentinian hardwoods
20 LB
Distinct flavor loved by many users
Large lumps
Burns up to 18 hours
Clean Burn
Great for smoking
Quick and easy lighting
Cons:
The flavor is not suitable for everyone
Inconsistent lump sizes
Some lumps are too large and must be broken down further
---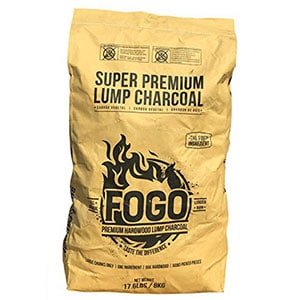 What You Will Love: The mellow, smoky oak flavor is a favorite among grillers.
The Fogo Super Premium Hardwood Lump Charcoal contains Central American oakwood trimmings. You can expect to find large lumps in the bag of charcoal.
In fact, you may find some too big to use without breaking them down. It lights fast, is ready to use in about 15 minutes, and it burns hotter for longer periods.
This makes it excellent for grilling and searing. Though it does start rather fast, some users have stated that the really large lumps take longer to start than other brands.
Also, you may notice that this charcoal sparks more than other brands do. This lump charcoal is restaurant quality for a low price.
Pros:
Hand selected large lumps
Hardwood smoked flavor
Burns hotter longer
Lights fast
Made with Central American oak
Great for searing
Oak smoke flavor
Ready to use in 15 minutes
Cons:
May produce more sparks than other brands
Some lumps are too big for most grills so you may have to break them down further by hand before use
---
Best Hardwood-20 LB
What You Will Love: This lump charcoal is exclusively waste of timber mills, meaning that no trees are harmed for the creation of this charcoal.
The Rockwood All-Natural Hardwood Lump Charcoal is a U.S. blend of Missouri hardwoods, such as hickory, oak, maple, and pecan wood.
It provides a slow burn, which results in juicier meats. It is great for all grills and smokers, including kamado grills. Also, it produces low waste, so it is healthier for the environment than many brands.
The lumps may vary in size, some being very small pieces. These will likely fall through the grate, creating a larger mess for you to clean. Also, the temperature may not get as hot as some other lump charcoals.
Pros:
Blend of Missouri oak
Hickory, Pecan, and maple wood
Professional reviewers highly recommend this product
Burns slowly
Produces minimal ash
Lights easily and heats quickly
Made from renewable resources
Great for any grill or smoker
Cons:
Lumps vary in size
May not get as hot as others, and may include very small lumps and other debris
---
We have taken a look at nine types of lump charcoal, including the one we consider to be the best lump charcoal. With so many options available, it may be tough to choose the right one for you. You can use this article as a guideline for making your choice.
---
Related Articles
---