Do you need a small and portable option for cooking up a quick snack in your office, dorm, or apartment?
In order to help you find the best portable electric stove for your budget and lifestyle, we've collected some of the most popular portable electric stoves available and completed a quick FAQ.
Quick Navigation
The Most Recommended Portable Electric Stoves: 9 Best Reviewed
How to Choose the Best Portable Electric Stove
You know what the best portable electric stove should be able to do.
here's the lowdown to help you thin out the field while shopping:
How Much Should I Spend?
You can expect to get a single-burner unit for around $50 to $60. If you spend more, you are paying for a brand, not performance.
Which Brands are the Best?
Many people will tell you NuWave is the best, and you will love it, but you are paying for the infomercial. Secura offers most of the same features at half the price.
Single or Double Burner?
Do you expect to use this to warm up soup or cook a whole meal? If this is your new stovetop or camping stove, you might want a second burner for better function.
Induction or Not?
Induction technology comes with a wealth of safety features that the older hot plates do not, but a cheap hot plate will do the deal for a fraction of the cost.
Features of Best Portable Electric Stove
When thinking about adding a portable electric stove to your kitchen appliance collection, you should look for these key features while comparing multiple models for the best performance:
Induction or Hot Plate?
Induction cooktops are the latest rockstars in kitchen gadgets–they save time and energy but require special pans. A hot plate may be what you want that will heat up a cup of tea or cook a hot dog without restocking the kitchen.
Adjustable Temperature Settings
If you are cooking candy or even using sous vide, you need to maintain a specific temperature over time. Look for a unit with precise settings for precise cooking.
Digital Timer
These portable units make a great addition to your party buffet. Look for a digital timer that will shut off before your pot bubbles dry and burns the bottom of the pan.
Ease of Cleaning
The new induction cooktops feature a glass cooking surface, which wipes clean every time. Old fashioned hot plates really can't be washed easily without taking the whole unit apart.
The Most Recommended Portable Electric Stove: 9 Best Portable Electric Stove Reviews
In order to help you thin the field while shopping for the best portable electric stove, we've brought together 9 of the most popular portable electric stove currently available.
1) Secura 9100MC Portable Electric Stove Review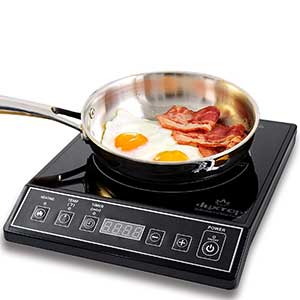 For the chef who needs a little more control to cook up candy or delicate sauces.
The 9100MC is the best portable electric stove with greater temperature control than its smaller cousin, able to use 5-degree increments.
It boasts a slightly larger cooking surface, able to support a 10.5-inch frying pan.
It also has a timer able to hold foods at the desired heat level for up to 170 minutes.
It waits up to 60 seconds after you remove the pot before shutting off, which is a huge improvement over other pricier models.
It costs a little more, but for the greater versatility, it can be worth the investment for the right cook.
It does have the same frustrating flat-top control panel so if you intend on cooking for the whole family, that could be an issue.
It weighs less than 6 pounds, making it a great addition to your RV or even campground cooking utensils. Make sure not to use any kind of rough scrub pad, as the glass top can scratch.
Pros:
5-degree temperature controls settings
Digital timer holds temperature for over 2 hours
Stays on up to minute after removing the pan
Cons:
Flat controls hide under the edge of frying pans
Glass top can be scratched
More expensive
2) Duxtop 8100MC Portable Electric Stove Review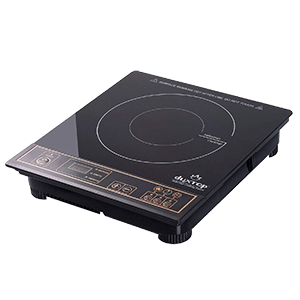 If you are looking for a powerful induction cooktop, the Duxtop 8100MC just might be the best portable electric stove for you.
It can put out up to 1800-watts of power while cooking your meal in an instant.
You can set your power usage to 10 different levels and set the temperature in 10-degree increments from 140F to 460F.
It features a touch-sensitive control panel and works with cookware designed for induction cooktops.
It has a completely flat top, so if you are cooking with a large frying pan it can be difficult to reach the touchpad.
If you don't own cast iron stainless steel pans, you will have to buy some in order to use it. Priced right for a quick addition to your kitchen, it's a great option for a portable unit.
Pros:
Budget-friendly price
1800-watts of power with adjustable settings
Can be used as a warmer set at just 140F
Cons:
Completely flat surface can be blocked by large pans
Must buy special cookware
3) Kitchen Prop Multifunctional Portable Electric Stove Review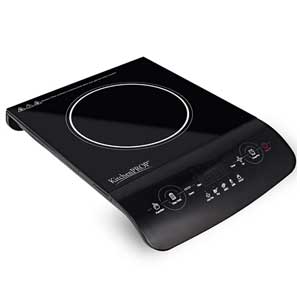 The Kitchen Prop looks like a bargain at first glance, but it soon becomes apparent it might be the best portable electric stove if you don't have many expectations for your purchase.
It has 5 power settings that are for BBQ, milk, and eggs–as if that might be the only things you will want to cook.
If you take the pan off the cooktop, it shuts off immediately which can be frustrating when you are flipping a burger.
Instead of 10-degree increments, there are only 10 degree-settings, so if one of those doesn't work for your recipe, you are out of luck.
If you just need an electric stove to boil some water or cook a grilled cheese sandwich, this could work for you while saving a few dollars. Just don't expect it to do any serious cooking along the way.
Pros:
Low price
Simple controls
Cons:
Lack of power and temperature control
Shuts off immediately without delay
Still needs special induction cookware
4) Cusimax 1800W Portable Electric Stove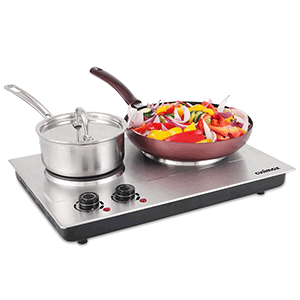 Maybe you have all the pots and pans you want or need and just want a simple solution to your portable cooking needs, then the Cusimax Double Hot Plate is the best portable electric stove for you.
It uses the same amount of power to function as the other units we have reviewed but works just like your traditional coil-burner electric stove at home.
With its dual-burner design, you can boil up your pasta and prepare the sauce at the same time. Meanwhile, you didn't have to buy any new pans to make it work.
Each burner is controlled by its own knob with 11 different heat settings so you can simmer, boil, or sear.
It is UL listed and contains a thermo-coupler inside that will snap if the unit overheats, reducing the risk of fire. That said, it won't be as fast to finish your meal, but it will do the job.
Pros:
Low price
Uses your old pots and pans
Two burners for more convenience
Cons:
Cooks slower than induction
No timer
Less control to maintain temperature
5) NuWave PIC Titanium Induction Cooktop Reviews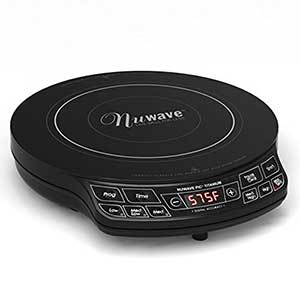 Why would our product reviews start by stating this one is the 2016 model?
Because there were changes to the NuWave induction 1800-watt cooktop in that year, and many suppliers are still shipping out the 2015 version, so buyer beware.
The 2016 Titanium has more precise temperature settings, able to be adjusted by just 5 degrees instead of 10.
It has an adjustable power source settings as well, able to run at just 600, 900, or 1800-watts so you can use it in places without a dedicated circuit for the cooktop.
They also increased the size of the cooking surface up to 12-inches, so it is better able to accommodate larger skillets and saute pans.
Now, there are cooktops sold out there that include a small set of induction cookware, so it is worth your time to shop around for an all-inclusive offer.
And beware of any manufacturer warranty if you purchase your unit from an independent seller- NuWave may not honor the warranty in their small print.
In the end, the Titanium offers all the power you need for fast and efficient cooking on a portable cooktop.
Pros:
More precise heat control settings
Larger cooking surface for bigger pots
Adjustable power source works almost anywhere
Cons:
Third-party seller can void manufacturer warranty
2015 and 2016 Titanium models are sold at the same price–but aren't the same unit
Requires special induction cookware
6) NuWave Precision Induction Cooktop Reviews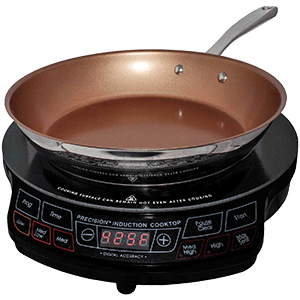 For the family that lives in an older home or apartment building with limited electrical service, reviews indicate that the NuWave induction cooktop 1300-watt model is the one that will work better for you.
While the 1800-watt version needs a dedicated 20-amp circuit to withstand its power draw, the 1300-watt will work just fine on a 15-amp circuit.
It uses the same technology and offers programmable temperatures that can be set at 10-degree intervals.
You will cook a little slower using only 1300-watts, but will still see improved performance when compared to your traditional electric range.
One safety feature you should take into account is that if you remove the pan from the top it immediately shuts off, which means you won't burn anything left over in the pot.
However!
If you just want to flip a sandwich and return it to the burner, you have to restart the unit.
Pros:
Works on standard 15-amp circuit
Adjustable temperature settings
Never burn leftovers in the pan
Cons:
Cooks slower than 1800-watt Titanium unit
Must reset cooktop if you take the pan off the heat
10-degree temperature adjustment instead of 5-degree
7) NuWave 30242 Induction Cooktop Review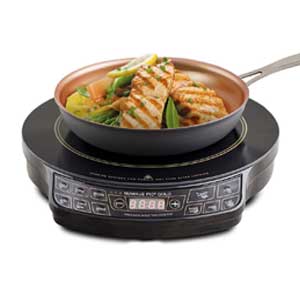 Before NuWave introduced the killer power of the Titanium, they upped the game from 1300 to the Gold, featuring 1500-watts of cooking power.
According to NuWave induction cooktop reviews, many of the Gold units arrive with a complimentary 10.5-inch frying pan.
You do not have to purchase pans directly from NuWave, as any flat-bottomed cookware that is constructed out of magnetic metal–like cast iron, stainless steel, or enameled cast iron will work on a NuWave cooktop.
The Gold also features the adjustable power input, able to run on just 600, 900, or 1500-watts if you are camping without a reliable source of electricity.
One major drawback from this unit is the 1-hour automatic shut-off, so if you are working on a soup or stew, you will have to reset the unit repeatedly.
Due to the popularity of the Titanium, you can find pretty good deals on the Gold, but you will sacrifice many of the upgrades available on the latest Titanium model.
Pros:
Includes a large frying pan
Adjustable power settings
Lower price
Cons:
One-hour automatic shut off
Lacks upgrades
8) NuWave PIC Portable Induction Cooktop Reviews
We've included the older Titanium model in our NuWave induction cooktop reviews so you can better tell which unit you may have found from a variety of resellers.
The product name will appear the same, the NuWave Titanium PIC, but the pre-2016 version does not have 5-degree temperature adjustments and lacks the 10-second delay that allows you to momentarily move the pan off the cooking surface without shutting off.
The older version also has a smaller cooking surface, able to support a pan that is just 9 1/2-inches wide, instead of 10 1/2.
It does still have the power adjustments, able to use just 600, 900, or 1500 watts instead of the full 1800 for use in homes without a 20-amp circuit available.
It also has a built-in voltage meter that will warn you if the electrical circuit is having trouble delivering a steady current to the unit.
Shop around to find the best price, as you may find the older version on clearance, but don't expect to receive any kind of warranty from NuWave as they sold those old units a long time ago.
Pros:
Voltage meter warns when current becomes unsteady
May find a bargain priced unit that has been stored for a long time
Power adjustments available
Cons:
Lacks delayed auto-shutoff
Smaller cooktop
9) NuWave 30602 Induction Cooktop Review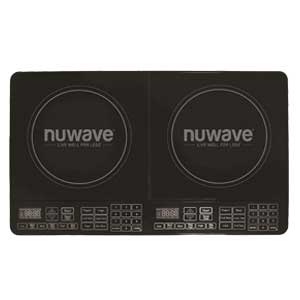 If you love the idea of induction cooktops but can't imagine living with only one burner, the double-burner model offers all the features of the Titanium times two!
Not only can you cook up a complete meal on this versatile unit, but it can also be used as a warmer with a 120-minute timer that can maintain low heat for the safe serving of hot dishes at parties.
It is still rated at 1800 watts, but that works for both burners, so if you are cooking on both tops, their performance won't be as quick as if you are cooking only on one burner.
Reviews indicate that this NuWave induction cooktop is really an outstanding addition for basement parties where you are missing a full kitchen or even a break room at work.
If you have a full-kitchen but prefer to cook on induction for all your meals, you might want to look into a flush-mounted unit to replace your traditional cooktop as the NuWave Dual-Burner does take up a large amount of your counter space.
However, at such a reasonable price, you will save several hundred over buying a full-scale unit.
Pros:
Cook almost any meal using only induction
Two-hour timer keeps meals warm
Still works on a single power outlet
Cons:
Takes up a lot of counter space
Cooks slower when using both burners
---
So, Which Is The Best Portable Electric Stove?
For the best cooking experience for a reasonable price, your best portable electric stove purchase will be the Secura 9100MC with tons of versatility, ready to keep your soup warm for an hour or to cook candy while attaining temperatures up to 460F.
However!
If you don't want to invest in induction-friendly cookware, the Cusimax 1800W Double Hot Plate is a budget-friendly option with reliable but old-school technology.
We hope our buying guide and review have helped you to find the portable cooktop just right for your budget and lifestyle.
If you would like to share any experiences you may have with these products, we would love to hear from you in the section below or through social media.
---
Related: