What is the Best Reciprocating Saw?
We have picked the Ryobi P515 One + Cordless Reciprocating Saw as the top reciprocating saw due to its tool free, quick change blade system, and the anti- vibration handle that helps you get a cleaner cut. The blade stroke length is 1 1/8 inches , and its variable speed control provides speeds up to 3,100 SPM. Additionally, it is less than 5 lbs, making it a very lightweight option.
---
Any time you are shopping for power tools, it can get very overwhelming if you have not decided on a brand that you like. It is even truer if you are shopping for tools for the first time.
With so many different types of saws out there, it can be difficult to keep track. That is why we have created this buying guide- to help you understand the benefits of reciprocating saws and what you should look for when shopping.
We have also included seven great models for your consideration. After reading this information, you should feel much more prepared to choose the right reciprocating saw for yourself.
---
Quick Navigation
Top 7 Best Reciprocating Saws: Our Picks & Recommendations
---
Reciprocating Saw VS Jigsaw- Which One Should I Choose?
A jigsaw is actually a type of jigsaw- the blades reciprocate on both. There are differences, however, so the one you should choose depends on the project or projects that you need to complete.
A jigsaw is intended for use when you need to make smaller cuts, or you need a cleaner cut, because their blades are thinner and smaller. These are made for more delicate work and fine tuning.
For instance, if you want cut shapes and designs into wood, a jigsaw is the way to go. A jigsaw is also larger, typically, than a reciprocating saw.
A reciprocating saw has blades with multiple angle directions so that it can force its way through tougher materials. These are often used when you just need to tear something apart.
As the reciprocating saw is smaller and lighter, it is more easily portable and fits into tighter spaces.
They are handy when you are trying to work with plumbing or other types of pipes that you can barely get to. Both, however, are excellent for their versatility.
---
How to Choose the Right Reciprocating Saw?
In truth, reciprocating saws come in many options with different specs. It is vital to be familiar with these specs and other characteristics when shopping for a reciprocating saw.
Types of Reciprocating Saws
Cordless/ Battery Operated
Cordless and battery operated reciprocating saws provide convenience thanks to their portability. With battery operated saws, you are not limited by a power cord.
One other great thing about battery operated power tools is that the batteries from other brands are often interchangeable. This, of course, depends on the brand and the voltage.
Corded reciprocating saws are usually more powerful, more versatility, more lightweight, and cheaper than their cordless counterparts. Additionally, you are not limited by battery life.
Multiple Speed Settings
Like other power tools, most reciprocating saws come with more than one speed. This is helpful because thinner materials require slower speeds and thicker materials need faster speeds. The more speeds the saw comes with, the more control and versatility you have.
Consider the Weight
Those who choose to purchase reciprocating saws look for mobility and the ease of sliding these saws into smaller spaces or odd spaces that do not allow other saws to get in.
You need to choose one that is lightweight, as well. This is because if the saw is heavy, it will be difficult to use in tight spaces, and it will be more cumbersome to carry around.
Changing the Blades
You do not want to spend tons of time or energy changing out blades. You can easily find models today that come with clamps that give easy blade release. These are much easier to deal with than models that require tools for blade changes.
Blade Speed
Blade speed is measured in strokes per minute, or SPM. A stroke is one back and forth motion.
Therefore, SPM is calculated by the number of sets of back and forth motions in one minute. The faster the SPM, the more materials you can cut through.
Blade Stroke
The blade stroke refers to the length of the actual stroke, i.e. how far it moves back and forth. Longer strokes provide smoother and cleaner cuts with less effort.
Blade strokes can be found anywhere from 1 inch to 1 ½ inches. At minimum, be sure the one you choose has a blade stroke of at least 1 inch.
Expenses
As with any power tools, you get what you put into your reciprocating saw. While it may not be necessary to purchase the most expensive option, the cheapest is usually not the best for constant use or serious jobs.
Set a budget before shopping so that you do not overspend, but be sure to leave yourself room to work.
---
7 Best Reciprocating Saw Reviews
Here's a list of the best reciprocating saws available:
---
Best Overall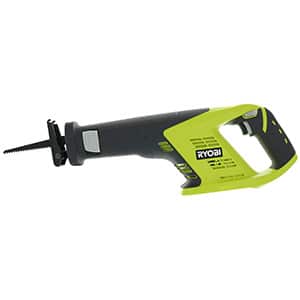 What You Will Love: The anti vibration handle helps you have a better grip and more accurate cuts.
The Ryobi Reciprocating Saw is cordless and mobile. The rubber handle provides a great grip so that you do not have to worry about your hand slipping.
It is equipped with a quick blade change system so there are no tools needed. The blade stroke length is 1 1/8 inch, which provides a pretty long cut, and it puts out 3,100 SPM, making it very fast.
At the same time, there is a variable speed trigger that gives you greater control over the speed. The powerful speed and stroke length provide very tough cutting power, making quick work of your project.
At less than 5 lbs, it is lightweight enough that you can hold it for a while without discomfort or fatigue. At under $100, it is an affordable choice.
However, as neither the battery nor the blades are included, you might find one that's priced just a little higher a better deal for you. On the other hand, if you currently have any Ryobi batteries, you can likely save yourself some cash.
What We Liked:
cordless and mobile
rubber handle gives great grip
quick blade change
blade stroke length of 1 1/8 -3,100 SPM
lightweight
anti-vibration handle for better accuracy
variable speed trigger
good price
What We Did Not:
battery and blades not included
---
Best Budget- Corded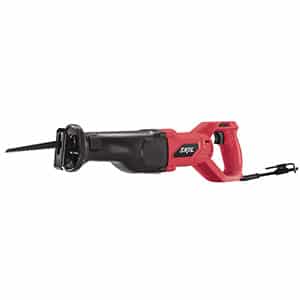 What You Will Love: This saw is designed with a pivoting foot that helps to stabilize the tool, especially when you are cutting through tough materials.
The SKIL 9206-02 Variable Speed Reciprocating Saw is a great corded option for tight budgets.
It is not really powerful enough for heavy duty jobs, though it is very handy for the price point- under $50. It weighs around 9 lbs, which is a little heavy for holding it for long periods of time.
It would be okay for short projects though. The counter balanced handle provides stability and vibration reduction in your hand.
The handle also complements the pivoting foot for an even more stable power tool. This tool is designed for tool less blade changes, though there are no blades included.
This means that you will have to purchase some separately before trying out the easy blade change process.
The quick speed change setting provides fast control over the speed when you need to change it quickly. The housing is made from heavy duty metal for a longer lasting tool.
What We Liked:
great price
medium weight
provides vibration reduction
pivoting foot for added stability
heavy and durable metal construction
quick speed change setting
counterbalanced handle
tool less blade changes
What We Did Not:
not made for heavy duty projects
no blades included
---
Best Budget- Cordless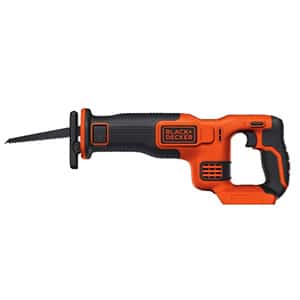 What You Will Love: This tool provides up to 3,000 strokes per minute for a budget friendly price.
Though Black and Decker is not the highest of tools, it is a great entry level or small projects brand.
It is also a budget friendly brand. If you need something cheap and quick that can handle some easy projects, this is a great option.
It is a cordless and portable reciprocating saw, but the battery and charger are sold separately.
Unlike some other models, this one does come with a blade, though you will want to grab some additional replacement blades pretty quickly. It provides tool free blade changes and a keyless blade camp for security and safety.
The blade can provide up to 3,000 strokes per minute, which is really great for such a low cost option.
Unfortunately, the blade stroke is only 7/8 of an inch, which is a little smaller than the recommended one inch. The variable speed trigger provides a lot of control over the speed.
There tends to be a lot of vibration that can shake loose some pieces on the inside. The tool savvy among us can probably easily take it apart and reattach what is loose. At around $50, it is easy on the
What We Liked:
budget friendly
tool free blade change
pivoting shoe provides stability
variable speed trigger
includes one blade
up to 3,000 strokes per minute
keyless blade clamp
What We Did Not:
stroke length is only 7/8 inch
battery and charger sold separately
connecting rod for blade may come loose
---
Best Corded Reciprocating Saw- 12 AMP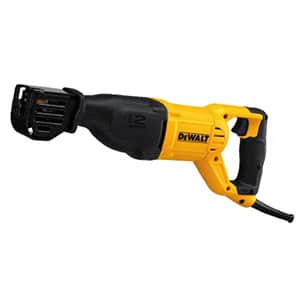 What You Will Love: This model is from a trusted brand and is a great option for a corded drill as it is powerful, and provides flush cutting.
The Dewalt DWE305 Reciprocating Saw has a 12 amp motor that can put out up to 2,900 strokes per minute with a 1 1/8 inch stroke length.
There is a four position blade clamp that allows for flush cutting, and it gives you variable speed control.
It is made from very heavy duty and sturdy construction so the casing will last for years to come. The only downsides I could find are the price and the cord limitations.
As it is a corded option, you are limited to distances within reach of your wall plugs. In my home, that is not a lot of distance, so I prefer to always have cordless.
Also, with the price regularly around $130, it is pretty expensive. However, it is a well loved tool that many feel is worth the price and more.
What We Liked:
0 – 2,900 SPM
1 1/8 inch stroke length
variable speed control
4 position blade clamp
flush cutting
powerful 12 amp motor
great for household projects
sturdy construction
What We Did Not Like:
---
Best Corded Reciprocating Saw- 11 AMP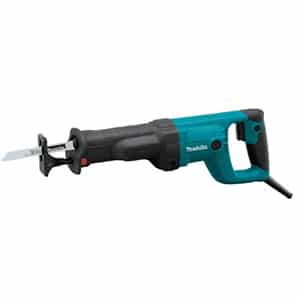 What You Will Love: This tool provides the same great Makita quality that users have come to expect.
The Makita JR 3050T Recipro Saw is a great tool at a very affordable price compare to many other options.
The heavy duty construction that includes ball and needle bearing improve the quality and extend the life of the tool.
It is made with a large, two finger button, which comes equipped with a lock button for safety. It comes with a built in dust blower that helps with visibility in your work space.
The powerful 11 AMP motor provides up to 2,800 strokes per minute with a 1 1/8 inch blade stroke. It is designed so that you can easily change the blades and the shoes.
The tool also comes with a plastic case for storage safety. At around $66, there are cheaper options, but there are also much more expensive options.
What We Liked:
made with ball and needles bearings that extend the life of tool
quick blade and shoe changes
7 lbs- lightweight
large two finger trigger
lock button on trigger
dust blower
heavy duty
11 amp motor provides 0- 2,800 SPM
1 1/8 blade stroke
includes plastic case
What We Did Not:
---
Best Cordless Reciprocating Saw- Kit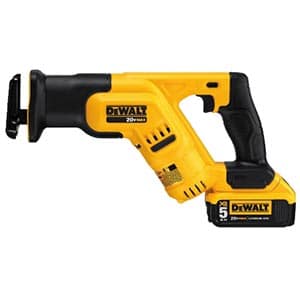 What You Will Love: This Dewalt battery can give you up to five hours of use when it is fully charged.
This Dewalt reciprocating saw kit provides you with a great saw, battery, battery charger, and case for a little of $200.
While this price is quite high, the brand and the inclusions- i.e. the battery, make it well worth the consideration.
Dewalt is a pretty great brand that many people trust. With a full battery, you can get 5 hours of use.
It is small enough to reach into tight spaces, including between studs, yet powerful enough for most any project you need to do.
It is designed with Dewalt's patented tooth design that results I sharper blade teeth make much faster cuts. The teeth in the blade are aggressively angled. All of this leads to better cutting speed and a much longer blade life.
What We Liked:
5 hour battery life
compact and lightweight
4 position blade clamp for flush cutting
1 1/8 blade stroke
variable speed trigger -0 – 2,900 SPM
can cut in between studs
What We Did Not:
---
Best Cordless Reciprocating Saw- Tool Only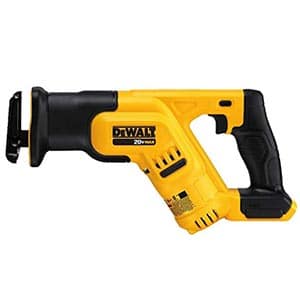 What You Will Love: It is a more compact and lower price version of a well loved Dewalt model.
The Dewalt DCS3878 Reciprocating Saw is a very compact and lightweight tool. The variable speed trigger lets you go from 0 – 2,900 strokes per minute.
It is small enough to fit into really small spaces, and the blade provides a stroke length of 1 1/8 inch. Unfortunately, this Dewalt model does not seem to stand up well to heavy use.
Also, it vibrates a lot a is very noisy, so you may not get a very precise cut.
The battery and charger have to be purchased separately, which makes the high price tag seem like it may not be worth it. At almost $100, it would be better is it came with the battery, or at least some vibration reduction.
On the other hand, Dewalt backs up its products, so if you discover any issues, you should not have trouble returning or exchanging the item.
What We Liked:
compact
lightweight
fits in small spaces
1 1/8 blade stroke length
0 – 2,900- variable speed trigger
What We Did Not:
high price
battery and charger not included
vibrates a lot and makes a lot of noise
not meant for heavy duty use
---
We have taken a look at the seven best reciprocating saws available to you, the differences in each of the models listed, and the unique characteristics that you should look for when choosing the perfect reciprocating saw for your projects and your wallet.
---
Related Articles:
---