What is the Best Small Pressure Cooker?
We have picked Hawkins CB15 Hard Anodised Pressure Cooker as the top small pressure cooker as it has a pressure locked lid for safety, a pressure regulator to adjust cooking if need be, and comes with an additional cookbook. It is made from hard anodized steel for even cooking, and is priced fairly when compared to its competitors.
---
Among the many ways to improve your help, a big one is to improve your diet. That does not necessarily mean eating less but eating healthier.
A great way to do this is by cooking with a small pressure cooker. These cut down on the cooking time, which is a win in itself. However, the less time food is cooking, the more water and nutrients that remain in the food.
There are many small pressure cookers on the market that range in various areas.
Size is a factor, and while a small pressure cooker is great for one to two people or side items, larger families will need larger pressure cookers.
In this article, we will discuss what we consider to be the top small pressure cooker and four others.
---
Quick Navigation
5 Top Small Pressure Cookers: Our Picks & Recommendations
---
5 Best Small Pressure Cooker Reviews
To find the best small pressure cookers, we analyzed ratings and reviews of multiple models. We eventually limited our list to the following five small pressure cookers based on their safety features, durability, performance, and price.
---
Best Overall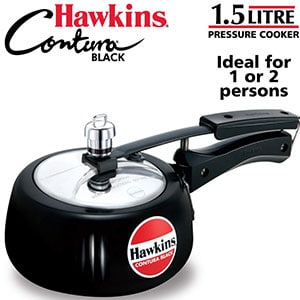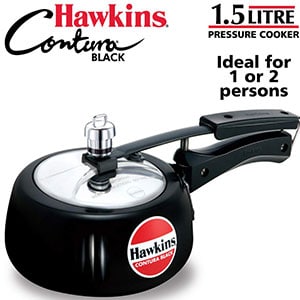 What You Will Love: This small pressure cooker comes with a pressure locked lid that adds an extra layer of safety to cooking.
The Hawkins CB15 Hard Anodised Pressure Cooker is a handy piece of cookware. It is made of aluminum, which is resistant to corrosion.
The curved body is great for stirring, and the hard anodized element makes it heat fast and evenly.
The pressure locked safety lid that means it cannot be opened when there is pressure inside of the cooker.
It also includes an improved pressure regulator and safety valve under the lid bar. It is overall a safe and efficient little pressure cooker.
The purchase also includes a cookbook, making it an even greater deal. And its price ranges closely with others of its size.
There is a learning curve which means that it will take you some time to get comfortable with it, but it will become an invaluable tool once you do.
Pros
Corrosion resistant aluminum curved body
Time-saving
1.5 L-great size for 1 to 2 people
Pressure locked lid
Thermally efficient
Non-toxic
Sturdy handles
Price within the range of other brands
Cons
---
Best Budget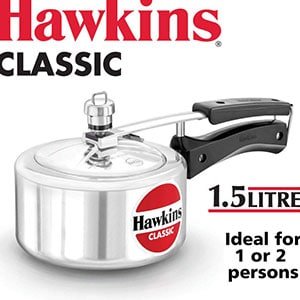 What You Will Love: The inner sealing lid and cool-touch handles provide great safety measures in the kitchen.
The Hawkins Classic CL15 1.5 Liter Aluminum Pressure Cooker is made from pure virgin aluminum and mirror polished for a gorgeous look.
The lid seals on the inside as pressure builds up and will not release until the pressure has decreased. When needed, the regulator will automatically adjust it.
The downside to this is that it continually spews through the regulator until the pressure is adjusted correctly.
This means you may have a nice mess to clean up. The handles are cool to the touch for an even extra safety measure.
Unfortunately, the gaskets tend to wear out, like most gaskets, so it would be wise to keep a few on hand.
Pros
Made from pure virgin aluminum, mirror polished
Lid seals on the inside
Cool touch handles
Regulates pressure automatically
Shielded safety valve
Great price
Cons
May make a mess by spewing through the regulator
Gaskets wear out fairly often
---
Best 1.5 Liter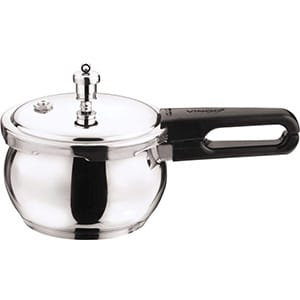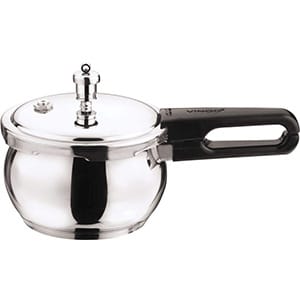 What You Will Love: The longer lasting silicone Duralife gasket is tougher than other gaskets so you will not need to replace as often.
The VINOD V 1.5L Splendid Plus Handi Pressure Cooker said to be a great everyday stovetop pressure cooker.
It is a combination of aluminum and stainless steel thereby making it hygienic and contamination free and well as great for quick and even cooking.
This pressure cooker is usable on all stoves, including gas and induction stoves.
Some people have expected it to be bigger than it is, but it is only 1.5 L. It's a great size for side items or foods for one to two people.
Do not mistake it for something larger- it is a tiny pressure cooker, but it is effective. Unfortunately, it requires some time to adapt to using it.
When it begins whistling, food may blow through the whistle as well, leaving you with a mess to clean.
Pros
Aluminum body for quick and even heating
Hygienic and contamination free stainless steel
Great for gas and induction stoves
Longer lasting Duralife gasket
Priced in line with others of its size
Fusible safety valve
Dishwasher safe
Heavy and sturdy
Easy to clean
Cons
Learning curve
Food may spew through the whistle
Careful not to mistake it for a bigger size
---
Best 2 Liter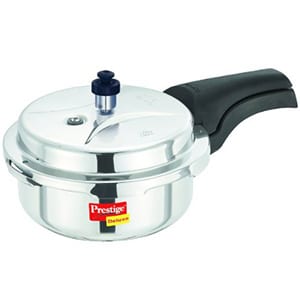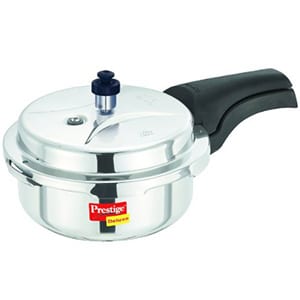 What You Will Love: It gives you separator cooking so you can cook three dishes at once.
The Prestige PDSSPC2 Pressure Cooker 2 Liter is thick and durable due to the quality virgin steel it is made from.
It comes with a pressure indicator to give you a little more control over your cooking. It has a greater body capacity than other cookers of its kind, and it is easy to clean.
The price falls within the range of most other pressure cookers its size. A great feature is the allowance of separator cooking, which allows you to cook up to three dishes at once.
Some users have stated that the pressure indicator that they received with the pressure cooker was plastic.
As a result, they bought a separate metal one for safety's sake. Additionally, some users found the lid a bit difficult to line correctly with the cooker. Most buyers, however, are extremely happy with their purchase.
Pros
Average pricing
Great body capacity compared to others its size
Made from great quality virgin steel
Thick and durable base
Pressure indicator
Separator cooking
Easy to clean
Cons
The lid may be difficult to align with cooker
The pressure indicator may be plastic
---
Best 3 Quart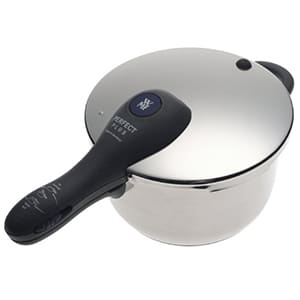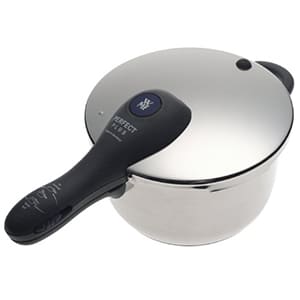 What You Will Love: It is a very durable, long lasting product that will decrease your amount of cooking time.
The WMF Perfect Plus 3 Quart Pressure Cooker can reduce your cooking time by 70%. That amount of time feels like a week in the life of a busy person.
The detachable and ergonomic handle stays cool to the touch to prevent burnt hands. It is a stainless steel pressure cooker so it will cook evenly.
You can keep an eye on the pressure through the cooking indicator, which breaks down pressure levels into color rings. The lid stays sealed until it is at the bottom level color ring.
A pretty big downside is the price. Ranging around $150, this cooker is expensive.
However, according to users, the quality and durability of the cooker is well worth the cost since you will, ideally, not need to replace it any time soon.
There is a learning curve, but if you read and follow the directions, you should be fine.
Pros
German made
Suitable for all stovetops
Easy to clean
Lightweight
Pressure cooking indicator
Detachable and ergonomic cool to touch handle
Cuts cooking time tremendously
Lid only opens when pressure is gone
Cons
---
If you want to eat healthier, or just cut down on your time in the kitchen, small pressure cookers are a great way to do both.
With such a variety of options available, research is key to finding the top small pressure cooker for you and your needs.
---
Related Articles
---