What is the Best Tart Pan?
We have picked the USA Pan Bakeware Mini Fluted Tart Pan as the top tart pan as it is a commercial grade product, is coated with a BPA free silicone coating for nonstick benefits, is made partly from recycled steel, and the price is fair. This tart pan's design is optimal for great air circulation that bakes foods more evenly.
---
Quick Navigation
Top 7 Best Tart Pans: Our Picks & Recommendations
---
Tart pans can be extremely useful in any kitchen that enjoys baked goods. Though they are called tart pans, you can usually bake many other products in them including pies, quiche, cakes, and more.
Whether you are searching for the best quality tart pan for holiday cooking, bake sales, birthday parties, or personal use, you will find yourself bombarded with options.
Tart pans come in different shapes and sizes from 4-inch circular pans to 14-inch rectangular ones.
You will also find some made from steel and some from aluminum, each with its own benefits. As with any purchase, it is important to research products to understand what to look for before shopping.
---
7 Best Tart Pan Reviews
We looked closely at the reviews and ratings of buyers and experts to find the top tart pan available. Though it was tough, we finalized our list with the following seven tart pans based on their ease of use, ease of cleaning, how evenly they bake, and more.
---
Best Overall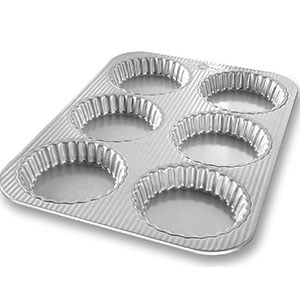 What You Will Love: It has a corrugated surface that causes better air circulation, which then assists with baking goods evenly.
The USA Pan Bakeware Mini Fluted is made from both new and recycled aluminized steel and has a limited lifetime warranty.
The USA Pan Bakeware pan has room to bake six goods at a time. It is coated with Americoat, a BPA free silicone, which results in your food not sticking. Though it is a tart pan, it can bake many other items as well including bread.
The price seems a bit high for only making six small goods at a time, and over time the silicone coating may wear off. Otherwise, it appears to be a very excellent tart pan.
Pros
Aluminized steel
Commercial grade
Great air circulation
Produces even baked goods
Coated with Americoat for non-stick
Cons
Over time foods may start sticking
Price seems a bit high
---
Best Budget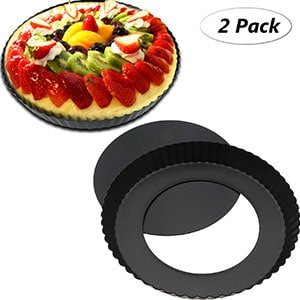 What You Will Love: These are large tart pans that have a removable bottom.
The TedGem 2 Pack Non-Stick Quiche Tart Pan is durable as it is made from high carbon steel in addition to a non-toxic coating.
The pan is 8.8 inches so you can make a large tart, quiche, or other baked good. It is non-stick, non-corrosive, stain resistant, and dishwasher safe.
The durable material has super thermal conductivity, so your items bake more evenly. At less than $10, the price is very reasonable.
Though it is supposed to be non-stick, some users have had to spray some extra non-stick coating on it to prevent sticking.
Pros
Wonderful price
Two pans
8.8 inches
High carbon steel
Bakes evenly
Cons
Not always as non-stick as it claims to be
---
Best Non-Stick Tart Pan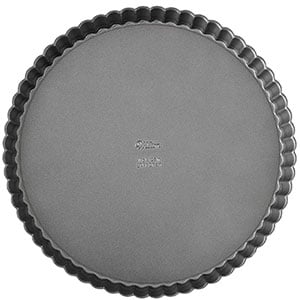 What You Will Love: This tart pan comes from a very reputable company.
The Wilton Excelle Elite Non-Stick Tart and Quiche Pan is made from steel and has a 9-inch diameter.
The removable bottom helps get your baked goods out of the pan. However, the bottom is thin and easily dents, so you will want to be careful with it.
It is dishwasher safe and the non-stick coating works very well. This Wilton tart pan is priced at less than $15 most of the time, so it is definitely a good deal.
Pros
Great price
Removable bottom
Large diameter
Lough steel
Dishwasher safe
Effective non-stick coating
Product from a well known and trusted company
Cons
The removable bottom can dent very easily
---
Best Fluted Tart Pan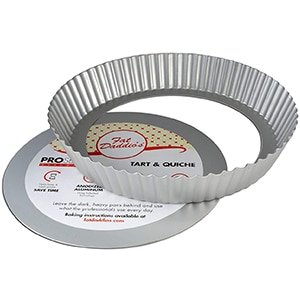 What You Will Love: This tart pan is commercial grade and has a lifetime warranty.
The Fat Daddio's Fluted Tart Pan is an anodized aluminum pan with a non-reactive finish that provides you with more versatile uses.
It reflects heat instead of absorbing it, so it heats and cools more quickly than some of its competitors.
There are no additional chemicals or coatings added, so you need not worry about anything rubbing off into your baked goods. There is a removable bottom which results in easy lifting from the pan.
Also, it is freezer safe for any goods you would like to store there. Unfortunately, they need to be washed by hand only. This pie tart pan also requires non-stick spray as it has no added coating.
Pros
Very nice price
Reflects heats so it cools quickly
Nothing to rub off into your food
Removable bottom
Freezer safe
Cons
Hand wash only
Requires a good amount of cooking spray
---
Best Rectangular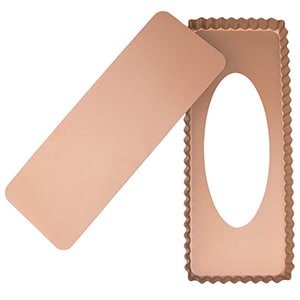 What You Will Love: It is a high-quality carbon steel, which is great for heat conductivity.
The Webake Quiche and Tart Pan is a 14 inch long rectangular pan. It is the perfect size to fit in a toaster oven when you do not want to overheat your kitchen with the oven.
This quiche pan has a non-stick surface as well as a removable bottom. You can just throw this one in the dishwasher for easy cleaning.
The sides of this pan are a bit thin, so you should be careful when handling it.
Pros
Very good price
High-quality carbon steel
Good heat conductivity
Fits in the toaster oven
Non-stick
Removable bottom
Dishwasher safe
Cons
Sides are thin and easily bent or dented
---
Best Mini Tart Pan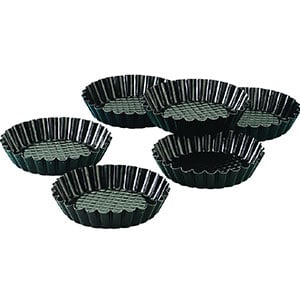 What You Will Love: You get six 4 inch tart pans with this purchase at a very low price.
The German-made Zenker Mini Tart pans are a super heat conductive, yet heat resistant, material. They have a non-stick coating and are very easy to clean.
At 4 inches in diameter, these mini tart pans are excellent for individual fruit tarts or finger foods at a party.
They are hand wash only and the material dents easily, but at around $10- $12 for six, those flaws seem easy to overlook.
Pros
Six 4" tart pans for a low price
Heat conductive material
Easy to clean
Very nonstick
Great for small snacks or individual tarts
Cons
Hand wash only
Easily bent or dented
---
Best Heavy Duty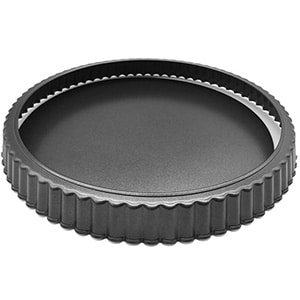 What You Will Love: The nonstick coating and removable bottom make it extraordinarily easy to remove your tart.
The HOMOW Nonstick Heavy-Duty Tart Pan really is a nonstick pan. Most users have had no trouble in that area. It is durable high-carbon steel with a premium nonstick spray.
It is a 10" pan with a removable bottom for easy separation from the pan. You may find it useful for cheesecake, cake, pies, tarts, and quiches. It is easy to clean and dishwasher safe.
Some users have reported the product leaking at the bottom while others have complained that it scratches too easily. Another downside is that this is a bit more expensive than other options.
Pros
High carbon steel
Premium nonstick coating
Great for a variety of foods
Removable bottom
Easy to clean
Dishwasher safe
Large 10" pan
Sturdy
Cons
More expensive than other options
Scratches easily
May leak
---
Tart pans can provide many features and benefits to their use if the user knows how to find the best quality tart pan for his or her needs.
Research the different types available and learn what you should look for. Start with our list of the top seven tart pans to start you in the right direction.
---
Related Articles
---