What are the Best Throwing Shoes?
We have picked the Adidas Adizero Discus/ Hammer Track Shoes as the best throwing shoes as they are both lightweight and durable, have a band for added support, and the collar around the ankles is soft reducing the pressure on the ankles during events. The carbon runner sole is excellent and supportive for rotational movements, and the price is worth the durability and comfort you receive.
---
Finding the best throwing shoes can be a chore, but it is not impossible. The sheer number of available throwing shoes can cause an anxiety attack.
As an athlete, you know that you not only want to perform well, but that you also want to be comfortable and protect yourself from as much injury as possible.
Finding the right amount of comfort, rotational capabilities, support, and more can make a difference in your performance and your wellness. Knowing what to look for is extremely helpful, so we have broken it down here, and discuss five of what we feel are the best throwing shoes available.
---
Quick Navigation
Top 5 Best Throwing Shoes: Our Picks & Recommendations
---
How to Choose the Best Throwing Shoes?
For athletes that participate in throwing events, the shoes you wear are important for more than simply style or to keep you from being barefoot. They can also affect your performance and even mean the difference between injury and wellness.
This means that you must be very selective in the throwing shoes that you choose. The following are some factors that need to be taken into consideration when purchasing your throwing shoes.
Comfort:
Shoes in general need to be comfortable but especially for athletes. As you are moving more and in different ways than the average person, and you can more easily injure yourself, it is vital for you to make sure the throwing shoes are comfortable and supportive.
Durability:
Some throwing shoes are made more durable and will last longer than others, but those also typically require a larger upfront price.
On the other hand, you might spend less for a decent pair of throwing shoes and just purchase them more often. That choice comes to personal choice.
Outsole:
The type of outsole you choose will depend largely on the throwing event or events that you participate in. Some throwing shoes have slick outsoles while others have grip.
Some are rounded for rotational ease and some are made for gliding. There are throwing shoes for each type of event.
Midsole:
Some shoes have a midsole- an extra layer between the insole and outer sole of the shoes. It can provide extra comfort and support if it is made well, but it can also cause problems if it is not.
Check if the throwing shoes you want have a midsole, and if so, be sure that the midsole is going to be a positive addition to the shoe.
Upper:
The upper of the shoe refers to the material the encloses the foot. You want the material to be comfortable but flexible enough to move like you need them to.
---
5 Best Throwing Shoes Reviews
Here's a list of the best throwing shoes available:
---
Best Overall
What You Will Love: The material around the ankle is soft so that it reduces pressure on your ankles and your Achilles during throwing events.
The Adidas discus throwing shoes are a great choice for discus and hammer throwing sports. They are incredibly lightweight- a men's size 9 weighs barely over 13 ounces.
The carbon rubber soles are very efficient for rotation, and the strap across the middle of the foot provides added support.
However, the shoes are only reported to fit as it is sized around 83% of the time, so be sure that you order them before you need them just in case you need to exchange them.
They are also a bit expensive, running anywhere from $89 – $144. As they are reported to be very durable, the higher price is well worth it to some.
What We Liked:
soft collar around the ankle
lightweight
durable
Supportive for rotational events
What We Didn't:
Do not always fit as sized
high price
---
Best Budget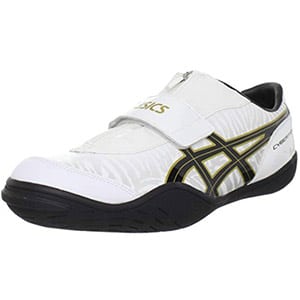 What You Will Love: The "dual density pivot point plus" on the solid rubber sole provides both slip and grip for your event.
The ASICS Men's Cyber Throw London- M can help athletes improve their performance.
The shoes have a zipper to close your feet into the shoes, and the lightweight midsole adds to the comfort without weighing you down.
With the slide and grip that this shoe gives, and it's awesome flexibility, athletes all over are falling for this shoe. The best part is the price- at around $45, it is a great shoe for an awesome price.
Keep in mind that though most people have reported that they run true to size, some have stated that the shoes were a bit large. Also, though they state they are for men, many females have purchased them as well.
What We Liked:
budget friendly
good mix of slide and grip
flexible
lightweight
zippered
What We Didn't:
---
Best Throwing Shoes for Unisex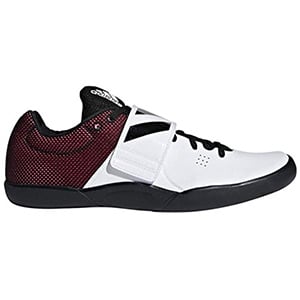 What You Will Love: These track and field shoes were designed specifically for rotational movement.
These Adidas Adizero Unisex track field shoes are some of the best discus throwing shoes.
They have a slick rubber sole that is excellent for slick and rotational throwing events as well as wet weather.
This can also cause problems as they may be too slick. If you choose these throwing shoes, be sure that you get some practice in them so you can break them in and become accustomed to them before your event. They are very lightweight yet also very durable.
The upper is internally reinforced so that it provides a secure hold during rotations. The material around the ankles is soft so that there is less pressure on them.
Many buyers have stated that adidas have done better ordering a half size smaller than their regular size for the best fit. They do seem to be one of the best throwing shoes for wide feet, according to some buyers.
These track and field shoes can be found priced anywhere for $98 to $200, so they are an expensive investment.
What We Liked:
slick rubber sole
lightweight
soft around the ankle
durable
supportive reinforced upper
What We Didn't:
expensive
may be half a size too big
may be too slick
---
Best Throwing Shoes for Men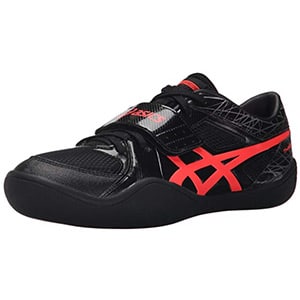 What You Will Love: The design and black and flash coral color combo is very eye catching and a huge selling point for many athletes.
These ASICS Men's Throw Pro Track Shoes have a lace entry, and a hook and loop closure for a secure hold. The instep strap is also adjustable for extra security and comfort.
The faux leather upper adds to the look and feel of the stylish and comfortable throwing shoes, and the slick outer soles can improve the performance of the athlete wearing them.
Running between $80 and $105, they are not the cheapest though definitely not the most expensive. They are not the best choice for athletes with wide feet, and they tend to run about ½ a size too small.
What We Liked:
nice color combo
mid range pricing
adjustable instep strap
Very comfortable and very durable
What We Didn't:
not good for wide feet
may run ½ size too small
---
Best Throwing Shoes for Women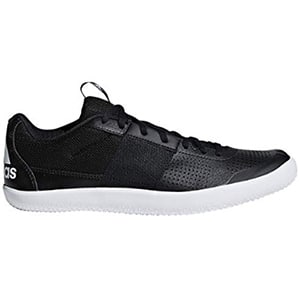 What You Will Love: The outer sole is both cushioned and textured providing both grip and comfort. At the same time, it provides slippage as well.
These Adidas Running Women's Throwstar are, I think, the best throwing shoes for track. They have a breathable upper and are full lace up.
The textured bottom soles provide grip yet are still slick enough to provide slippage when you need it. The ankle collar is cushioned for extra comfort, and buyers have reported that they have been able to get a good, snug fit with just the laces.
The outer soles have been reported to wear down pretty quick. However, running regularly between $59 and $65, many athletes choose to get them for the comfort they provide, and just replace them as often as needed.
What We Liked:
breathable
full lace up
reasonable price
padded ankle collar
cushioned and textured rubber sole
slick yet good grip
What We Didn't:
outer sole wears down kind of fast
---
It can be difficult to find the best throwing shoes with all the options available to you. However, in this article, we have discussed the most important factors you should consider when shopping.
We have also reviewed five of the best throwing shoes available at this time. We hope this helps you when choosing your first or next pair of throwing shoes.
---
Related Articles: