When summer sun is inviting you to take your cooking game outside, you will be looking for the best gas grill on which to throw some burgers, sear a great steak or smoke some savory ribs.
You want a unit that provides plenty of heat, that can be controlled effectively, is durable and looks great sitting next to your new patio furniture.
Or maybe it needs to be able to go on the road to provide sustenance to your fellow sports fans when setting up a killer tailgate party.
Whatever the case, we've scoured the available grills and created some gas grill reviews to help you find the unit that will complete your deck, patio, or even campsite.
Quick Navigation
The Most Recommended Gas Grill: 10 Best Reviewed
How To Choose The Right Gas Grill?
Fuel Source
While most gas grills look very similar, you may have an option regarding which fuel you will use when cooking out. If your home is equipped with natural gas, it is convenient to have an additional line run to your patio to connect to your new barbeque.
Natural gas burns at a higher temperature than the more popular propane, allowing for a quick sear and consistent cooking performance when switching between your indoor and outdoor kitchen.
Propane can be purchased in portable containers, enabling you to take your grill on the road when tailgating or hosting a family reunion at the state park.
There are also units that support wood chips for smoking and even a charcoal option for long and low cooking.
How Many Burners?
Size really depends on how many you intend to cook for and the room available on your deck for outdoor preparation.
If you have a condo with just a small outside space, a two burner barbeque unit will generally provide enough room to grill up a couple stakes with perhaps some veggies on the side.
For a big suburban spread, you will want to look for a large dual-level gas grill with one or two side burners able to support a pot of corn on the cob or boil up some pasta for a real outdoor feast.
BTUs
While even a small unit will eventually cook your burgers and hotdogs, a more powerful gas grill with higher BTUs gives you greater flexibility when looking to treat your guests to a carefully crisped ribeye.
Look for a unit with at least 32,000 BTUs to provide high enough heat to quickly cook your favorite meals. Of course, the larger the cooking area, the more BTUs you will desire to ensure that all burners can provide the cooking power you are looking for.
Cooking Surfaces
Your hibachi that you grilled on in college probably featured an aluminum cooking grate that did little more than giving your chicken and ribs something to sit on.
Modern gas grills feature cooking surfaces such as cast iron, ceramic and non-stick for even cooking that leaves behind a beautiful brown crust on burgers, steak and roast veggies.
The grates should be easy to clean, maintain even heat and can withstand searing temperatures up to 500F.
Stainless Steel Construction
Not all stainless steel finishes are created equal. You can save quite a bit of money on a grill that looks nice coming out of the package, but will quickly fall apart as cheaper materials degrade just under the surface.
Look for heavy duty units that have good heft to the lid, have a hinge that runs the length of the cooking surface and handles are riveted with steel, instead of lightweight aluminum that can crack.
The Most Recommended Gas Grills: 10 Best Gas Grill Reviews By Sujana Marie
1) Weber Genesis E310 Gas Grill Reviews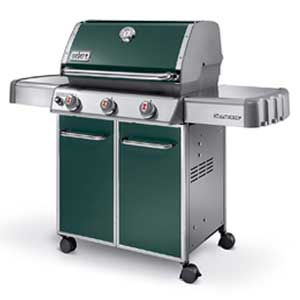 When you are looking for a gas grill that will work with your outdoor decor, the Genesis e310 comes in three different designer colors.
There is the traditional black with stainless steel accents, copper and handsome hunter green.
With three burners and 38,000 BTUs there's plenty of power to put a great sear on your steaks.
Hang six utensils on the side using included hooks, while the wheels allow you to position it with ease on the patio or while tailgating.
Large side shelves have plenty of room to serve up, put down your gloves or prepare a bun without doing the picnic table shuffle.
2) Char-Broil 4-Burner Gas Grill Reviews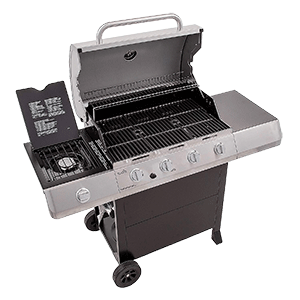 This grill offers a large cooking surface under the dome along with a 10,000 BTU side burner ready to steam some rice and veggies on the side.
While you will not invest the same money into this unit, you get great flexibility with four separate burners.
Cook up burners. hot dogs and chicken while setting different temperatures for the various parts of the grilling surface. There's a handy shelf underneath to store pans and utensils.
Cast iron cooking surfaces offer easy clean up, but the aluminum hood may not provide the longevity more expensive units will.
It's a great unit to take to your summer camp without spending a fortune.
3) Weber Q3200 Liquid Propane Grill Review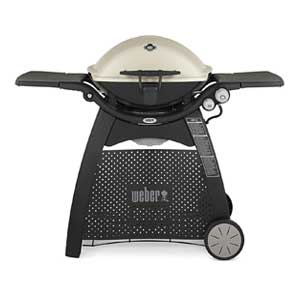 The Weber Q3200 was specifically built for individuals with a limited amount of space.
While the grill is not a strictly portable option (Weighs 83 pounds), it offers a perfect strike between the traditional portable and large full feature grill, therefore making it an ideal choice for those living in apartments.
One of the unique features of the grill is the spit cooking grate design.
The split grates are versatile and can accommodate a grate/griddle combo; you just have to replace the grates with compatible griddle attachments and experiment with a new cooking method of preparing breakfast, brunch, or dinner.
For those of you who like having a merry time during the night, you will love the "Grill out" handle light feature. This feature allows you to illuminate the space around you making it easier to prepare meals at night.
Just like most of our high-quality grill in the best gas grill under $500, the Q3200 sports ultra-quality porcelain coated cast iron grates, warming rack, and stainless steel burners.
As a bonus, you can expect auxiliary features like infinite control valve adjustability that will lock the cooking temperatures at constant and plenty of storage space.
4) Char-broil Classic 280 2-Burner Gas Grill Reviews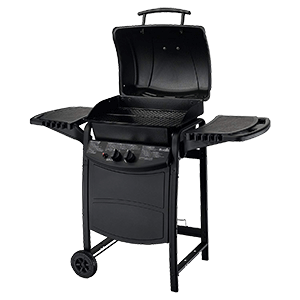 This is the grill you need for your first home. You'll save a few hundred dollars while you begin to learn the joy of grilling some burgers with a few friends over.
This unit leaves some of the finer finishes, like a stainless steel or metal cabinet, to the side and focuses on the basics.
There's 28,500 BTUs to heat up the 2 burner cooking surface.
Its lightweight is simple to push out to the communal pool while plastic side shelves offer a handy place to hold plates and buns. Push a button to provide a spark while you light the burners.
You can hook it up to a small propane bottle or invest in a larger tank. Wire grates are porcelein coated and clean off with a bit of scrubbing.
When you focus on the experience of sharing time with your friends, rather than the status of a beautiful outdoor kitchen, this one could be the perfect addition to your weekend fun.
5) Dyna-Glo Gas Grill Reviews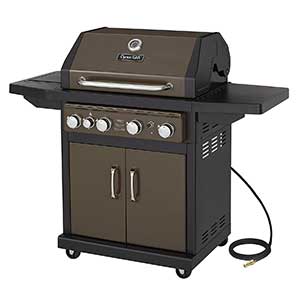 If you are a homeowner who already has natural gas plumbed to your house, you can install a Dyna-Glo gas grill with no fuss and little expense.
You will never run out of propane halfway through the neighborhood block party.
The unique bronze finish of this unit works well with modern design elements around your patio and pool.
It has four burners, with each one receiving 12,000 BTUs. There's also a 10k side burner, so you get all the versatility of your traditional kitchen on this spacious outdoor model.
The cost is commensurate with propane grills, but users have encountered rust on hinges and cabinetry after a year stored in the elements.
6) Weber 47510001 Spirit E310 Reviews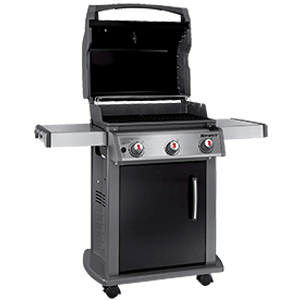 For another natual gas option, you can check out the Weber Spirit e310. You do see a significant increase in price over the competitors in this category, but the extra dollars spent translate into a sturdy unit.
This gas grill has two burners, so it is designed for your smaller home where you won't be feeding the entire basketball team at once.
The handsome black cabinet stands up well to outdoor grime and smudges.
The side shelves do not fold down, so it you are looking for a unit that can be shifted around in a tight spot, this won't be your choice. Then again, with the natual gas connection, you can't move it around or take it with you for celebrations.
7) Dyna-Glo Natural Gas Grill Reviews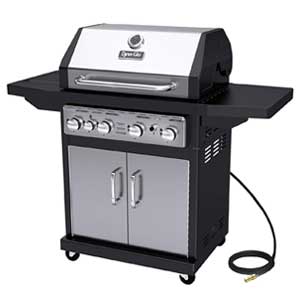 Are you looking for an outdoor grill that looks like it might belong inside? Dyna-glo delivers an attractive black and stainless steel cabinet that adds style to your patio.
It has a natural gas connection, so you will want to position other furniture to work around the grill.
While it delivers a large cooking surface with four grilling burners and a side burner, its overall construction lacks quality materials that can degrade after just one season of use.
Considering the gas connection is directly connected to your home, you will want to think twice before investing in this particular unit.
8) Weber Spirit S210 Natural Gas Grill Reviews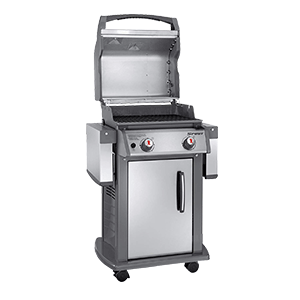 Situate this small two-burner gas grill on your new patio with white and chrome furniture. Its sleek stainless steel cabinet has got quality construction with a heavy duty firebox.
When you have a natural gas connection and only need to cook for a few, the attractive unit has the power and features needed to get the job done.
Hang four utensils off the handy hooks on the side shelf. The cabinet below provides extra storage as no propane tank is there to take up the space.
Electronic ignition gets you going in an instant. Side shelves fold down and solid caster wheels allow you tuck it into a corner when not in use.
9) Broil King Gas Grill Reviews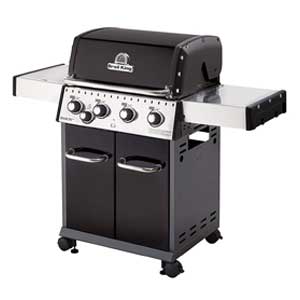 If you are in the market for a larger grill with four main burners, side burner, roomy cabinet and attractive, modern styling, the Broil King could be a good option.
It has a super roomy grilling surface with over 600 square inches to fit chicken, ribs, and steak.
Propane fired, it ignites with the push of a button. The grilling surfaces are simple cast iron so do not clean up as easily as porcelain covered versions.
The caster wheels look helpful, but may not stand up to repeated reorganizations.
If you anticipate getting another grill in a couple of years to stay current with your outdoor decor, you won't break the bank with a Broil King while getting many of the options that larger, more expensive units have.
10) Huntington Gas Grill Reviews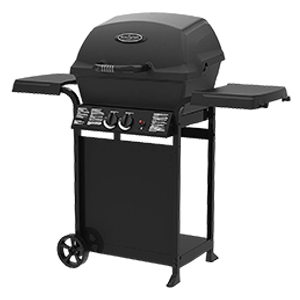 More is not always better. With an economical price point and all the basics on board including wheels, easy-to-assemble cart and two burners under an aluminum cast hood it might look like a great option for your first grill.
However, with 30,000 BTUs its two burners are overpowered for the small cooking surface. You food will get hot quickly and then char as you try to reduce the flame.
There's quite a lot of description on the paint finish of the fire box, but no tips for easy cleaning of the grate.
Side shelves are plastic and feel thin, making you think they might break. It would be a good option if you intend to use it once or twice and don't particularly care how well the steaks are cooked.
So, Which Is The Best Gas Grill?
When you're looking for a grill with just enough cooking space, quality construction, and killer looks to seal the deal, the Weber Genesis e310 is the best gas grill and offers you three burners, 38,000 BTUs, storage for your pans, and hooks to hang utensils.
On top of that, pick your favorite color to coordinate with the rest of your outdoor kitchen. Caster wheels let you position it in the corner for storage and roll it out when the barbeque is the center of attention.
We hope you have enjoyed reading our gas grill reviews and that we have helped you find the gas grill that will work for you and your family.
If you have any comments about your experience with a great grill, please tell us about it in the comments section below or get the conversation going by sharing this article on your social media sites.
---
More Grill and Smoker Related Articles:
---