Which One Is The Best GreenLife Cookware Set?
Based on our reviews, the GreenLife cookware set that is likely to meet the needs of most cooks and homes is the GreenLife Anodized Non-Stick Ceramic Gourmet Cookware Set. What sets this cookware set apart is the hard anodized construction that brings about durability and added strength.
Cooking isn't for everyone, but with the right kind of tools, you can make a great meal for a weekday night or for when your friends come over for a party. Items like Greenlife Cookware make cooking simple for those who don't feel like they have the right touch.
There are many different products in their cookware lines that can make deciding on what products to get for your kitchen pretty tough. You don't want to get items that you will never use, or forget one of the basics that you will need often.
Well, with our top pick of the GreenLife Anodized Non-Stick Ceramic Gourmet Cookware Set, you can get everything you need in one set. This will make your life easier and simplify the cooking process.
With so many Greenlife Cookware products, we want to show you the best that they have to offer. We have reviewed several of their items so you can see what type of cookware they offer and what set will work best for your kitchen.
Comparison Of 10 Best GreenLife Cookware
---
Top 10 GreenLife Cookware Reviews
We have compiled 10 reviews of some sets of GreenLife cookware to make it easy for you to reach an informed decision when shopping for the cookware sets that will meet your kitchen needs.
---
Best Overall
This GreenLife cookware set comprises of a 9.5-inch skillet, 1-quart saucepan, 2-quart saucepan, 4.8-quart stockpot, 7-inch frypan, 9.5-inch frypan and two utensils.
The hard anodized bodies of the pans are meant to promise you extra durability while the oven safe stainless steel handles are riveted to the body for increased strength and durability.
This gourmet collection is coated features a Thermolon non-stick coating to give an excellent food release as well as make it easy for you to clean the cookware.
Pros
Ideal for everyday use
Sturdy and heavy enough
Truly non-stick cookware
Cook food perfectly
Cons
Pans chip and fall apart
Water leaks from around the riveting area of the handle
Handles can get too hot
Exterior smells metallic when washed
---
Best Budget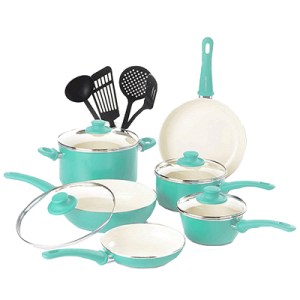 The individual members of this 14-piece cookware set are made of sturdy aluminum bodies without lead and cadmium.
The exterior design of the pans features a stay-cool handle to make it safe for you to lift the pans when cooking.
The pans are dishwasher safe as well as oven safe to about 350 degrees Fahrenheit. Moreover, the glass lids allow you to monitor your food as it cooks.
The set includes a 7-inch open frypan, a 9.5-inch open fry pan, 1 quart covered saucepan, 2 quarts covered sauce pan, 5 quarts covered stock pot, 2.5 quarts covered sauté and four kitchen utensils.
Pros
Easy to clean
Truly non-stick cookware
Nice and sturdy
Value for money
Cons
Pans do not last long
They scratch easily
Pan's handles get very hot
Non-stick aspect disappears after a while
---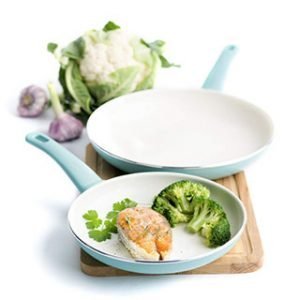 The GreenLife non-stick 7-inch and 10-inch open fry pans are great additions to any kitchen. The pans feature a Thermolon nonstick coating that is made without PFAS and PFOA. The body of the pans is reinforced using aluminum but without lead and cadmium.
To make it safe for you to use the cookware, the pans are fitted with stay-cool handles that offer a soft-touch and a good grip. The fry pans are dishwasher safe and can withstand temperatures as high as 350 degrees Fahrenheit.
Pros
Fun to cook with and easy to clean
Non-stick coating works great
Rubber handle remains cool
Lightweight Cookware
Cons
Pans give out a smell
Non-stick coating is fragile
Ceramic coating is not durable
Pans burn quickly
---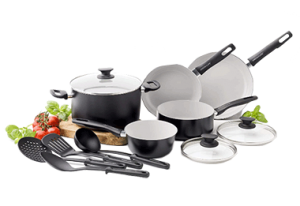 This 12-piece non-stick cookware features Thermolon non-stick coating made without PFAS and PFOA for your safety and hygiene.
The sturdy body of each of the pans is further reinforced by aluminum and is without lead and cadmium. The dishwasher-safe cookware has stay-cool handles to enable you to carry the pans without burning your hands.
The pans, which can stand temperatures as high as 350 degrees Fahrenheit have solid bases to offer even heat distribution and assure you of the stability of the cookware.
The set includes an 8-inch open frypan, 9.5-inch open fry pan, 1 quart covered saucepan, 2 quarts covered sauce pan, 5 quarts covered sauce pan and four kitchen utensils.
Pros
Non-stick cookware
Durable material
Pans can cook anything without sticking
Ceramic will not be damaged by metal utensils
Cons
Shallow frying pans
The stockpot is quite small
Nylon utensils are of poor quality
Too light in weight
---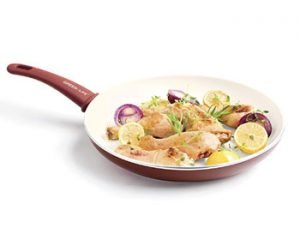 This GreenLife cookware is oven safe to about 350 degrees Fahrenheit. The dishwasher safe open frypan has a non-stick coating (ceramic) that is carefully made without PFAS and PFOA.
The body of the pan has aluminum reinforcement while the handle remains cool when you cook and is designed to offer you comfort at all times.
Pros
Comfortable and secure handle
Food does not stick
Easy to clean
Great sizes and appearance
Cons
Scratches very easily
Non-stick coating stops working after a while
The ceramic chips easily
Pan discolors on the outside when exposed to high heat
---
What Is GreenLife Cookware?
GreenLife Cookware is a line of cookware that is designed and produced to make cooking easy and effortless.
Made from top quality materials, the cookware line combines attractive designs, high performance and robust technology to give you non-stick coating and products that are great to use and easy to clean.
GreenLife pans and pots are made of different materials and feature different designs so as to meet the unique needs of clients.
An Assortment Of Pieces
Before settling on any cookware set, it is important that you understand what different sets offer you.
According to experts,
the 10-inch and 12-inch skillets, 2 and 4-quart saucepans, a stockpot and Dutch oven are some of the most-used cookware pieces.
The 8-inch skillet, one of the common items in most sets, is suitable for singles or small families. As such, depending on your needs, you should choose a cookware set that has diverse pieces of pans and utensils.
Good Cooking Performance
The main aim of looking for the best GreenLife cookware is to buy a set that delivers performance and efficiency.
The best pots and pans should allow for even and consistent heating to eliminate hot spots which can cause food to get burnt, in a similar way, uneven heating can create cold spots, parts around which food will end up being less cooked.
As such,
a good GreenLife cookware set will contain pans that heat up as a whole and not just the part that is in contact with the burner, resulting in perfectly cooked meals.
For Nonstick Cookware, A Truly Nonstick Surface
Today,
the market is awash with different brands of cookware. While it is true that most of these brands will advertise their cookware as being non-stick, not all the pots and pans will truly be non-stick.
Top quality pans will easily release food from their surfaces when it is cooked. However, other cookware will simply perform averagely. Some ceramic and stainless steel pans claim to be non-stick but have no evidence to show for it.
Therefore,
you must ensure that you buy trusted and reliable cookware brands.
Comfortable Weight And Balance
The kitchen is a busy and hectic environment in which to work. If a pan is heavy when empty, you can expect it to be heavier when it contains ingredients.
The best GreenLife cookware set should comprise pans that are heavy enough to hold heat but light enough to allow you to flip it without hurting your hands or wrists.
At the same time, the pan should be strong enough to prevent it from denting or warping.
Beyond the weight, it is important that the weight is distributed evenly so that the pan does not tilt to one side but sits firmly atop the burner.
Well-Designed Handles
The handle is the point of contact between the chef and the pan. When looking for good GreenLife cookware sets, you should buy those with comfortable handles that offer a firm grip.
Moreover,
the handles of the pots and pans should be sturdy and firmly riveted to the body of the pan for added strength.
In case, you want your pan to move from stovetop to oven, the best handles to have would be steel handles. Silicone and rubber handles are more suitable for the stovetop.
Durable Construction
Thick bottoms, durable nonstick surface, and securely attached handles are some of the factors that influence the durability of the cookware.
However,
you should also keep in mind the material from which the lids are made.
A great cookware set should include durable items that take away the worry of having to buy new cookware very now and then.
In taking the durable construction of pots and pans into account, the GreenLife cookware warranty can act as a reliable guide.
Versatility
Regarding versatility, non-stick cookware is the least versatile choice. This is because its use is limited to only a stovetop and in some cases an oven under low heats. Stainless steel, on the other hand, can work in the oven, on the stovetop, and in some instances on the grill.
Cast iron appears to be the most versatile material for constructing cookware. Cast iron cookware is ideal for use in all the settings mentioned in addition to over an open campfire.
Final Verdict: Greenlife Cookware Reviews
We hope that our buying guide to choose the best GreenLife cookware set and our compiled 5 best GreenLife cookware reviews will be of use to you as you choose the most suitable GreenLife cookware set.
---
Related Reading