Which Is The Best Red Copper Pan?
The best bang for your buck is ultimately the Red Copper Non-Stick Square Ceramic Cookware 5 Piece Set with its extra lid, baskets and trays. However, you are not likely to pull the generously sized pan out of the cupboard every day.
If you simply need a reliable, friendly sized frying pan, the Red Copper Ceramic Non-Stick 10 inch Cookware Pan will handle all your daily frying dish.
That being said, Red Copper Pans require that you read the instructions and maintain them in order to get the performance seen on their infomercials.
---
Quick Comparison: 5 Best Red Copper Pan
---
Quick Navigation
Top 5 Best Red Copper Pans: Our Picks & Recommendation
What is a Red Copper Pan?
Red Copper Pans have been taking the infomercial world by storm!
The as-seen-on-TV product is being described as the next revolutionary pan that can stand up to all the abuse found on your stove while resisting wear and providing a healthy surface to cook your family's meals.
We've listed some of the highlights to help you decide which Red Copper Pan reviews are the right buy for your kitchen.
Non-stick Ceramic Coated Pan
Ever since Teflon coatings have been determined to leech chemicals into foods over time, the cooking world is back to find the next truly non-stick surface.
Red Copper starts out as an aluminum pan, which is then coated with a layer of copper and finally finished with a ceramic coating.
When properly maintained, it is supposed to be a completely non-stick surface.
Are Red Copper Pans Oven Safe?
The big bonus for all the Red Copper pans is that they are truly oven safe. Their handles are aluminum, so they will build up heat over long periods on the stove-top.
But this also means that they can go straight into the oven up to 500F.
Perfect for searing meat and then finishing it in the oven, just like you see on all your favorite professional cooking shows.
Just remember to keep your potholders handy to prevent burning your fingers when reaching for the handle!
Are Red Copper Pans Scratch Resistant?
The ceramic coating is advertised as scratch resistant. Scratch resistant is not scratch proof! Anybody who has ever used ceramic cookware knows that is true.
If you use plastic or wooden utensils, you will never have a problem.
If you opt for metal, just be careful of scraping the pan to avoid scratching it. The use of knives on the surface should be avoided altogether.
If you need to whisk a liquid in a pan, you might want to get out your old tried and true aluminum pot.
Requires Seasoning Before Use
Unlike!
its Teflon predecessors, you cannot open the package and enjoy an instant non-stick surface. This pan arrives with instructions to season the surface before use.
You must follow the directions precisely, or you will end up being disappointed with the performance of the product.
If you maintain it properly, you ought to enjoy the non-stick qualities for quite some time.
Are Red Copper Pans PFOA And PTFE Free?
One of the biggest benefits of throwing your old non-stick frying pans in the trash is that you are removing toxic chemicals from the cooking process.
The ceramic coating on Red Copper Pans is complete PFOA and PTFE free, making them completely safe to use when preparing meals for your entire family.
5 Best Red Copper Pans Reviews
Red Copper Pans come in a variety of sizes for your different cooking needs. They also offer a Deluxe coating, which is supposed to be more durable than their standard set.
Read on to learn which size will provide you with the most use.
---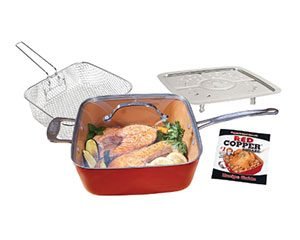 This is perhaps the star of the Red Copper Pan show. This pan is extra large and 6-inches deep, making it a great stovetop deep fryer or dutch oven.
Large enough to fry chicken or create a pot of stew, it is attractive and offers the same scratch resistant and non-stick qualities as the rest of the line.
This set includes a glass lid to help reduce spatter.
The lid is not oven safe. There is also a fry basket and a steam tray, making this a really versatile set.
The lid cannot be used with the Square Dance pan, and even this pan has that odd rounded bottom, which is steady enough when used with a gas stove burner.
However, with the size comes the hefty price tag. You can purchase a full-size fry daddy for about the same cost.
Pros:
Deep pot excellent for frying
Includes lid, fry basket, steamer tray
Extra large size
Cons:
Expensive
Lid does not fit Square Dance pan
Label on bottom of pan can cause it rock while cooking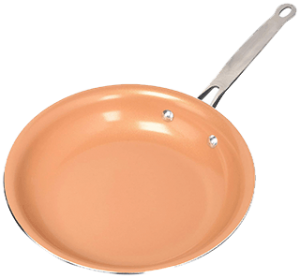 If you are looking for a nice frying pan able to scramble up a couple of eggs, the 10-inch Red Copper pan is the perfect size for this endeavor.
The slightly raised sides are shaped for easy folding of omelettes while the rounded bottom helps you to constantly move food about the pan, which helps the non-stick surface stay slippery.
Advertisements show cooks melting sugar in the pan for creating the worry-free caramel.
Every Red Copper pan comes with a recipe booklet.
The pan must be seasoned before you use it, or else you will be frustrated with its performance.
Pros:
Nice small size good for single servings
Loop on handle for hanging storage
Oven safe handle-good up to 500F
Cons:
Initial seasoning can be difficult
Will scratch
Must constantly move food to prevent sticking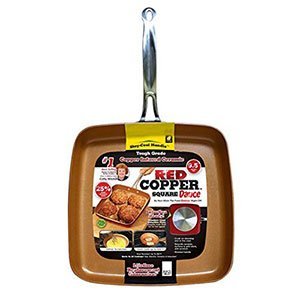 It always seems like when you try to make French Bread or other square shaped meals, you struggle to fit four portions into your old frying pan.
The Square Dance pan is designed to end that struggle.
While it is square, the corners are rounded for easy movement of food throughout the pan during the cooking process.
This particular Red Copper pan seems to hold up better than the 10-inch and 12-inch version, providing a nice non-stick surface.
However, if you think four slices of texas-sized toast are going in it, think again. It's about a 9″ x 9″ size.
While it says it can withstand heat up to 500F, it can warp when subjected to high temperatures repeatedly.
Pros:
Square shape good for french toast
Can maneuver food in the wide, flat bottom
Performs as advertised
Cons:
Small size
As expensive as real copper pans
Pan can warp under high heat
Step up to the big boy with the 12-inch Red Copper frying pan. If you have a large family, a 10-inch frying pan rarely can fit enough food at once.
The 12-inch can fit four burgers or a pair of large steaks without crowding the pan, yet it is small enough for most to handle without a struggle.
You can sear a roast on the stovetop and then slide it into the oven for a juicy, flavorful centerpiece.
The surface is supposed to be scratch resistant, but poor season can shorten the lifespan of the pan dramatically.
To avoid losing the seasoning, it is best to hand wash the pan. Use only plastic or wood utensils to protect the ceramic finish.
Red Copper Pans also offer a Deluxe set of pans, which are double coated to improve the longevity of the scratch resistant surface.
The deluxe pans also have a short helper handle that will assist with steadying a heavy frying pan when putting it in and taking it out of the oven.
This means you can attack that nice large steak, sizzle it up without a worry on the stove top and have it brown nicely in the oven.
Of course, the Deluxe versions come with a higher price tag, and honestly, you are paying as much for these TV products as for some professional grade pans from your favorite kitchen store.
Even the Red Copper Deluxe can have their surfaces scratch, and they have a curiously rounded bottom, making them difficult to use on flat stovetops.
Pros:
Double ceramic coating
Extra helper handle
Improved even heating-no cold spots
Cons:
Paying, even more, $$ for almost same pan
Durability in question
Rounded bottom not suitable for glass or ceramic top stoves
---
We hope you enjoyed reading our Red Copper Pans Reviews and hope they helped you decide on your next kitchen accessory purchase.
If you have ideas, thoughts or wish to share your experiences, feel free to comment in the section below or share our Red Copper Pans Buying Guide on your social media accounts.
---
Related Articles:
Related reading about Red Copper Pan Review and Performance Testing: